Tools, Apps
Not long after the election of President Barack Obama in 2008, a remarkable edition of The New York Times hit the streets with the massive headline, "Iraq War Ends." It was a fake , part of a hoax engineered by the Yes Men . The spoof print edition was distributed in several cities. An accompanying website that looked very much like the Times' was also launched. "In an elaborate operation six months in the planning, 1.2 million papers were printed at six different presses and driven to prearranged pickup locations, where thousands of volunteers stood ready to pass them out on the street," the Yes Men later said. The whole thing took lots of people, lots of organization, and some cash.
NewsJack launches to let you remix, edit news websites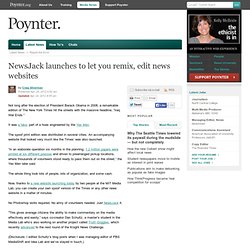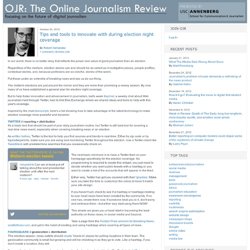 In our world, there is no better story that reflects the power and value of good journalism than an election. Regardless of the medium, election stories can and should be as varied as investigative pieces, people profiles, contextual stories, and, because politicians are so colorful, stories of the weird. Put these under an umbrella of breaking news and see us do our thing.
Tips and tools to innovate with during election night coverage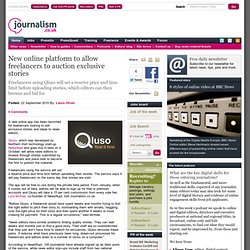 Freelancers using Qluso will set a reserve price and time limit before uploading stories, which editors can then browse and bid for A new online app has been launched for freelancers looking to sell exclusive stories and ideas to news editors. Qluso , which was developed by Northern Irish technology start-up NewsRupt and goes live in beta on 4 October, will allow news editors to browse through stories submitted by freelancers and place bids to become the first to publish the material. Freelancers using the service will set a reserve price and time limit before uploading their stories. The service says it will pay freelancers on the same day that stories are sold.
New online platform to allow freelancers to auction exclusive stories
Great advice on seeing news content as data
October 17, 2010 by Steve Buttry Most news stories are basically data in paragraph form. Each of the 5 W's could just as easily be a field in a database. Structured as data, not simply as stories, "who" becomes more than a fact for a story; it relates this story to the other stories with the same "who."Databases give news content more lasting value, by providing context and relationships. I don't have a lot more to say about this right now. I just mention it because Michelle Minkoff makes similar points in a post about some data projects she worked on for the Los Angeles Times: We must understand our news content as data .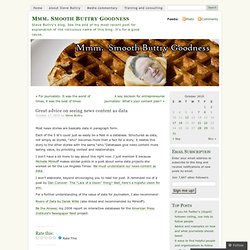 New BBC guidelines incorporate social media, user-generated content
New edition of editorial guidelines incorporates BBC Online content and includes new advice on the use of social media and user-generated content The BBC's editorial guidelines now include advice for journalists on the use of social media and user-generated content, following today's publication of a new edition. The new edition also covers content at BBC Online, which previously came under separate guidelines. It updates the previous guidelines , published in 2005, incorporating social media and user generated content for the first time. According to a BBC Trust commentary on the guidelines , "the new edition takes account of editorial issues raised by technological developments such as mass audience voting by phone, email and text, and the availability of material from social media". A review of the guidelines, commissioned by the trust, began last year when a new draft was drawn up by the BBC Executive in consultation with the trust's Editorial Standards Committee.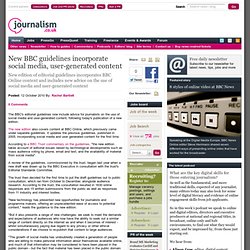 MediaShift . How to Teach Social Media in Journalism Schools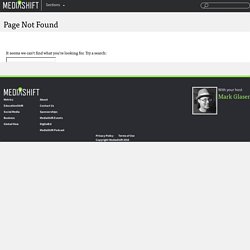 Education content on MediaShift is sponsored by Carnegie-Knight News21 , an alliance of 12 journalism schools in which top students tell complex stories in inventive ways.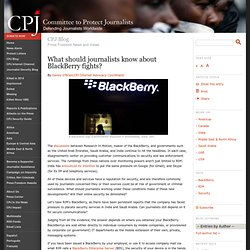 A Blackberry logo is prominently displayed in Ahmadabad, India. (AP)
What should journalists know about BlackBerry fights? - Blog - Committee to Protect Journalists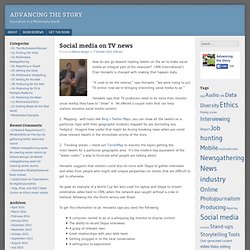 Advancing the Story Social media on TV news
How do you go beyond reading tweets on the air to make social media an integral part of the newscast?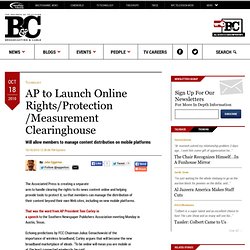 By John Eggerton -- Broadcasting & Cable, 10/18/2010 12:36:06 PM The Associated Press is creating a separate arm to handle clearing the rights to its news content online and helping provide tools to protect it, so that members can manage the distribution of their content beyond their own Web sites, including on new mobile platforms. That was the word from AP President Tom Curley in a speech to the Southern Newspaper Publishers Association meeting Monday in Austin, Texas. Echoing predictions by FCC Chairman Julius Genachowski of the importance of wireless broadband, Curley argues that will become the new broadband marketplace of ideals.
AP to Launch Online Rights/Protection/Measurement Clearinghouse - 2010-10-18 16:36:06