SM Trends
Welcome to twittapolls! Gap Reverts to Original Logo After Social Media Backlash. Gap has announced on its Facebook Page that it is scrapping its new logo design efforts, acquiescing to a torrent of criticism coming primarily from Facebook and Twitter users.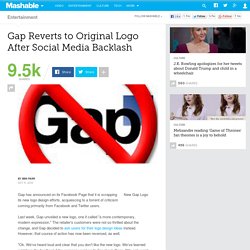 Last week, Gap unveiled a new logo, one it called "a more contemporary, modern expression. " The retailer's customers were not so thrilled about the change, and Gap decided to ask users for their logo design ideas instead. However, that course of action has now been reversed, as well. "Ok. We've heard loud and clear that you don't like the new logo. Twitter Goes Nuts for New Twitter, Britney-powered 'Glee' - Advertising Age - MediaWorks: What the Trend. 5 Most Engaged Brands in Social Media.
Engaging in social media is about being extremely open, creative and flexible.
To stay competitive online, brands need to be investing in social media as a way to extend themselves to their customers. While advertising and cultivating an image are still important, it's interaction that creates loyal customers. Starbucks and L'Oreal Test Location-Based SMS Coupons in UK. UK network provider O2 has partnered with location services platform Placecast to enable brands to automatically deliver targeted SMS and MMS to more than 1 million opted-in O2 customers based on their exact whereabouts.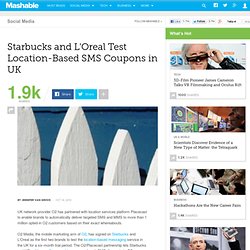 O2 Media, the mobile marketing arm of O2, has signed on Starbucks and L'Oreal as the first two brands to test the location-based messaging service in the UK for a six-month trial period. The O2/Placecast partnership lets Starbucks and L'Oreal fence off geographic zones and push SMS discounts to O2 customers who enter those areas. Starbucks is offering O2 customers 50% off discounts — delivered via SMS and redeemable at nearby stores — on its Starbucks VIA Ready Brew product. The discount will be delivered to individuals who have expressed an interest in food and beverage. And the No. 1 Reason to LOVE Twitter This Week Is... - Advertising Age - MediaWorks: What the Trend.
---