Pres. Obama
Petitions
The U.S. House has passed its version of a bill to raise the debt ceiling. The final vote was 218 to 210. 22 Republicans voted against it, and no Democrats voted in favor of the plan. Here are the Republicans who voted against the bill (Freshman members are in bold): Amash (MI), Bachmann (MN), Broun (GA), Chaffetz (UT), Cravaack (MN), DesJarlais (TN), Duncan (SC), Graves (GA), Gowdy (SC), Huelskamp (KS), Johnson (IL), Jordan (OH), King (IA), Latham (IA), Connie Mack (FL), McClintock (CA), Mulvaney (SC), Ron Paul (TX), Tim Scott (SC), Southerland (FL), Walsh (IL), Wilson (SC).
House Approves Speaker Boehner's Revised Debt Plan
President Obama held a White House news conference today, taking questions from reporters on a number of topics, including the budget & deficit, U.S. military involvement in Libya, same-sex marriage, and Afghanistan. The President discussed the ongoing negotiations with the GOP-controlled U.S. House and Democratic-led Senate over the budget and taxes. Referring to his proposals to eliminate certain tax incentives to raise revenue, the President said "I spent the last two years cutting taxes for middle-class Americans…it's only fair to ask an oil company or corporate jet owner to give up a tax break."
President Obama Holds News Conference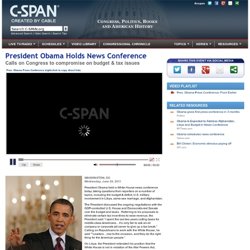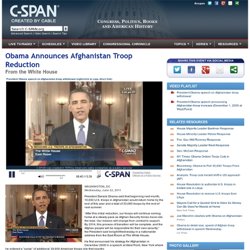 Obama Announces Afghanistan Troop Reduction
President Barack Obama said that beginning next month, 10,000 U.S. troops in Afghanistan would return home by the end of this year and a total of 33,000 troops by the end of next summer. "After this initial reduction, our troops will continue coming home at a steady pace as Afghan Security forces move into the lead. Our mission will change from combat to support. By 2014, this process of transition will be complete, and the Afghan people will be responsible for their own security," the President said tonight/Wednesday in a nationwide address from the East Room at The White House. He first announced his strategy for Afghanistan in December 2009 in a speech at West Point, New York where he ordered a "surge" of additional 30,000 American troops into that country. He later added that "over the last decade, we have spent a trillion dollars on war, at a time of rising debt and hard economic times.
Live Video - C-SPAN3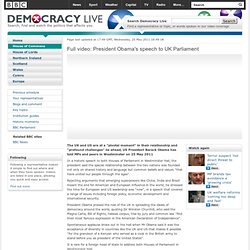 BBC - Democracy Live - Full video: President Obama's speech to UK Parliament
The UK and US are at a "pivotal moment" in their relationship and "profound challenges" lie ahead, US President Barack Obama has told MPs and peers in Westminster on 25 May 2011 In a historic speech to both Houses of Parliament in Westminster Hall, the president said the special relationship between the two nations was founded not only on shared history and language but common beliefs and values "that have united our people through the ages". Rejecting arguments that emerging superpowers like China, India and Brazil meant the end for American and European influence in the world, he stressed the time for European and US leadership was "now", in a speech that covered a range of issues including foreign policy, economic development and international security.
Obama honors "America's guardians"
ARLINGTON, Va. - President Barack Obama honored America's fallen service members, and called on Americans to remember their sacrifice.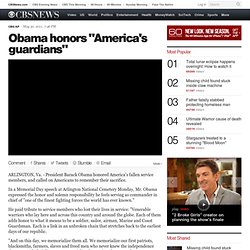 Obama and Libya: Obama goes to war in Libya
It's a good thing we didn't elect John McCain in 2008. A McCain victory would have meant an escalation in Afghanistan, a third war in the Middle East and a president sending U.S. forces into harm's way heedless of public opinion or congressional power. Instead, we elected Barack Obama, who firmly rejected military action for purely humanitarian reasons. In his 2002 speech opposing the Iraq war, Obama insisted that though Saddam Hussein "butchers his own people to secure his own power," the war was unjustified. Hussein, he pointed out, "poses no imminent and direct threat to the United States, or to his neighbors" and "can be contained until, in the way of all petty dictators, he falls away into the dustbin of history." In 2008, we saw debates between Obama and his rival contenders.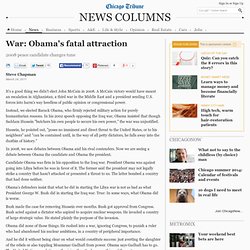 Obama Letter to Congress on Libya Sparks Protests
President Obama on the Situation in Egypt
THE PRESIDENT: Good evening, everybody. My administration has been closely monitoring the situation in Egypt, and I know that we will be learning more tomorrow when day breaks. As the situation continues to unfold, our first concern is preventing injury or loss of life. So I want to be very clear in calling upon the Egyptian authorities to refrain from any violence against peaceful protestors.
worldview's Channel
Longing for Partisanship! - Newsweek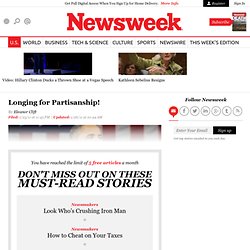 If you think of this State of the Union as the third act of a trilogy—the first being a surprisingly productive lame-duck session of Congress, the second his Tucson speech that appealed to our better angels—what President Obama gave us Tuesday night was worthy and workmanlike, crafted to steer right down the middle of a divided country, a political exercise more than an inspirational one. He stuck to what he's been doing since the election, stressing jobs and competitiveness and the investments in education, innovation, and infrastructure to create those jobs now and into the future.
State of the Union 2011
The formal basis for the State of the Union address is from the U.S. Constitution: The President "shall from time to time give to the Congress Information on the State of the Union," Article II, Section 3, Clause 1. From 1790 to 1934, the State of the Union Address was known as the Annual Message.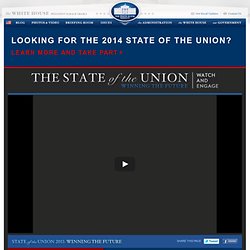 Can Immelt Serve Both Obama and GE? - Clyde Prestowitz - The Conversation
by Clyde Prestowitz | 4:34 PM January 24, 2011 President Obama's appointment last week of GE Chairman Jeff Immelt as chairman of his board of outside economic advisers poses an interesting and fundamentally important question: Can the CEO of an American global company chair a panel that gives more than conventional bromides as advice to the President?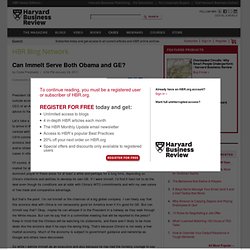 Statement by the President on Events in Tunisia
TUCSON - President Obama comforted a community suffused with grief and summoned the nation to recommit to a more civil public discourse as he delivered a eulogy Wednesday evening urging Americans to talk with each other "in a way that heals, not in a way that wounds." Evoking memories of the six killed here Saturday, Obama seized upon the mass shooting at a congresswoman's supermarket meet-and-greet to tackle directly the subject of the nation's harsh political dialogue. He sharply decried the "politics and point-scoring and pettiness that drifts away with the next news cycle."
Tucson shootings: Let us heal together, Obama says at memorial event
By: News Desk Updated 10:05 p.m. ET More coverage of Wednesday's memorial service:Intern Daniel Hernandez: 'I Am Not a Hero'Gwen Ifill Gets Reactions From Historians, Analysts Several memorials are planned Wednesday for the victims of the shooting rampage in Tucson that killed six people and wounded 13 others, including Rep. Gabrielle Giffords.
Live Coverage: Memorial in Tucson | The Rundown News Blog | PBS NewsHour
McKale Memorial Center University of Arizona Tucson, Arizona THE PRESIDENT: Thank you. (Applause.)
President Obama: Memorial in Arizona
Girl's Death in Tucson Hits Home for Obama
The audience was on its feet. Mr. Obama had just laid down a stark and powerful gauntlet, challenging the country to live up to the expectations of 9-year-old Christina-Taylor Green, whose death on Saturday was an emotional punch to the gut for so many people across the country. Among them, apparently, is the president himself, whose younger daughter, , was born three months before Christina. "I want our democracy to be as good as Christina imagined it," Mr.
Remarks by the President at a Memorial Service for the Victims of the Shooting in Tucson, Arizona