Pres. Obama
Petitions. Official Department of State Response to STOP EXPANDING TRADE WITH VIETNAM AT THE EXPENSE OF HUMAN RIGHTS Please see the bottom of the response for the Vietnamese translation.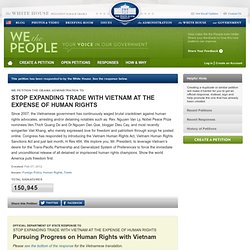 By Michael Posner. Live Video - C-SPAN3. BBC - Democracy Live - Full video: President Obama's speech to UK Parliament. The UK and US are at a "pivotal moment" in their relationship and "profound challenges" lie ahead, US President Barack Obama has told MPs and peers in Westminster on 25 May 2011 In a historic speech to both Houses of Parliament in Westminster Hall, the president said the special relationship between the two nations was founded not only on shared history and language but common beliefs and values "that have united our people through the ages".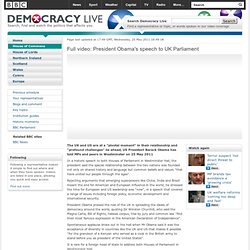 Rejecting arguments that emerging superpowers like China, India and Brazil meant the end for American and European influence in the world, he stressed the time for European and US leadership was "now", in a speech that covered a range of issues including foreign policy, economic development and international security. Obama honors "America's guardians"
ARLINGTON, Va. - President Barack Obama honored America's fallen service members, and called on Americans to remember their sacrifice.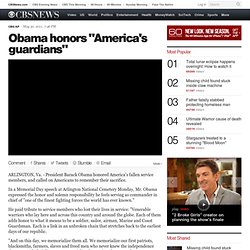 In a Memorial Day speech at Arlington National Cemetery Monday, Mr. Obama expressed the honor and solemn responsibility he feels serving as commander in chief of "one of the finest fighting forces the world has ever known. " He paid tribute to service members who lost their lives in service: "Venerable warriors who lay here and across this country and around the globe. Obama and Libya: Obama goes to war in Libya. It's a good thing we didn't elect John McCain in 2008.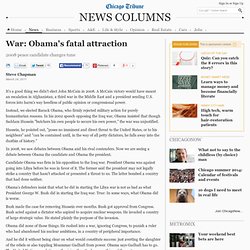 A McCain victory would have meant an escalation in Afghanistan, a third war in the Middle East and a president sending U.S. forces into harm's way heedless of public opinion or congressional power. Instead, we elected Barack Obama, who firmly rejected military action for purely humanitarian reasons. In his 2002 speech opposing the Iraq war, Obama insisted that though Saddam Hussein "butchers his own people to secure his own power," the war was unjustified.
Hussein, he pointed out, "poses no imminent and direct threat to the United States, or to his neighbors" and "can be contained until, in the way of all petty dictators, he falls away into the dustbin of history. " In 2008, we saw debates between Obama and his rival contenders. Obama Letter to Congress on Libya Sparks Protests. President Obama on the Situation in Egypt. THE PRESIDENT: Good evening, everybody.
My administration has been closely monitoring the situation in Egypt, and I know that we will be learning more tomorrow when day breaks. As the situation continues to unfold, our first concern is preventing injury or loss of life. So I want to be very clear in calling upon the Egyptian authorities to refrain from any violence against peaceful protestors. Worldview's Channel. Longing for Partisanship! State of the Union 2011. The formal basis for the State of the Union address is from the U.S.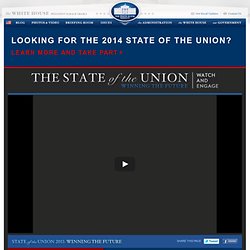 Constitution: The President "shall from time to time give to the Congress Information on the State of the Union," Article II, Section 3, Clause 1. From 1790 to 1934, the State of the Union Address was known as the Annual Message. Can Immelt Serve Both Obama and GE? - Clyde Prestowitz - The Conversation. By Clyde Prestowitz | 4:34 PM January 24, 2011 President Obama's appointment last week of GE Chairman Jeff Immelt as chairman of his board of outside economic advisers poses an interesting and fundamentally important question: Can the CEO of an American global company chair a panel that gives more than conventional bromides as advice to the President?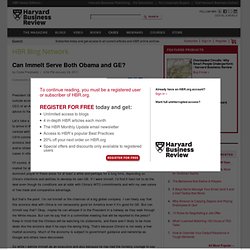 Let's take a very fresh recent example involving GE. As China's President Hu Jintao was preparing to arrive in Washington last week, GE announced the conclusion of an agreement to do a joint venture with China's state owned company Avic to produce in China the avionics for China's new C919 commercial jet liner. The deal will result in transfer of most, if not all, of GE's advanced avionics technology to the joint venture with the strong possibility that it will also find its way to Avic and/or others in China outside the joint venture as other technologies have been doing in similar cases in other industries.
Statement by the President on Events in Tunisia. Tucson shootings: Let us heal together, Obama says at memorial event. TUCSON - President Obama comforted a community suffused with grief and summoned the nation to recommit to a more civil public discourse as he delivered a eulogy Wednesday evening urging Americans to talk with each other "in a way that heals, not in a way that wounds.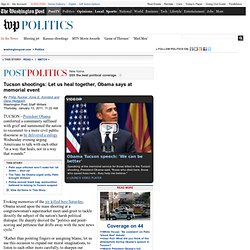 " Evoking memories of the six killed here Saturday, Obama seized upon the mass shooting at a congresswoman's supermarket meet-and-greet to tackle directly the subject of the nation's harsh political dialogue. He sharply decried the "politics and point-scoring and pettiness that drifts away with the next news cycle. " Live Coverage: Memorial in Tucson | The Rundown News Blog. Updated 10:05 p.m.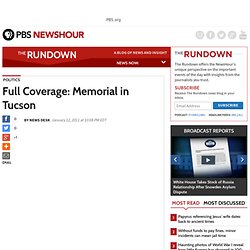 ET More coverage of Wednesday's memorial service: Intern Daniel Hernandez: 'I Am Not a Hero' Gwen Ifill Gets Reactions From Historians, Analysts Several memorials are planned Wednesday for the victims of the shooting rampage in Tucson that killed six people and wounded 13 others, including Rep. The White House. President Obama: Memorial in Arizona. McKale Memorial Center University of Arizona Tucson, Arizona THE PRESIDENT: Thank you.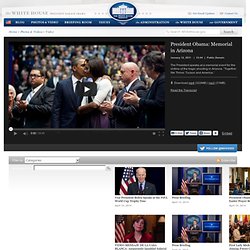 (Applause.) Girl's Death in Tucson Hits Home for Obama. Remarks by the President at a Memorial Service for the Victims of the Shooting in Tucson, Arizona. The White House Office of the Press Secretary For Immediate Release January 12, 2011 McKale Memorial Center University of Arizona Tucson, Arizona.
---