Google+
Editor's note: This guest post is written by Tom Anderson, the former President, founder and first friend on MySpace. You can now find Tom on Facebook, Twitter, and Google+. If it's not obvious yet, Google+ is going to be able to "undercut" Facebook when it comes to game developers and platform transactions. Instead of taking a 30% cut of all Farmville seeds (or whatever people are buying), Google will be able to take a smaller percentage for themselves. They may even take nothing. And when it comes to "monetization" on the G+ "website," Google's trump card against Facebook is that we may never even see an ad on G+.
Is G+ Putting Facebook On The Defensive?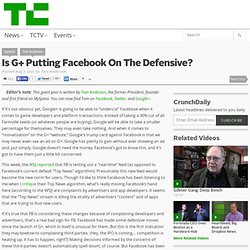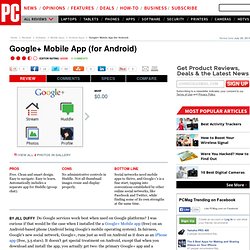 Google+ Mobile App (for Android) Review & Rating
Do Google services work best when used on Google platforms? I was curious if that would be the case when I installed the a Google+ Mobile app (free) on an Android-based phone (Android being Google's mobile operating system). In fairness, Google's new social network, Google+, runs just as well on Android as it does as an iPhone app (free, 3.5 stars). It doesn't get special treatment on Android, except that when you download and install the app, you actually get two: the primary Google+ app and a separate app for Huddle, or group chat. The only other difference is that the interface on Android deviates slightly from what's in the iPhone app; the way the apps work is largely the same, however. Mobile apps are essential to the whole social networking experience.
News Analysis July 29, 2011 03:49 PM ET Computerworld - Google+ on Thursday hit its one-month birthday and is already a major social networking player, analysts say. Google released its much-anticipated social network on June 28.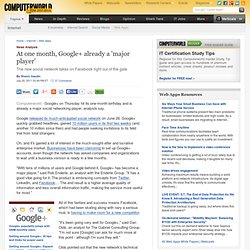 At one month, Google+ already a 'major player'
Chatroulette + Google Hangouts= PlusRoulette
Part of Google's new social platform Google+ includes a group video chat feature called Google Hangouts, which is great for group video chat and sharing. As my colleague MG Siegler wrote in his initial review of Google+, Google Hangouts attempts to solve the social problem of video chat by making it easy for you to let others know that you're interested in chatting. You can share a piece of content, like a YouTube clip, and everyone in the Hangout can watch it together while talking about it. The feature is designed to create group chats (of up to ten people) within Circles on Google+.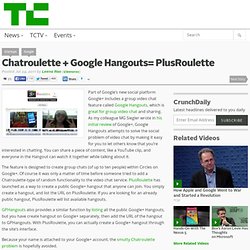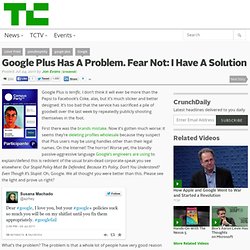 Google Plus is terrific. I don't think it will ever be more than the Pepsi to Facebook's Coke, alas, but it's much slicker and better designed. It's too bad that the service has sacrificed a pile of goodwill over the last week by repeatedly publicly shooting themselves in the foot. First there was the brands mistake. Now it's gotten much worse: it seems they're deleting profiles wholesale because they suspect that Plus users may be using handles other than their legal names.
Google Plus Has A Problem. Fear Not: I Have A Solution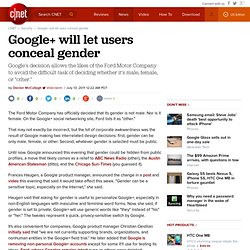 Google+ will let users conceal gender | Privacy Inc.
The Ford Motor Company has officially decided that its gender is not male. Nor is it female. On the Google+ social networking site, Ford lists it as "other." That may not exactly be incorrect, but the bit of corporate awkwardness was the result of Google making two interrelated design decisions: first, gender can be only male, female, or other. Second, whatever gender is selected must be public.
Five reasons why Google+ will succeed
Watch Twitter Explode: Google+ Invites Granted To Early Users
If there's been a question I've been asked more than "do you have any Google+ invites?", I can't remember it. And it's only been a day! Sadly, I haven't had any invites to give out.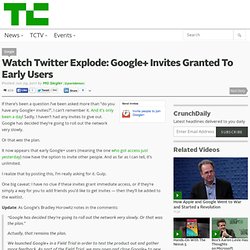 Forget being friended on Facebook or followed on Twitter. What you really want now is to be Circled—or so Google GOOG +3.75% Google Inc. Cl C U.S.: Nasdaq $556.54 +20.10 +3.75% April 16, 2014 4:00 pm Volume (Delayed 15m) : 3.73M AFTER HOURS $539.80 -16.74 -3.01% April 16, 2014 7:25 pm Volume (Delayed 15m): 1.14M P/E Ratio N/A Market Cap $365.19 Billion Dividend Yield N/A Rev. per Employee $1,250,730 04/11/14 Heartbleed Bug's 'Voluntary' O... 04/08/14 Turkey Slightly Loosens Grip o... 04/03/14 Mozilla CEO Brendan Eich Steps... More quote details and news » GOOG in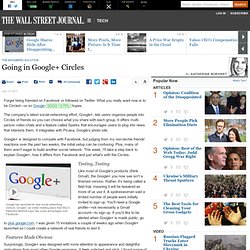 A Review of Google+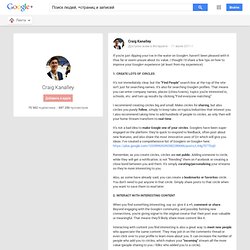 If you're just dipping your toe in the water on Google+, haven't been pleased with it thus far or seem unsure about its value, I thought I'd share a few tips on how to improve your Google+ experience (at least from my experience): It's not immediately clear, but the "Find People" search box at the top of the site isn't just for searching names. It's also for searching Google+ profiles. That means you can enter company names, places (cities/towns), topics you're interested in, schools, etc. and turn up results by clicking "Find everyone matching."
Post by Craig Kanalley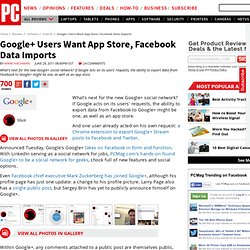 What's next for the new Google+ social network? If Google acts on its users' requests, the ability to export data from Facebook to Google+ might be one, as well as an app store. And one user already acted on his own request: a Chrome extension to export Google+ Stream posts to Facebook and Twitter. Announced Tuesday, Google's Google+ takes on Facebook in form and function.
Google+ Users Want App Store, Facebook Data Imports
What Your Business Needs To Know About Google+
Unless you've avoided the Internet over the past two weeks, you've probably heard about Google's big play into the social web. It's called Google+, and it's been labeled the search giant's Facebook contender. That's a modest assessment. Make no mistake. Google+ is aiming at Facebook, LinkedIn and Twitter users.
A striking number of Google+ accounts have been deleted in the last 24 hours as the new social network struggles with its community standards policy around real names - alienating and frightening the people it aims to serve. Removed but restored through influence is Limor Fried - AKA Lady Ada / Adafruit Industries: She was recently featured on the cover of WIRED Magazine. Google suspended Limor Fried "Ladyada" Google+ profile, no show-and-tell tonight… http://adafru.it/b16793
If businesses can contain themselves for just a few more months, they'll have much better Google+ tools than the ones that currently exist. In fact, Google will be unveiling specially tweaked profiles with analytics and more sophisticated sharing options, all coming during (or shortly after) Q3 2011. Businesses that don't have the patience to wait for those features and instead jump into Google+ with a personal account will suffer a rather painful consequence; they won't be able to migrate that personal accounts to a business profile. Google isn't building a migration tool, and it says switching accounts manually could get messy. In an exclusive interview with VentureBeat, a Google spokesperson confirmed, "There will be a product very soon that has businesses' interests in mind… We want to give them the features businesses expect and the features that can improve the sharing experience both for consumers and businesses."
Google+ business profiles to include analytics & more