Google+
Editor's note: This guest post is written by Tom Anderson, the former President, founder and first friend on MySpace. You can now find Tom on Facebook, Twitter, and Google+.
Is G+ Putting Facebook On The Defensive?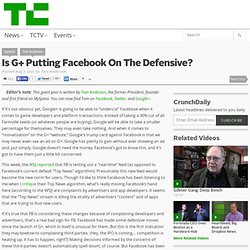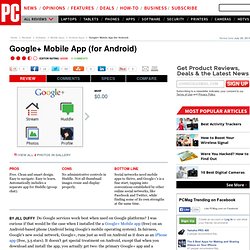 Google+ Mobile App (for Android) Review & Rating
Do Google services work best when used on Google platforms? I was curious if that would be the case when I installed the a Google+ Mobile app (free) on an Android-based phone (Android being Google's mobile operating system).
News Analysis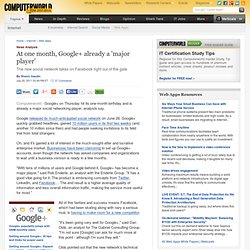 At one month, Google+ already a 'major player'
Chatroulette + Google Hangouts= PlusRoulette
Part of Google's new social platform Google+ includes a group video chat feature called Google Hangouts, which is great for group video chat and sharing.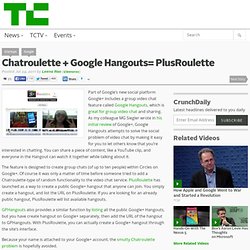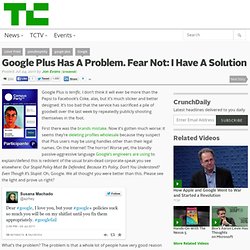 Google Plus is terrific.
Google Plus Has A Problem. Fear Not: I Have A Solution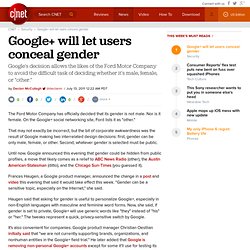 Google+ will let users conceal gender | Privacy Inc.
The Ford Motor Company has officially decided that its gender is not male. Nor is it female.
Five reasons why Google+ will succeed
Watch Twitter Explode: Google+ Invites Granted To Early Users
If there's been a question I've been asked more than "do you have any Google+ invites?"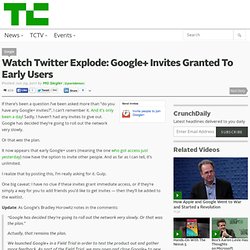 A Review of Google+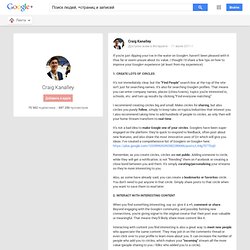 If you're just dipping your toe in the water on Google+, haven't been pleased with it thus far or seem unsure about its value, I thought I'd share a few tips on how to improve your Google+ experience (at least from my experience):
Post by Craig Kanalley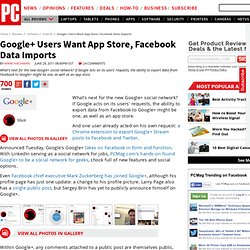 What's next for the new Google+ social network?
Google+ Users Want App Store, Facebook Data Imports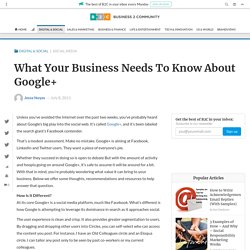 What Your Business Needs To Know About Google+
Unless you've avoided the Internet over the past two weeks, you've probably heard about Google's big play into the social web.
A striking number of Google+ accounts have been deleted in the last 24 hours as the new social network struggles with its community standards policy around real names - alienating and frightening the people it aims to serve. Removed but restored through influence is Limor Fried - AKA Lady Ada / Adafruit Industries: She was recently featured on the cover of WIRED Magazine. Google suspended Limor Fried "Ladyada" Google+ profile, no show-and-tell tonight… http://adafru.it/b16793
If businesses can contain themselves for just a few more months, they'll have much better Google+ tools than the ones that currently exist.
Google+ business profiles to include analytics & more