DESIGN INFO
The Society of Graphic Designers of Canada | GDC Chapters | Soci. SDGQ was created in 1972 as the Société des graphistes du Québec (SGQ) and was legally incorporated in 1974.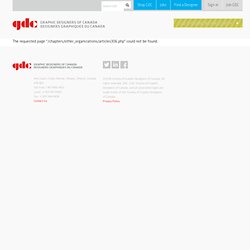 In 2003 they signed a formal affiliation agreement with the GDC. Read more about SDGQ in About GDC. Visit the SDGQ website. Oeil pour oeil: la SDGQ lance son blogue La Société des designers graphiques du Québec (SDGQ) a le plaisir d'annoncer le lancement officiel d'Oeil pour oeil, un blogue francophone à propos du design graphique. BRANDING. GENERAL.
IRDC. Retail news, retail jobs and retail market data | Retail Week.
---