Tutorial
Colorful Retro Text Effect | textuts.com. This tutorial will show you how to use Photoshop brushes and Layer Layer Style to create an awesome colorful retro text effect.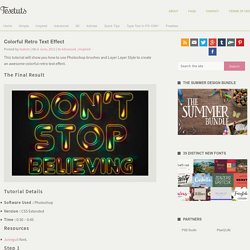 The Final Result Tutorial Details. DesignNocturne | Advanced Photoshop Tutorials and Resources. Tutorial9 - The Best Resources for Designers, Every Day. Adobe Creative Suite Tutorials and Reviews for Photographers, Designers, Illustrators and Developers | Layers Magazine. Aetuts+ | Adobe After Effects tutorials from beginner to advanced. Create a Detailed Vintage TV from Scratch in Photoshop.
In today's tutorial, I will show you how to create a detailed vintage TV from scratch using Photoshop's vector editing capabilities.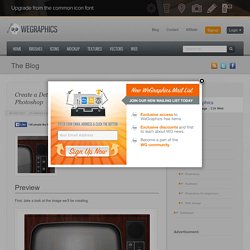 The detailed step by step guide will help you to understand the process of its creation. Preview First, take a look at the image we'll be creating. Step 1. Make a Retro Space Themed Poster in Photoshop. Yuri Alekseyevich Gagarin, Soviet pilot and cosmonaut, was the first human being to journey into outer space, when his Vostok spacecraft completed an orbit of the Earth on April 12, 1961.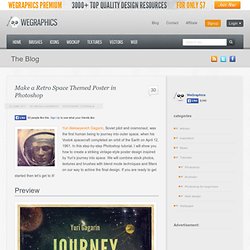 In this step-by-step Photoshop tutorial, I will show you how to create a striking vintage-style poster design inspired by Yuri's journey into space. We will combine stock photos, textures and brushes with blend mode techniques and filters on our way to achive the final design. If you are ready to get started then let's get to it! Effetto Tilt Shift con After Effects. Globi e scie luminose con After Effects ma senza Trapcode.
---