Healthy eating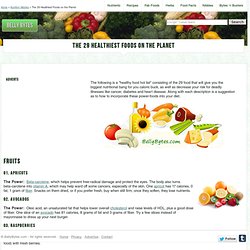 The following is a "healthy food hot list" consisting of the 29 food that will give you the biggest nutritional bang for you caloric buck, as well as decrease your risk for deadly illnesses like cancer, diabetes and heart disease. Along with each description is a suggestion as to how to incorporate these power-foods into your diet. Fruits 01. Apricots The Power: Beta-carotene , which helps prevent free-radical damage and protect the eyes. The body also turns beta-carotene into vitamin A , which may help ward off some cancers, especially of the skin.
The amount and type of food you eat has a major influence on your health. If you eat a well-balanced diet, it can reduce your risk of various diseases as well as help you to maintain a healthy weight . There are certain times when it can be particularly important to make sure that you follow a healthy diet, for instance, if you want to lose excess weight or if you're watching what you eat because you're pregnant.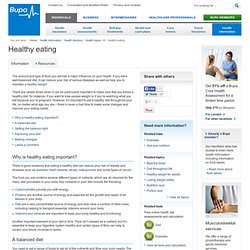 Eating Healthy - Change the Way You Look at Food!
Fad diets will lead you to successful weight loss if you follow them exactly as they're designed. That doesn't mean every food that fits into that particular diet is good for you, but it does mean you have to change your eating patterns to fit that diet's rules. Some fad diets, like Paleolithic diets , raw food diets and alkaline diets , contain healthy foods, but can be difficult to follow because they eliminate so many foods (some of which are good for you). Rather than worry about following a fad diet, think about your health and change your lifestyle instead. Choose foods that are good for you and eat them in the right amounts.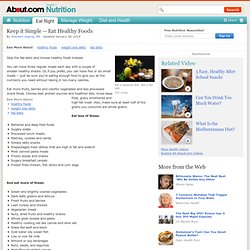 How To Eat Healthy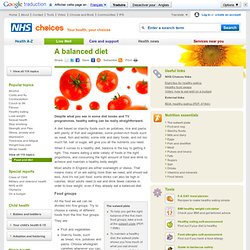 Despite what you see in some diet books and TV programmes, healthy eating can be really straightforward. Food groups All the food we eat can be divided into five groups. Try to choose a variety of different foods from the first four groups. They are: Fruit and vegetables.