Fontlar
Google. 30 Fonts Perfect for Vintage and Retro Style Design. A Vintage or retro style design is meant to transport it's audience decades into the past.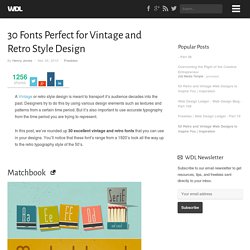 Designers try to do this by using various design elements such as textures and patterns from a certain time period. But it's also important to use accurate typography from the time period you are trying to represent. In this post, we've rounded up 30 excellent vintage and retro fonts that you can use in your designs. Taze ve Modern 27 adet ücretsiz font. Tasarımlarımızın en önemli yapıtaşlarından birisi de kullandığımız fontlardır.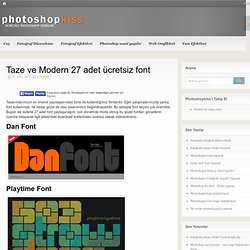 Eğer çalışmalarımızda yanlış font kullanırsak, ne kadar güzel de olsa tasarımımız beğenilmeyebilir. Bu sebeple font seçimi çok önemlidir. EKNP Free Fonts. Fonts - Cool Fonts. Free fonts for both commercial and noncommercial use. Türkçe font, türkçe karakter, türkçe font indir, font indir, download fonts | fonttr.com. Font Download. Dafont.com. 30 Fonts You Want to Have.
Everyone has their own personal preferences when it comes to deciding what fonts to you one their designs.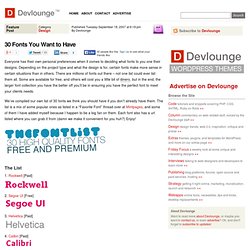 Depending on the project type and what the design is for, certain fonts make more sense in certain situations than in others. There are millions of fonts out there – not one list could ever list them all. Some are available for free, and others will cost you a little bit of dinero, but in the end, the larger font collection you have the better off you'll be in ensuring you have the perfect font to meet your clients needs. We've compiled our own list of 30 fonts we think you should have if you don't already have them. WhatTheFont!
---Web Dersleri--- Photoshop icin iyi bir basvuru kaynagi. M Fonts. Free Fonts. Shadowed, 3D Fonts @ 1001 Fonts. Free Fonts starting with letter V. Free Fonts - 6500 Free TTF Fonts (E) Below are over 6500 free fonts you can download to your computer and use for free.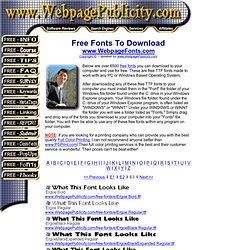 These are free TTF fonts made to work with any PC or Windows Based Operating System. After downloading any of these free TTF fonts to your computer you must install them in the "Font" file folder of your Windows file folder found under the C: drive in your Windows Explorer program. Your Windows file folder, found under the C: drive of your Windows Explorer program, is often listed as "WINDOWS" or "WINNT. " Under your WINDOWS or WINNT file folder you will see a folder listed as "Fonts. " Free Basic Fonts | Download fonts at FontRiver.com. Arial, Times New Roman, Verdana, etc. – the names of these default fonts are known to every user of a Windows or Mac computer.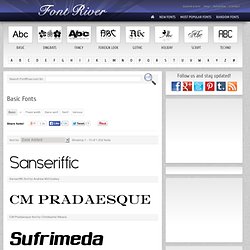 These basic fonts offer many advantages, such as wide popularity, cross-platform support, web-safety, etc. However, if you are a creative designer with the keen interest in typography you would definitely prefer to introduce some authenticity and uniqueness even to the simple and basic fonts you use in your designs. FontRiver.com offers the best alternatives to free basic fonts, which still feature great clear design and traditional proportions. Download Free Fonts.
Monospaced Fonts @ 1001 Fonts. BLUE VERTIGO | Web Design Resources Links | Last update APR.07.2011. Free Fonts - Free True Type Fonts.
---