Degree
Home >>> Welcome to Learnerstv.com. This is a comprehensive site providing thousands of downloadable Video lectures, Live Online Tests,etc in the fields of Biology, Physics, Chemistry, Mathematics, Computer Science, Engineering, Medicine, Management and Accounting, Dentistry, Nursing, Psychology, History, Language Training, Literature, Law, Economics, Philosophy,Astronomy, Political Science etc FREE to its visitors... This site provides free video and audio lectures of whole courses conducted by faculty from reputed universities around the world.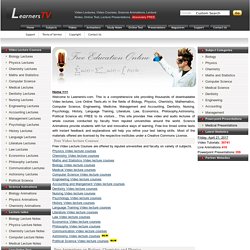 Teach Yourself Medicine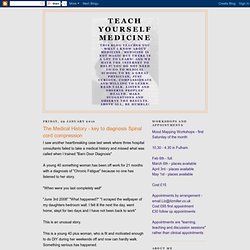 The medical history is the most important part of any medical consultation. Taking a good medical history is key to being a good doctor, and the key to a good medical history is listening to the patient. The medical history lets your patient explain to you what has happened to them and help you understand their problem. Medical diagnosis is the process of working out what has caused the problem. Doctors ask a series of questions in order to get the information they need to help make a diagnosis. Sometimes the diagnosis, or cause of the problem is obvious, sometimes it can be hard to find.