Android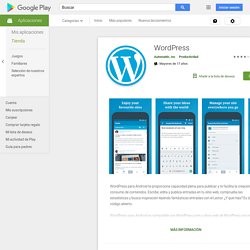 WordPress for Android is an Open Source app that empowers you to write new posts, edit content, view stats, and manage comments with built-in notifications. Version 2 brings an all new Dashboard UI with Quick Action bar and a powerful new editor that makes it easier than ever to post on the go. WordPress for Android supports both WordPress.com and self-hosted WordPress (3.0 or higher) blogs. Need help with the app? Check out http://android.forums.wordpress.org
WebSharingLite File/Media Sync - Android Market
TweetDeck (Twitter, Facebook) - Android Market
SwiftKey X Beta (Phone) - Android Market
Essayez Swiftkey pendant un mois avec cette version d'essai! SwiftKey - le clavier le plus vendu sur Android App la plus vendu dans 38 pays, plus de 100 000 critiques à ✮✮✮✮✮ Webby Award & Global Mobile Award for Innovation Dans le "Top 10 des business mobile les plus innovants" du magazine Fast Company Le seul clavier réellement multi-lingue - tapez dans trois langues simultanément "Shockingly accurate, making for a creepy-fast typing experience." - TIME Magazine "I can't recommend SwiftKey highly enough." - CNET SwiftKey remplace le clavier de votre téléphone par un clavier qui comprend la façon dont les mots forment des phrases et qui prédit les mots avant que vous ayez tapé la moindre touche.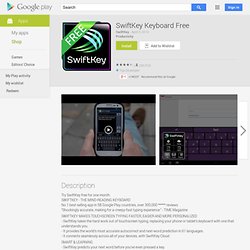 Free voice and video calls to anyone else on Skype, whether they're on an Android, iPhone, Mac or PC, as well as IMs to your friends and family, no matter where they are. Features: - Skype to Skype IMs, video and voice calls are free* over 3G or WiFi. - Make low-cost calls and SMS to mobiles or landlines from your Android smartphone or tablet. - Send pictures, videos and files to any of your contacts. - Enjoy high-quality sound when you call anyone else on Skype. - Talk face to face or show what you're seeing with front and rear-facing cameras. - Talk to your Windows Live Messenger friends on Skype. Sign into Skype with your Microsoft account and have your Messenger, Hotmail and Outlook contacts in one place. For more information, visit the Skype for Android FAQ page: http://goo.gl/8OpEo . Due to Android restrictions, devices running Android 2.2 will only be able to use the rear-facing camera.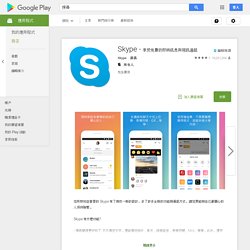 Music - identify songs in as little as 1 second, preview or buy the track, get streaming lyrics, YouTube videos and more. TV - US fans, tag TV shows ANYTIME for music, celebrity buzz, trivia and more. Every channel.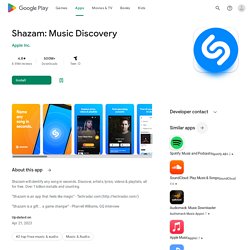 Pageonce Pro - Money & Bills - Android Market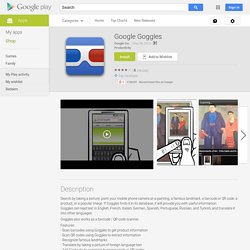 Busca haciendo una foto: apunta con la cámara de tu móvil a un cuadro, un lugar famoso, un código de barras o QR, un producto, un logotipo o una imagen popular. Si Google lo encuentra en su base de datos, te ofrecerá información útil. Goggles puede reconocer texto en francés, inglés, italiano, español, portugués, turco y ruso, y puede traducirlo a otros idiomas. Goggles también sive como escáner de códigos de barras y QR. Características: - Escanea códigos de barras con Goggles para obtener información sobre productos. - Escanea códigos QR con Goggles para extraer su información. - Reconoce lugares famosos. - Traduce mensajes haciendo una foto a un texto en un idioma extranjero. - Añade contactos escaneando tarjetas de visita o códigos QR. - Escanea texto usando la tecnología de reconocimiento óptico de caracteres (OCR). - Reconoce cuadros, libros, DVD, CD y casi cualquier imagen en 2D. - Resuelve sudokus. - Busca productos similares.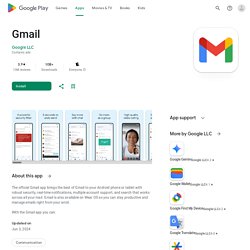 Gmail to poczta e-mail, która od podstaw została stworzona z myślą o intuicyjnym, wydajnym i praktycznym wykorzystaniu (a może nawet jest nieco zabawna). Możesz błyskawicznie odbierać wiadomości dzięki powiadomieniom push, czytać wątki i odpowiadać na nie online i offline. Każdego e-maila możesz łatwo wyszukać.W Gmailu możesz także: • Zarządzać wieloma kontami pocztowymi • Wyświetlać i zapisywać załączniki • Skonfigurować powiadomienia dla określonych etykiet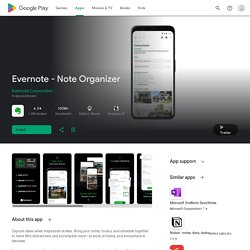 ★ New York Times 'Top 10 Must-Have App' (Las 10 aplicaciones imprescindibles), ganador: Premios Crunchies de TechCrunch, Mashable y Webbys. ★ Evernote es una aplicación gratis y fácil de usar que te ayuda a recordar todo en todos los dispositivos que usas.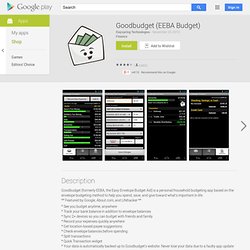 Easy Envelope Budget Aid: Sync - Android Market
EEBA is a personal/household finance app for money management and budget tracking. (Registration required for sync feature) Stay on budget with virtual envelopes! EEBA, the Easy Envelope Budget Aid keeps you on track! ** Leading online envelope budgeting tool on Android featured by Google, About.com, and Lifehacker ** ** NOTE: Please don't leave issues that you need a response to in Reviews, as we can't respond to you there.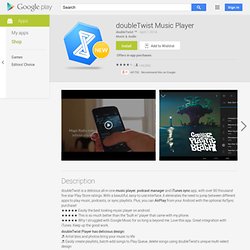 "The Cure for iTunes withdrawal" -- New York Times Are you tired of using multiple apps for things that your iPod could do out of the box? Download doubleTwist Player and get the best all-in-one music, podcast, radio, video & sync app: ♬ Enjoy Magic Radio, a personalized streaming service that seamlessly blends music from your music library with new music uniquely tailored to your musical taste from a catalog of over 13 million songs. ♬ Sync music (including iTunes playlists) to your phone from your Mac/PC over USB or AirSync over WiFi. ♬ Download legal, high-quality album artwork for your music. ♬ Smart Playlists for easy access to your Top Rated and Most Played songs. ♬ Subscribe to podcasts without needing a Mac/PC and get new episodes downloaded automatically over 3G or WiFi. ♬ Stream music, videos and photos to the Xbox 360, PS3, Sonos, and Apple TV (black model; AirPort Express not yet supported).
doubleTwist Player - Android Market
Balancer Launcher - Android Market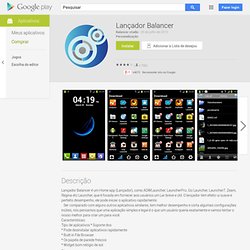 Balancer Launcher is a Home(Launcher) app, like ADWLauncher,LauncherPro,Go Launcher,Launcher7,Zeam,Regina Launcher etc, which is focused on provide users a brief and useful Home. The Launcher has smooth ui effect and perfect performance, it can launch application quickly. Be compared with some other similar applications, It has better performance and do cut off some useless settings, we think a simple and cool application is what a user wanted exactly and we will try our best to create one for you.