Android
Free Remote Access and Remote Desktop Sharing over the Internet. YouTube - Android Market. С Google Переводчиком языковые барьеры не страшны!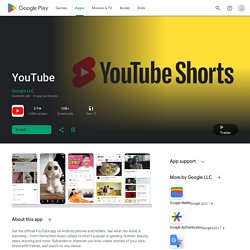 • Перевод на 80 языков.• Переводите свои реплики и реплики собеседника прямо во время разговора.• Диктуйте текст, вводите его на клавиатуре, рисуйте на экране устройства или просто фотографируйте вывески, надписи и документы на незнакомом языке.• Переводите где угодно: в дороге, на пляже или на деловой встрече. Подключение к Интернету теперь не требуется.• Сохраняйте варианты перевода и синхронизируйте их со всеми своими устройствами.Ввод с камеры и офлайн-перевод доступны для устройств на платформе Android версии 2.3 и более поздних. WordPress - Android Market.
Simple Blogger client.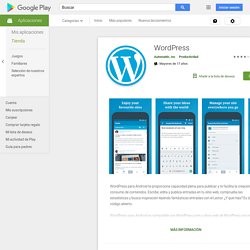 You can:-create/view/edit/delete blog posts-post comments to published blog posts-upload picture(s) and video(s)-select size and quality of pictures uploaded-set publish date/time-publish as draft-share pictures, videos, YouTube clips, links etc. This is a client for blogger.com (blogspot.com). * The app uses ads from: - Airpush • Push Notification Ads • Icon Ads - AdMob • Banner Ads* All published entries will have a Blogger-droid signature* The app is using Flurry for basic metrics [*******Important Note*******]Blogger-droid will show two Notification Ads every day in your notification bar and install Icon Ads from AirPush.
WebSharingLite File/Media Sync - Android Market. Completely Offline and FREE app with 5000+ of best funny, cute and amazing Facebook Statuses for your fb wall posts, for all occasions.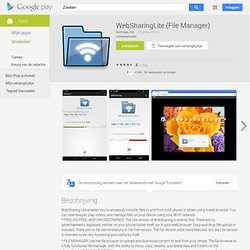 If you are looking for funny, witty, hilarious, crazy, silly status updates to shuffle & get likes and comments, your search ends in this app.Make your Facebook page & wall posts interesting every day with our latest and newest best Facebook statuses for all occasions. Try to share new facebook status or coolest quote every time as wall posts, to attract attention of your fb friends. Update new statuses creatively every day for your profile, for max likes. SwiftKey X Beta (Phone) - Android Market. Alternative android keyboard that has Swiftkey like next word prediction.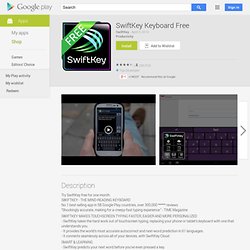 Now includes split keyboard for thumb typing! Jelly Bean Keyboard is the best port of Jelly Bean Keyboard on the market! +++++How to add "Top number row"++++++Go to "Custom input styles" setting, add a new custom input style, you are looking for the PC layout. ++++++++++++++++++++++++++++++++++++++===================================Porting android 4.1 apps to work with older devices requires quite a bit of time and effort.
Skype - Android Market. ★ In many ways better than Skype, Viber, Tango, Vonage, Whatsapp ★ ★ Absolutely Ads Free!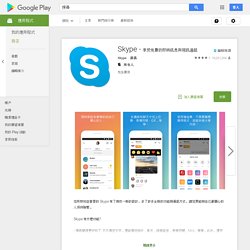 ★ ★ NO NEED to apply for account ★ ★ Can choose to display or hide the Caller ID ★ ★ Great voice quality at very LOW VoIP call rates for US and international calls★ ★ Best Call Recorder - record phone calls freely★ ★ 30 cents free gift credit to start★ ★ Pay As You Go with Google Wallet ★ ★ Buy More Get More ★ ************************************* buy $20 get $1 gift credit buy $50 get $5 gift credit buy $100 get $15 gift credit************************************* -----Customer REVIEWS----- "Great phone. I use lots of phone ups and this one works wonderful. Shazam - Android Market. Hear original music & audio from the world's largest community of musicians, bands, producers and audio creators of all types.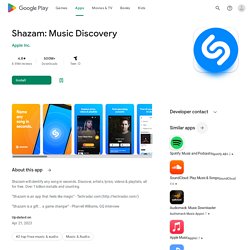 SoundCloud is the world's leading audio platform, with over twelve hours of music & audio posted every minute. Find and play new songs, remixes, comedy, news and more. Google Goggles - Android Market. Break through language barriers with Google Translate. • Translate between 80 languages• Converse naturally and let Google translate• Speak, type, write, or take a picture to translate• Translate offline while traveling.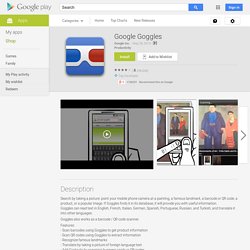 No internet connection needed.• Save your translations and access from any device(Camera input and offline translation are available for Android 2.3 and above) Gmail - Android Market. Google Çeviri ile dil engellerini aşın. • 80 dil arasında çeviri yapın• Siz konuşun, Google çevirsin• Çeviri yapmak için konuşun, klavyeyle veya elinizle yazın ya da resim çekin• Seyahat ederken çevrimdışı çeviri yapın.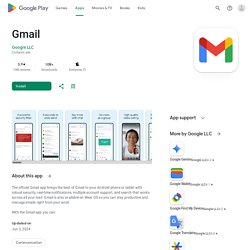 İnternet bağlantısı gerekmez.• Çevirilerinizi kaydedin ve kaydettiğiniz çevirilere istediğiniz cihazdan erişin(Kamerayla giriş ve çevrimdışı çeviri, Android 2.3 ve daha sonraki sürümlerde kullanılabilir) Evernote - Android Market. ColorNote is een simpel kladblok app.
Het geeft u een snelle en eenvoudige notitieblok bewerken ervaring wanneer je schrijft notities, memo, e-mail, bericht, boodschappenlijstje en to do list. Color Note maakt het nemen van een notitie makkelijker dan elke andere notitieblok en memo apps. * Let op *Als u niet kunt vinden widget, lees dan onderstaande FAQ. Easy Envelope Budget Aid: Sync - Android Market. ★★★★★ "Of all the apps for monitoring spending, one of the hardest to beat is Toshl Finance." - New York Times★★★★★ "Now I know where my money is disappearing to, thanks to Toshl..." — BBC★★★★★ " Toshl is simple to use and organizes expenses in a streamlined manner.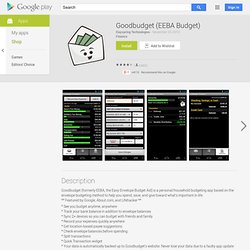 If you use multiple smartphones running on a variety of platforms, you will really love Toshl. " — The Next Web★★★★★ Winner of The Europa award 2013 for Best Commerce, Finance or Payments Startup Toshl Finance is a personal finance manager made fun. Find out where your money is going, keep on top of bills and spending, set up budgets and live easy with a financial peace of mind. It's intuitive, safe, private, designed with character and attention to detail. Toshl is like your personal financial advisor that's with you all the time. DoubleTwist Player - Android Market. This application is a 10 day trial period for PlayerPro Music Player. PlayerPro is an advanced music and video player for Android 2.x devices. PlayerPro features a beautiful, fast and intuitive interface, alongside powerful audio configuration options. In addition, there is a choice of several FREE plugins to complement it: 20+ skins, DSP Pack, Widget Pack ...
Balancer Launcher - Android Market. Atom Launcher allows you to use your Android Smartphone more easily and conveniently. Atom Launcher provides various services such as user settings on Home screen and application, or decoration settings with trendy theme. Enjoy newer, smarter Android life with Atom Launcher.▶ Main Features-Theme Maker: Easy way to make my own Atom theme with my gallery and theme images.- Atom Bar: Google search, digital clock, clock + Quick Setting, clock + Google Search- Streamlined Widgets: Memory Cleaner, Flash, Clock, Memo Calendar, Quick Setting, Contacts- Gestures: Easy controlling through Swipe up/Swipe down/Double tap gestures- Edit tray: Simple and easy management of applications with a quick and easy edit mode.- Smart Folders: Supports customizable folders on your home screen.
---