Psychology
Psychology today. Less Empathy Toward Outsiders: Brain Differences Reinforce Preferences For Those In Same Social Group. An observer feels more empathy for someone in pain when that person is in the same social group, according to new research in the July 1 issue of The Journal of Neuroscience.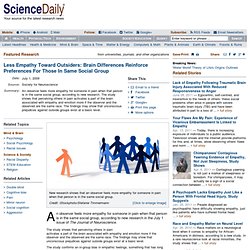 The study shows that perceiving others in pain activates a part of the brain associated with empathy and emotion more if the observer and the observed are the same race. The findings may show that unconscious prejudices against outside groups exist at a basic level. The study confirms an in-group bias in empathic feelings, something that has long been known but never before confirmed by neuroimaging technology.
Researchers have explored group bias since the 1950s. Ads Implant False Memories | Wired Science  My episodic memory stinks.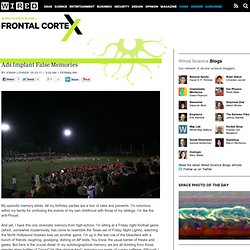 All my birthday parties are a blur of cake and presents. I'm notorious within my family for confusing the events of my own childhood with those of my siblings. I'm like the anti-Proust. And yet, I have this one cinematic memory from high-school. Why Does Beauty Exist? | Wired Science  Over at the always excellent Not Exactly Rocket Science, Ed Yong summarizes a new investigation into the neural substrate of beauty: Tomohiro Ishizu and Semir Zeki from University College London watched the brains of 21 volunteers as they looked at 30 paintings and listened to 30 musical excerpts.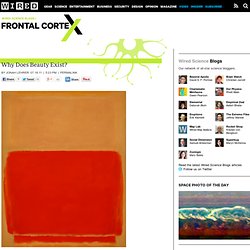 All the while, they were lying inside an fMRI scanner, a machine that measures blood flow to different parts of the brain and shows which are most active. The recruits rated each piece as "beautiful", "indifferent" or "ugly".The scans showed that one part of their brains lit up more strongly when they experienced beautiful images or music than when they experienced ugly or indifferent ones – the medial orbitofrontal cortex or mOFC.Several studies have linked the mOFC to beauty, but this is a sizeable part of the brain with many roles.
It's also involved in our emotions, our feelings of reward and pleasure, and our ability to make decisions. Rich people have no idea what you're thinking. By Diane Mapes Wondering why your fat cat boss seems so clueless about why you don't want to work extra shifts during the holidays?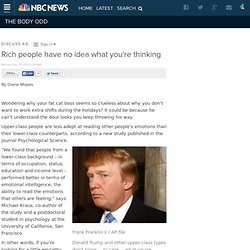 It could be because he can't understand the dour looks you keep throwing his way. Get Anyone to Like You – Instantly – Guaranteed. Get anyone to like you - Instantly - Guaranteed If you want people to like you, make them feel good about themselves.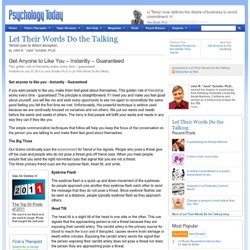 This golden rule of friendship works every time - guaranteed! The principle is straightforward. If I meet you and make you feel good about yourself, you will like me and seek every opportunity to see me again to reconstitute the same good feeling you felt the first time we met. Neuroscience. 6 Beloved Characters That Had Undiagnosed Mental Illnesses. It's unlikely that the writers who created these characters consciously decided they would give them an undiagnosed mental disorder as one of their traits.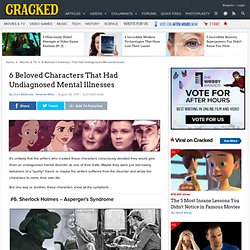 Maybe they were just borrowing behaviors of a "quirky" friend, or maybe the writers suffered from the disorder and wrote the characters to mimic their own life. But one way or another, these characters show all the symptoms ... Behavioural Economics. Brain Tour. The Top 10 Psychology Studies of 2010. The end of 2010 fast approaches, and I'm thrilled to have been asked by the editors of Psychology Today to write about the Top 10 psychology studies of the year.
I've focused on studies that I personally feel stand out, not only as examples of great science, but even more importantly, as examples of how the science of psychology can improve our lives. Each study has a clear "take home" message, offering the reader an insight or a simple strategy they can use to reach their goals , strengthen their relationships, make better decisions, or become happier. If you extract the wisdom from these ten studies and apply them in your own life, 2011 just might be a very good year. 1) How to Break Bad Habits. Top 10 Thinking Traps Exposed. Our minds set up many traps for us.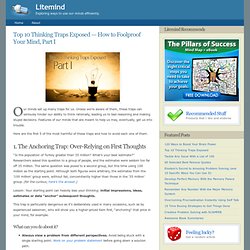 Unless we're aware of them, these traps can seriously hinder our ability to think rationally, leading us to bad reasoning and making stupid decisions. Features of our minds that are meant to help us may, eventually, get us into trouble. Here are the first 5 of the most harmful of these traps and how to avoid each one of them.
---