Michigan
SPUR Ann Arbor
Barefoot Productions
A3Arts
Saline Mills Studios Taylor and Charlene Jacobsen, are retired art teachers from the Saline Area Schools. They remain active artists, in their own right, and teach art classes at their studios and for Saline Community Education. The Jacobsen's host other art events and gatherings at their property outside of Saline, Michigan. The also host classes taught by other experienced artists/ teachers in a wide variety of media and art techniques and from many different regions. They welcome questions and visits to their studios. Ann Arbor Film Festival The Ann Arbor Film Festival is internationally recognized as a premiere showcase for creative, inspiring, and influential films of all types: avant-garde and experimental, story-based narratives, documentaries, and animation.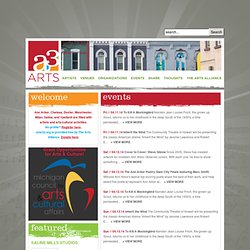 ArtServe
Welcome to Maker Works | Maker Works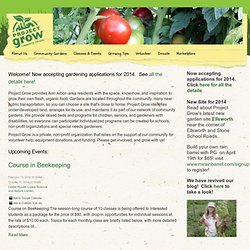 Project Grow provides Ann Arbor–area residents with the space, know-how, and inspiration to grow their own fresh, organic food. Gardens are located throughout the community, many near public transportation, so you can choose a site that's close to home. Project Grow identifies under-developed land, arranges for its use, and maintains it as part of our network of community gardens. We provide raised beds and programs for children, seniors, and gardeners with disabilities, so everyone can participate!
Home