DIY
Show your face, your feet or your muscles some love with safe, natural, toxin-free spa concoctions and personal care products. We've compiled some of our favorite safe cosmetics recipes below. Test these recipes out at your very own Safe Cosmetics Party . If you have a favorite recipe of your own, e-mail us ! We'd love to try it out and share with others.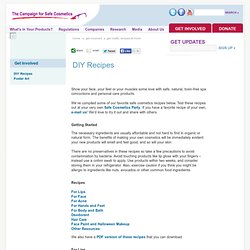 Campaign for Safe Cosmetics : DIY Recipes
Commonwealth Felt Online - Home of the original wool felt - BAM001 20'x22' - Color# 0435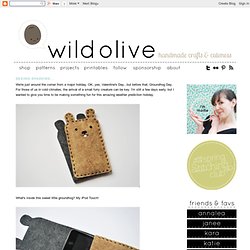 We're just around the corner from a major holiday. OK, yes, Valentine's Day...but before that, Groundhog Day. For those of us in cold climates, the arrival of a small furry creature can be key. I'm still a few days early, but I wanted to give you time to be making something fun for this amazing weather prediction holiday.
seeing shadows...
Guest post tutorial by Jenny Hoople of Authentic Arts . Want to learn how to drill holes in beach stones? Well, I've got good news for you: it's pretty easy and I'd love to tell you how it's done. I've been making this natural stone jewelry for several months with pre-drilled pebbles that I purchased from fellow Etsy artisans.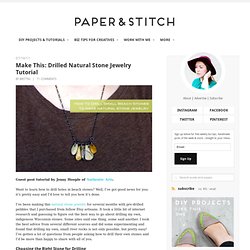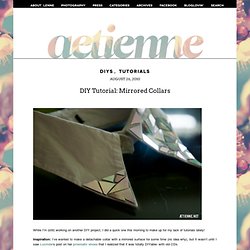 August 26, 2010 While I'm (still) working on another DIY project, I did a quick one this morning to make up for my lack of tutorials lately! Inspiration: I've wanted to make a detachable collar with a mirrored surface for some time (no idea why), but it wasn't until I saw Lucinda 's post on her prismatic shoes that I realized that it was totally DIYable- with old CDs. What you will need: Unwanted Shirt An old CD, or two, depending on how much surface you want to cover. Basin/Old Container that can fit the CD nicely.
DIY Tutorial: Mirrored Collars - ÆTIENNE.NET
Scissors + Thread, Pallet Reading Bed | Ashley Ann Photography ...
Tutorial Tuesday: Spiky Crystal Ring (inspired by Pamela Love) « Transient Expression
30 Tage 30 Dinge
I've heard it from so many different people...and I've said it myself! "I wish I could..." I'd like to showcase some repurposed DIY designs I've collected that I think anyone and everyone could do - and do well! It won't be hard to find the supplies, either.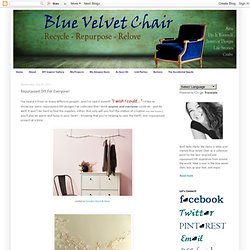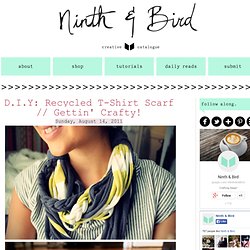 D.I.Y: Recycled T-Shirt Scarf 1} Gather a few old t-shirts you don't wear anymore; thrift them or buy new -- but choose thin, soft (preferably worn out) t-shirts. Find two t-shirts of different colors that go well together.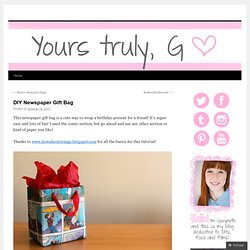 This newspaper gift bag is a cute way to wrap a birthday present for a friend! It's super easy and lots of fun! I used the comic section, but go ahead and use any other section or kind of paper you like!
I'm really in love with the versatility of felt at the moment, plus it's a fabric that's perfect for the fall season. So, I decided to combine felt with some of the Marimekko fabric that I recently purchased at Crate and Barrel Outlet and create a fun throw pillow. Here's what you'll need if you want to make your own... Supplies Felt - Two colors for the flower petals and one color for the center Fabric - The Merimekko fabric I used has a bold leaf design on it to complement the flower, but you can use any fabric you like. Piping 1.5" Cover Button Kit Scissors Rotary cutter (optional) Freezer paper Polyester batting Coordinating thread Sewing machine (not pictured) Straight pins (not pictured) Step 1: Cut a piece of freezer paper into an 8.5" x 11" rectangle and print this pattern for the petals onto it.
Twinkle and Twine: Felt Flower Pillow Tutorial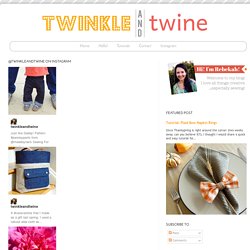 Posted on October 19, 2011 by Christina Aren't these glow jars sublime? They take about two minutes to make and cost only 20 cents a piece. How's that for an enticing DIY wedding project?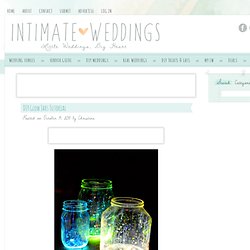 Oct 12 Yea! It's a piñata day! We miss Mexican food here in Paris since it isn't as readily available as back home so we started having Taco Tuesdays where my friend Rubi makes amazing homemade tacos.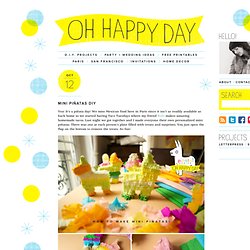 The past week and a half or so has been a dry spell for The Daily Telecraft. With the release of the new Percy Jackson book and my discovery of The 39 Clues series, I've been taking a crafting break and exploring books. However, all of the posts that I have missed will periodically be posted to make up for the days I skipped because I was engrossed in my reading.
La Pomme
Cuteable
Strawberrykitten
Since the new year has started I've been trying to think of ways to be more kind to my self. Especially when that nasty gremlins try to creep in and stump me. I remembered this origami star video on You Tube and had to get them involved in my plan. I thought it would be fun to make a whole bunch with kind words and "you are…." phrases inside. I made 60 of them, enough to last me the whole year if I open one a week, plus a few extra just in case.
Inspirada en estas fotos que vi en Burdastyle,dibuje mi propio patrón para poder hacer estas alitas de pájaro para mi pequeña Emma, les comparto el patrón porque se acerca la primavera y en esta estación siempre se necesitan disfraces para los niños. *********************************** Inspired by these pictures I saw in Burdastyle, draw my own pattern to make these bird wings for my little Emma, I share the pattern because it is near the spring and this season are always needed costumes for children.
M.a.k.e. Alitas !
I do have some needle sculpting (Thx, Amy!) done on fabric bears, from a book I wrote in '95. Let me pull it out and scan some of the drawn images and text on working the faces/muzzles/eye areas. That will give you some basic places to start.
Needle Sculpting...Pictures? (Page 1) - Tips & Techniques - Teddy Talk: Teddy Bear Forum for Artists, Collectors, and Show Promoters for Artists & Collectors
Beary Cheap Teddy Bear Making Supplies down load our fact sheets for the professional look.
How to re-use Kodak MAX One-Time-Use disposable camera?
Turning the VistaQuest VQ1005 Digital Keychain Camera into a Spy Cam
free daily money tips for women - StumbleUpon
MUSIC BOXES - MORE THAN 30 TUNES, CLICK HERE
Cyberoptix TieLab: hand silkscreened TIES THAT DON'T SUCK!
Mailbox Peak
i can read
most favorited last 30 days - page 10
vintage inspired embroidery paper goods and by MiniatureRhino