Twitter
12 Expert Twitter Tips for the Classroom: Social Networking Classroom Activities That Employ Critical Thinking. Using twitter in the classroom is becoming mainstream in many schools around the country and world.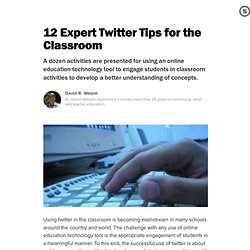 The challenge with any use of online education technology tool is the appropriate engagement of students in a meaningful manner. To this end, the successful use of twitter is about making connections with other teachers and students around the world to support significant learning events. Twitter – A Teaching and Learning Tool. I think I have found the perfect place to reflect on the way a network, and specifically how Twitter, can impact on what goes on in the classroom.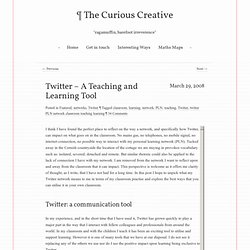 No mains gas, no telephones, no mobile signal, no internet connection, no possible way to interact with my personal learning network (PLN). Tucked away in the Cornish countryside the location of the cottage we are staying in provokes vocabulary such as: isolated, severed, detached and remote. But similar rhetoric could also be applied to the lack of connection I have with my network. Using Twitter To Support Learning. Social Networking | Viewpoint Using Twitter To Support Learning Twitter has become ubiquitous and many educators use it or a similar micro blogging technology to maintain connection with students in terms of announcements, information flow, and assignment updates.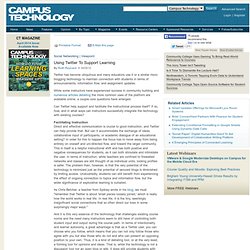 While some instructors have experienced success in community building and numerous articles detailing the more common uses of the platform are available online, a couple core questions have emerged. Can Twitter help support and facilitate the instructional process itself? If so, how, and in what ways can instructors successfully integrate the technology with existing courses? How to Leverage Backchanneling & the Long Tail of Learning. We've all been there.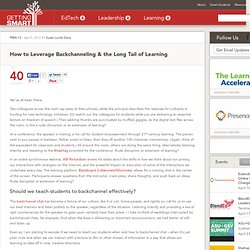 Two colleagues across the room tap away at their phones, while the principal describes the rationale for cutbacks in funding for new technology initiatives. (Or switch out the colleagues for students while you are delivering an essential lecture on freedom of speech.) Their jabbing thumbs are punctuated by muffled giggles, as the digital text flies across the room. Integrating Backchanneling into Your Classroom | It's Time! In last week's #BYOTchat, one of the topics that came up was the idea of "backchanneling."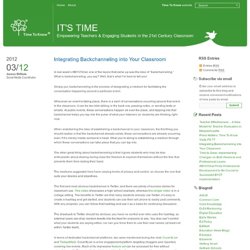 What is backchanneling, you say? Well, that's what I'm here to tell you! Simply put, backchanneling is the process of designating a medium for facilitating the conversation happening around a particular event. Whenever an event is taking place, there is a swirl of conversations occurring around that event. Twitter Can Help Students Get Better Grades (But Only When Used Correctly) [INFOGRAPHIC] Revisit. Revisit is a real–time visualization of twitter messages (tweets) around a specific topic.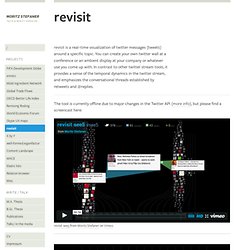 You can create your own twitter wall at a conference or an ambient display at your company or whatever use you come up with. In contrast to other twitter stream tools, it provides a sense of the temporal dynamics in the twitter stream, and emphasizes the conversational threads established by retweets and @replies.
The tool is currently offline due to major changes in the Twitter API (more info), but please find a screencast here: Twitter Guide Book – How To, Tips and Instructions by Mashable. A College Student's Guide to Getting Started with Twitter. HOW TO: Get the Most Out of Twitter #Hashtags. One of the most complex features of Twitter for new users to understand is the hashtag, a topic with a hash symbol ("#") at the start to identify it.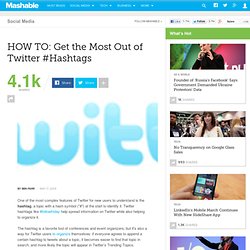 Twitter hashtags like #followfriday help spread information on Twitter while also helping to organize it. The hashtag is a favorite tool of conferences and event organizers, but it's also a way for Twitter users to organize themselves: if everyone agrees to append a certain hashtag to tweets about a topic, it becomes easier to find that topic in search, and more likely the topic will appear in Twitter's Trending Topics. So how do you disseminate and make sense of all this hashtag madness? By going through the art of the hashtag step-by-step, of course. This short guide details how to identify, track, use, and organize hashtags in an efficient and useful way. Chalk Talk 10/29/10 – Twitter Chat Tools. Chalk Talk Friday represents conversations and brilliance I've discovered traversing my way through the Blogosphere.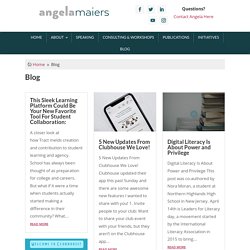 From professional to personal development, these are the posts and links have in some way touched my head or my heart. I have been learning so much lately from participating in Twitter Chats. I am working on an upcoming post about the process, but these are the tools that have helped me make the most of the Chat Expereince! TweetChat : My favorite! This Web based app lets you enter chat room name, enter your comments into the box without adding the hashtag, and publishes your chat contribution into the stream of conversation automatically. Practical Advice for Teaching with Twitter.
Last week I introduced a pedagogical framework for using Twitter in your teaching, organized along two axes: monologic to dialogic and passive to active.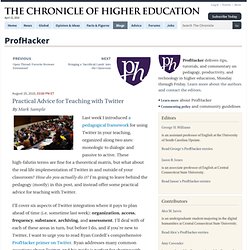 These high-falutin terms are fine for a theoretical matrix, but what about the real life implementation of Twitter in and outside of your classroom? How do you actually do it? 28 Creative Ways Teachers Are Using Twitter. Posted on Wednesday July 6, 2011 by Staff Writers Between the cat images and celebrity porn, the Internet actually manages to boast educational potential.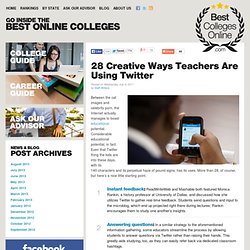 Considerable educational potential, in fact. Even that Twitter thing the kids are into these days, with its 140-characters and its perpetual haze of pound signs, has its uses. More than 28, of course, but here's a nice little starting point. Instant feedback: ReadWriteWeb and Mashable both featured Monica Rankin, a history professor at University of Dallas, and discussed how she utilizes Twitter to gather real-time feedback. 50 Ways to Use Twitter in the College Classroom. Twitter has caught fire across many professional fields as well as personally, but it seems to be in the beginning stages in the realm of higher education.
The creative ways Twitter users have incorporated microblogging has become inspirational, so the recent trend of using Twitter at college, including at online colleges, is sure to keep evolving into an ever more impressive tool. Make sure you don't get left behind by incorporating some of these educational and fun ways that Twitter can be used in the college classroom. Communication Twitter offers new and exciting ways to open up the lines of communication in the classroom. Teaching with Twitter – turning microblogging into learning. In many cities around the world, kids and adults are returning to the classrooms for a new year at school.
So much has changed for students and teachers. First with mobile phones, and now with social media. How can teachers and parents keep up? Along with the development of social media tools, the opportunity for developing new methods of teaching that incorporate these tools are emerging. Telling Social Stories with Storify. After my post about perceptions versus reality in the classroom a few weeks ago, several folks wrote to ask about Storify. I've been playing around with Storify for a few months now, since the very end of its private beta, and I like the way I can weave tweets, links, videos, and other media into one coherent storyline. The interface is as simple as it could be: on the left side, you can browse through content from Twitter, Facebook, YouTube, Google search, RSS feeds, or by entering links directly. How to Storify. Why to Storify. | Digital Pedagogy. Storify your English classroom. Lit Bits » Blog Archive » Twitter in the Literature Classroom? Part 1. Tracking Moves on the Classroom Backchannel with Storify.
---