Teaching Graphic Novels
Comic.original. Stripgenerator.com - Comic Creating Community. Report: Comics Rock Conference, Day 1 | The Comics Grid: Journal of Comics Scholarship | Peter Wilkins. The Third International Conference on Comics Conference: Comics Rock took place over Thursday 28 June and Friday 29 June 2012 at Bournemouth University, United Kingdom.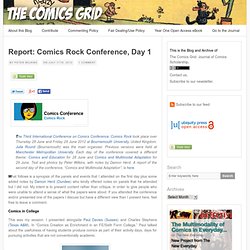 Julia Round (Bournemouth) was the main organiser. Previous versions were held at Manchester Metropolitan University. Each day of the conference covered a different theme: Comics and Education for 28 June and Comics and Multimodal Adaptation for 29 June. Comics as Critique: Some Approaches to Graphic Teaching, Part 3. Posted: 5.7.12 by Elizabeth Losh and Jonathan Alexander Jonathan Ok, as promised, in this final installment in this series, I want to talk briefly about the assignments I used in my History and Theory of the Graphic Novel course, as well as the "graphic journals" we each kept throughout the ten-week term.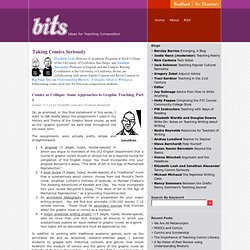 The assignments were actually pretty simple and straightforward: Comics as Critique: Some Approaches to Graphic Teaching, Part 2. Jonathan As promised, here is Part 2 of my thoughts and ideas about teaching with comics.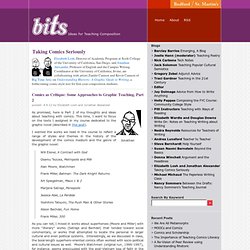 This time, I want to focus on the texts I assigned in my course dedicated to the graphic novel (described in this post). I wanted the works we read in the course to reflect a range of styles and themes in the history of the development of the comics medium and the genre of the graphic novel: Comics as Critique: Some Approaches to Graphic Teaching, part 1. Jonathan Taking comics seriously can take many forms.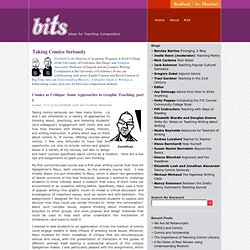 Liz and I are interested in a variety of approaches to thinking about, practicing, and fostering students' (and colleagues') engagement with comic arts and how they intersect with literacy, media, rhetoric, and writing instruction. A pretty direct way to think about comics is, of course, offering courses about comics. I feel very fortunate to have had the opportunity not only to include comics and graphic books in a variety of my courses, but also to design and teach courses specifically about comics as a medium. Comic Books for Grown-Ups: 10 Masterpieces of Graphic Nonfiction. By Kirstin Butler Seeing the world in six-panel strips, or what Allen Ginsberg has to do with the wonders of zygotes.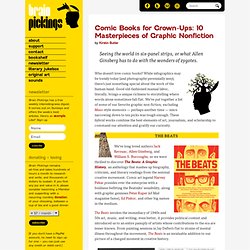 Who doesn't love comic books? Comic Books as the Grimms' Fairy Tales of Pop Culture. By Maria Popova On making out the shape of our society through its gods of good and evil.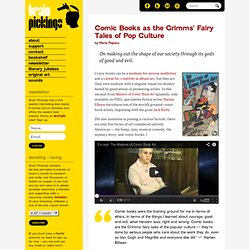 Comic books can be a medium for serious nonfiction and a canvas for creativity in album art, but they are their own medium with a singular visual vocabulary honed by generations of pioneering artists. In this excerpt from Masters of Comic Book Art (quaintly, only available on VHS), speculative fiction writer Harlan Ellison introduces ten of the world's greatest comic book artists, beginning with the great Jack Kirby. (He also mentions in passing a curious factoid: there are only five forms of art considered natively American — the banjo, jazz, musical comedy, the mystery story, and comic books.)
Comic books were the training ground for me in terms of ethics, in terms of the things I learned about courage, good and evil, what heroism was, right and wrong. But This Book Has Pictures! The Case for Graphic Novels in an AP Classroom. Make Complex Concepts Approachable Integrating graphic novels into my curriculum has been one of the best choices I have made as a teacher of both high- and lower-level students.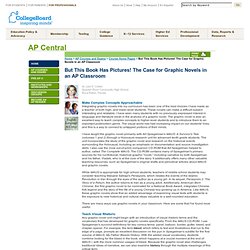 These novels can make a difficult subject interesting and relatable. I have seen many students with no previously expressed interest in language and literature excel in the analysis of a graphic novel. The graphic novel is also an excellent way to teach complex concepts to higher-level students and to introduce them to an important postmodern genre. The visual world has had increasing impact on our students' lives, and this is a way to connect to untapped portions of their minds. Comics. Reading A Graphic Novel.
---