Learner-Centered Classroom
Get flash to fully experience Pearltrees
Once upon a time in the olden days, the teacher stood out front and taught the whole class the same material in the same way. Everyone was expected to do the same tasks, some passed and some failed and were labelled ever after.
Think about a time when you were really engaged in something, the kind of engagement where you lose track of time and experience feelings of joy and satisfaction. You may have felt acutely focused, physically, mentally, and emotionally absorbed in a task.
Having children causes one to (re)think seriously about education and the role of school.
I get my title from Daniel Pink's work on motivation (check out this great little animated video ). My FYC students and I are at the point this semester where I think we're all asking, why are we here and what are we doing this for, partly out of sheer exhaustion.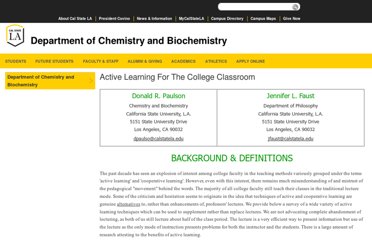 The past decade has seen an explosion of interest among college faculty in the teaching methods variously grouped under the terms 'active learning' and 'cooperative learning'.