iPad Apps
Home
Patti Porto "Unlock your classroom's creative potentialOpen and save documents directly from thousands of creative apps. Fast and simple assignment workflowQuickly and easily assign, collect, review and mark up student work within Showbie.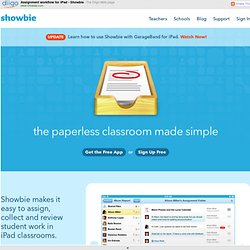 Assignment workflow for iPad - Showbie
Last week I wrote about NearPod which is an iPad application for creating and delivering quizzes to students.
GoClass - Create and Deliver Lessons on iPads
Easy Portfolio is a nice iPad app for creating portfolios of your work and or your students' work. In Easy Portfolio you can create multiple portfolios containing pictures, videos, links, notes, documents, and audio recordings. You can import files from your iPad to any of your portfolios. You can also create new media from scratch within each of your portfolios. You can share individual portfolio elements or entire portfolios via email or Dropbox. In addition to being a good iPad app for creating portfolios, Easy Portfolio could be a good app for students to use to take notes.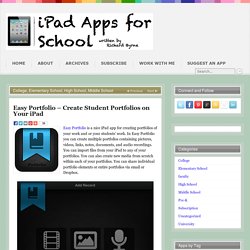 Easy Portfolio – Create Student Portfolios on Your iPad
Stampsy - Create Digital Media Content on an iPad
Stampsy is a free app for iPad that allows users to create and share digital media content through several easy to use tools. A "Stamp" is a unit of content that you create that can have up to 10 pages. A grid in the background helps users create well-balanced designs. Users can add images, enter text and arrange them to fit the needs of the project. All the tools use Drag and Drop features.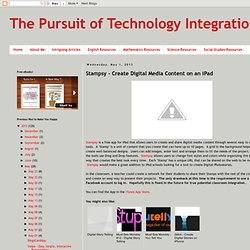 Fresh - Quipio
app_pdf-new.pdf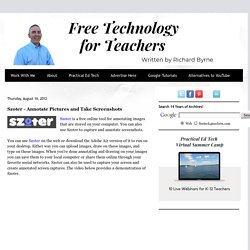 Szoter - Annotate Pictures and Take Screenshots
Szoter is a free online tool for annotating images that are stored on your computer. You can also use Szoter to capture and annotate screenshots.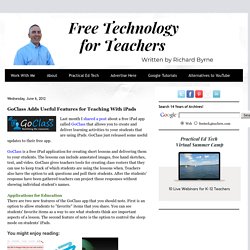 GoClass Adds Useful Features for Teaching With iPads
Last month I shared a post about a free iPad app called GoClass that allows you to create and deliver learning activities to your students that are using iPads. GoClass just released some useful updates to their free app. GoClass is a free iPad application for creating short lessons and delivering them to your students. The lessons can include annotated images, free hand sketches, text, and video. GoClass gives teachers tools for creating class rosters that they can use to keep track of which students are using the lessons when.
Annotate, Correct and Edit Documents on Your iPad
As I approach a significant academic milestone this semester with the completion of my dissertation and PhD, I thought I'd share a very handy iPad application I've been using to annotate, correct and edit PDF versions of my own writing recently: iAnnotate PDF. iAnnotate PDF is $10 on iTunes, but it's worth every penny. I generally use my free Dropbox account to upload PDF versions of documents to "the cloud," then download them to my iPad with the free Dropbox iPad app to open them first in DropBox. Then I open the file in iAnnotate PDF. Just click the arrow icon in the upper right corner, and after it's installed iAnnotate PDF should appear as a destination app option. I love how iAnnotate PDF supports highlighting, adding notes to pages, and also freehand writing.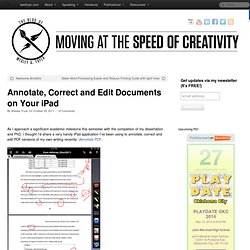 Technology with Intention
With the iPad2 on the launching pad, it's a great time to share this list of useful iPad apps for teachers from guest writer Paula Dierkens. There's no doubt that the iPad is an excellent device, and if you own this gadget, it makes sense to pick up the applications best suited to your lifestyle and profession. So if you're a teacher, here are ten great iPad apps that you must try out: [Note to readers of this article! I conducted a survey in March of 2012 to update this list of iPad apps that educators like to use in their professional roles, so it is based on actual teacher input. The results are available in this post.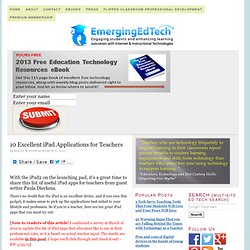 Explain Everything
I love this app! I was introduced to it yesterday by a very cool librarian at the ASLA Conference (Australian School Librarian Association). This app allows you to create and record live screen action. This would be brilliant for tutorials or how-to clips for staff or students. If you have an iPad classroom then this will be great for you. I can wait to let my kids lose with this app.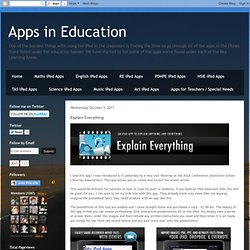 Use Air Sketch with Dropbox for Wireless iPad Presentations