Deviant Art
The Awesome Tom Bagshaw. Based in the Georgian city of Bath, England, Tom Bagshaw works as a commercial illustrator under the moniker Mostlywanted and is represented by The Central Illustration Agency.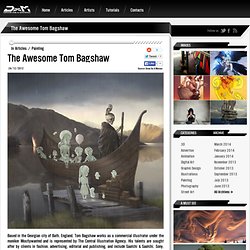 His talents are sought after by clients in fashion, advertising, editorial and publishing, and include Saatchi & Saatchi, Sony, the BBC, Kraft and GQ. He has done front cover illustrations for a group of select publishing houses – Future Publishing, Scholastic and Random House to name a few. – www.mostlywanted.com Chek him at www.mostlywanted.com. Seriously Cool Watercolor Paintings. Colored Vintage Paper: Texture Pack. This free set of 20 vintage/aged paper textures contains textures that are each 3600x3600px in size, high-resolution, and in JPG format.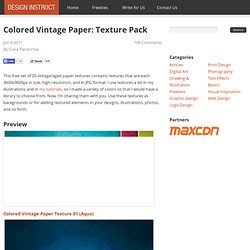 I use textures a lot in my illustrations and in my tutorials, so I made a variety of colors so that I would have a library to choose from. Now, I'm sharing them with you. Rainbow Gathering on the Behance Network. Drawing Board. Фото и рисунки, арт и креативная реклама. Art by Arthur Berzinsh. Arthur Berzinsh's creative work and magnificent- colourful epotage successfully coexists with refined beauty and fragility, brought spirituality with sexual eccentricity, creating contrasting elements for something new and powerful by its effects.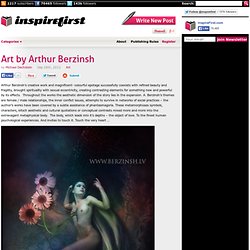 Throughout the works the aesthetic dimension of the story lies in the expansion. A. Berzinsh's themes are female / male relationships, the inner conflict issues, attempts to survive in networks of social practices – the author's works have been covered by a subtle assistance of phantasmagoria. Inglorious_basterds_brad_pitt9.jpg (JPEG Image, 460 × 727 pixels) - Scaled (92%) Good Mornink | rose-tattoo-design-brunette. Allison lehman : show + tell / 30 Day Drawing Challenge. Last week I saw this pin on Pinterest and I instantly loved the idea.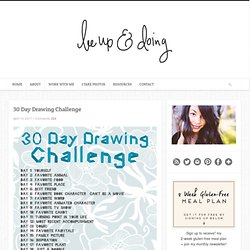 Starting May 1st, I'll be taking the challenge and posting a drawing per day here on my blog each afternoon. If you'd like to do it on your own, please please do! If you'd like to share your drawing on my blog, just email it to me by 12pm EST the day of. It doesn't matter if you start now and submit them later or sketch them throughout May. Daniel Dos Santos.
Figure & Gesture Drawing Tool. A u d r e y * k a w a s a k i. Gothic Clothing Store - Heavy Red. 30 Free Seamless Background Textures. I get a lot of requests to release more seamless textures here on L&T, so this set is for you guys.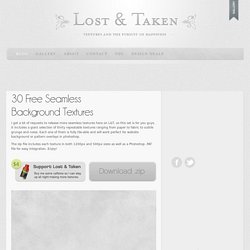 It includes a giant selection of thirty repeatable textures ranging from paper to fabric to subtle grunge and noise. Each one of them is fully tile-able and will work perfect for website background or pattern overlays in photoshop. The zip file includes each texture in both 1200px and 500px sizes as well as a Photoshop .PAT file for easy integration. Emotions_and_facial_expression_by_cedarseed-ds1wwv.jpg (JPEG Image, 3650 × 3033 pixels) - Scaled (27. 162634_1180688944_large.jpg (JPEG Image, 1600 × 1082 pixels) - Scaled (78. Tim Shumate. The Official Tim Burton Website. Tinymediaempire. Wall Decals, Kids Wall Decals and Wall Tattoos by WALLTAT.
Matei Apostolescu - Work (higher resolution images) How To Draw A Wave | Club Of The Waves. This art tutorial, kindly donated by surfing comic strip illustrator and surf artist Bob Penuelas covers how to draw a wave the Wilbur Kookmeyer way!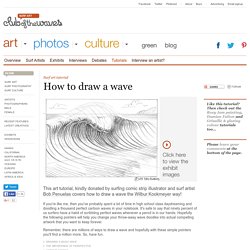 If you're like me, then you've probably spent a lot of time in high school class daydreaming and doodling a thousand perfect cartoon waves in your notebook. It's safe to say that ninety percent of us surfers have a habit of scribbling perfect waves whenever a pencil is in our hands. Hopefully the following pointers will help you change your throw-away wave doodles into actual compelling artwork that you want to keep forever. The Surreal Paintings of Vladimir Kush. The Surreal Paintings of Vladimir Kush posted by Damian M. under Photography on Mar 21st, 2010 with 32 Comments 21 Mar 23 Photos Of... said Feb 4th, 2012 Love the city skylines in pics 2 and 3, amazing!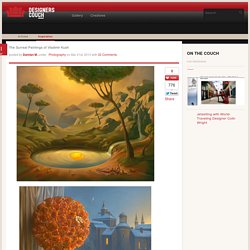 DeviantART muro. Featured Illustrator: The Super Talented Irina Vinnik | Design Shard. 11 Pencil Vs. Camera Images. Image Record. Sketch Swap. Pano4.jpg (JPEG Image, 1500 × 761 pixels) - Scaled (84%)
Art 1. Optical Design. Amazingly Creative Drawing Vs Photography. Browsing deviantART.
---