GWT
This document is for developers interested in logging client-side code in their GWT applications. Logging is the process of recording events in an application to provide an audit trail to understand how the application executes and to diagnose problems. Logging makes it easier to troubleshoot issues encountered by developers and users.
Developer's Guide - Logging - Google Web Toolkit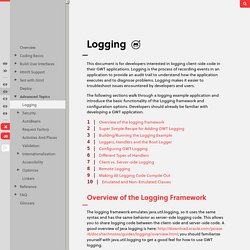 Googles Web Toolkit 2.5 mit schlankerem Code | c't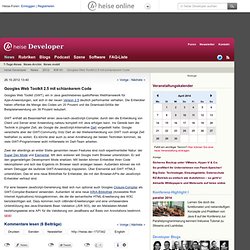 Googles Web Toolkit (GWT), ein in Java geschriebenes quelloffenes Webframework für Ajax-Anwendungen, soll sich in der neuen Version 2.5 deutlich performanter verhalten. Die Entwickler haben offenbar die Menge des Codes um 20 Prozent und die Download-Größe der Beispielanwendung um 39 Prozent reduziert. GWT enthält als Besonderheit einen Java-nach-JavaScript-Compiler, durch den die Entwicklung von Client und Server einer Anwendung nahezu komplett mit Java erfolgen kann. Ins Gerede kam die Technik in jüngster Zeit, als Google die JavaScript-Alternative Dart vorgestellt hatte. Google versicherte aber der GWT-Community, trotz Dart an der Weiterentwicklung von GWT noch einige Zeit festhalten zu wollen.
MWTech
GWT Canvas Demo
GWT and HTML5 Canvas Demo
Google™ Web Toolkit Applications: InformIT
"Ryan clearly understands the GWT value proposition and how GWT integrates into a diverse web technology stack–and not just in a theoretical way. With the popularity of gpokr.com and kdice.com, Ryan can speak with the authority of concrete success." – Bruce Johnson, creator of Google Web Toolkit "This book distinguishes itself from other books on GWT in that it walks through the entire process of building several nontrivial GWT applications, not the toy applications that most books present." – R. Mark Volkmann, Object Computing, Inc. " Google™ Web Toolkit Applications is an excellent resource for any GWT developer. Solutions to challenges commonly encountered in GWT are presented through the design and development of actual applications. The applications developed throughout the text demonstrate best practices from simple UI design all the way to custom code generation, and are presented with little pretext about the amount of Java knowledge a given developer may have.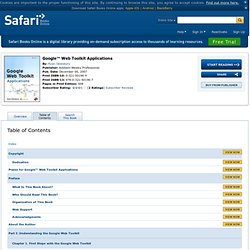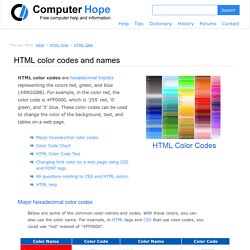 Quick links About codes and colors and how to apply Major hexadecimal color codes Color Code Chart Top 50 most viewed colors HTML help About color codes and how to apply HTML color codes are hexadecimal triplets representing the colors red, green, and blue (#RRGGBB). For example, in the color red, the color code is #FF0000, which is '255' red, '0' green, and '0' blue.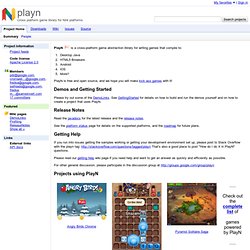 PlayN is a cross-platform game abstraction library for writing games that compile to: Desktop Java HTML5 Browsers Android iOS Flash More? PlayN is free and open source, and we hope you will make kick ass games with it! Please try out some of the DemoLinks . See GettingStarted for details on how to build and run the demos yourself and on how to create a project that uses PlayN (formerly ForPlay).
GWT Developer's Plugin for Firefox 14
How To Downgrade Firefox?
Dear Firefox users, I have upgraded to the latest version of Firefox recently. After upgrading to Firefox 10, Firefox is crashing a lot. I tried to disable all installed add-ons, but failed to get any solution. I want to downgrade to Firefox 9 now. But, I am totally clueless about the downgrading process. I wish that there should be an option to downgrade Firefox to a specific version easily.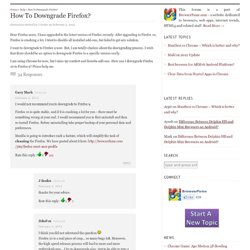 GWT Java Game Coding Basics: The GameLooper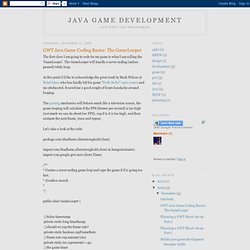 The first class I am going to code for my game is what I am calling the 'GameLooper'. The GameLooper will handle a never ending (unless paused) while loop. At this point I'd like to acknowledge the great work by Mark Wilcox at Rebel Ideas who has kindly left his game " Hoth Strike " open source and un-obsfucated. It saved me a good couple of hours headache around looping. The gaming mechanics will behave much like a television screen, the game looping will calculate if the FPS (frames per second) is too high (not much we can do about low FPS), cap if is it is too high, and then animate the next frame, rinse and repeat.
Web Toolkit - Google Code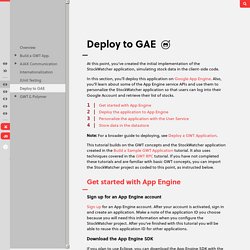 At this point, you've created the initial implementation of the StockWatcher application, simulating stock data in the client-side code. In this section, you'll deploy this application on Google App Engine. Also, you'll learn about some of the App Engine service APIs and use them to personalize the StockWatcher application so that users can log into their Google Account and retrieve their list of stocks.
GWT and Google App Engine - Google Web Toolkit
Uploading Your Application - Google App Engine
You create and manage applications in App Engine using the Administration Console. Once you have registered an application ID for your application, you upload it to App Engine using either the Eclipse plugin, or a command-line tool in the SDK. Note: Once you register an application ID, you can delete it, but you can't re-register that same application ID after it has been deleted.
Commerce APIs
Storing Data - Google App Engine
Web Toolkit Overview - Google Web Toolkit - Google Code
RequestFactory is an alternative to GWT-RPC for creating data-oriented services. RequestFactory and its related interfaces (RequestContext and EntityProxy) make it easy to build data-oriented (CRUD) apps with an ORM-like interface on the client. It is designed to be used with an ORM layer like JDO or JPA on the server, although this is not required. Overview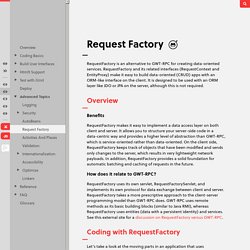 RequestFactory
GWT 2.1 introduced a built-in framework for browser history management. The Activities and Places framework allows you to create bookmarkable URLs within your application, thus allowing the browser's back button and bookmarks to work as users expect. It builds on GWT's history mechanism and may be used in conjunction with MVP development, though not required. Strictly speaking, MVP architecture is not concerned with browser history management, but Activities and Places may be used with MVP development as shown in this article. If you're not familiar with MVP, you may want to read these articles first: Definitions
GWT MVP Development with Activities and Places
Layouts
Panels in GWT are much like their layout counterparts in other user interface libraries. The main difference is that GWT panels use HTML elements to lay out their child widgets. Panels contain widgets and other panels. They are used to define the layout of the user interface in the browser. Basic Panels RootPanel
Quake II and the Quake logo are trademarks of id Software. The Quake II GWT port brings the 3d gaming experience of Quake II to the browser. In the port, we use WebGL, the Canvas API, HTML 5 <audio> elements, the local storage API, and WebSockets to demonstrate the possibilities of pure web applications in modern browsers such as Safari and Chrome. The port is based on the Jake2 project, compiled to Javascript using the Google Web Toolkit (GWT). Jake 2 is a Java port of the original Quake II source code, which was open sourced by id software.
quake2-gwt-port - Project Hosting on Google Code
LoginSecurityFAQ - google-web-toolkit-incubator - Explains how to do logins with GWT in a secure fashion. - The Official incubator of widgets and libraries for Google Web Toolkit
This FAQ page is slightly more hands-on, but you should definitely also read Security for GWT applications . This article describes how to do the following: Create a 'login' page that is based on user/password authentication. Store this data in a secure fashion on your server. Allow users to 'remain logged in' for as long as you want so they don't have to enter their user name and password every time.