Science
By Rick Nauert PhD Senior News Editor Reviewed by John M. Grohol, Psy.D. on February 14, 2012 We all recognize that overeating can cause weight gain, but now new research suggests excessive calorie consumption can double the risk of memory loss in older adults. In a paper presented during the American Academy of Neurology's Annual meeting, researchers report that consumption of between 2,100 and 6,000 calories per day may double the risk of mild cognitive impairment (MCI), among people age 70 and older.
Dietary Intake Linked to Memory Loss in Seniors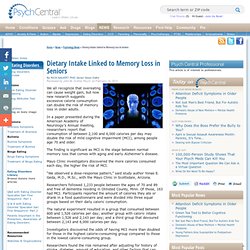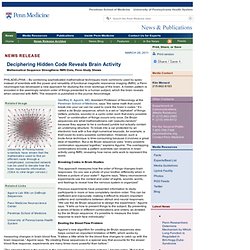 Penn Medicine News: Deciphering Hidden Code Reveals Brain Activity
PHILADELPHIA – By combining sophisticated mathematical techniques more commonly used by spies instead of scientists with the power and versatility of functional magnetic resonance imaging (fMRI), a Penn neurologist has developed a new approach for studying the inner workings of the brain.