Courses Telerik
Pixel Ruler: Your free virtual screen ruler | Mioplanet
Семинар "Как да си намерим работа в ИТ индустрията?" – CV, cover letter, интервю | Svetlin Nakov's Blog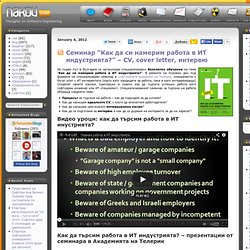 Author: Svetlin Nakov January 4, 2012 За първи път в България се организира специализирано безплатно обучение на тема "Как да си намерим работа в ИТ индустрията?". В рамките на половин ден под формата на специализиран семинар в софтуерната академия на Телерик, специалисти с богат опит с ИТ интервютата (както като кандидати за работа, така и като интервюиращи) споделят своите насоки, препоръки и съвети как да търсите успешно работа като софтуерен инженер или ИТ специалист.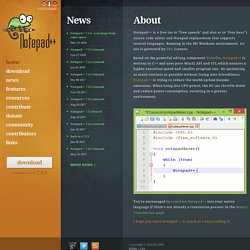 Skip to main content About Notepad++ is a free (as in "free speech" and also as in "free beer") source code editor and Notepad replacement that supports several languages. Running in the MS Windows environment, its use is governed by GPL License. Based on the powerful editing component Scintilla, Notepad++ is written in C++ and uses pure Win32 API and STL which ensures a higher execution speed and smaller program size.
@font-face browser suppor - Webfonts.info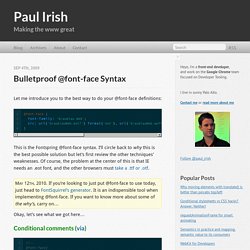 Let me introduce you to the best way to do your @font-face definitions: This is the Fontspring @font-face syntax. I'll circle back to why this is the best possible solution but let's first review the other techniques' weaknesses. Of course, the problem at the center of this is that IE needs an .eot font, and the other browsers must take a .ttf or .otf. May 12th, 2010. If you're looking to just put @font-face to use today, just head to FontSquirrel's generator.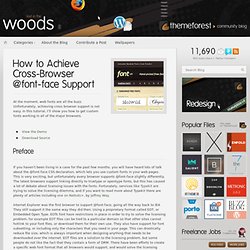 At the moment, web fonts are all the buzz. Unfortunately, achieving cross browser support is not easy. In this tutorial, I'll show you how to get custom fonts working in all of the major browsers. Preface If you haven't been living in a cave for the past few months, you will have heard lots of talk about the @font-face CSS declaration, which lets you use custom fonts in your web pages.
How to Achieve Cross-Browser @font-face Support
Web Fonts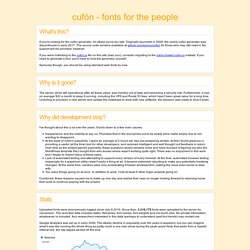 UPDATE Oct 24: We have released version 1.09i, which is the same as 1.09 but IE9-compatible. 1.10 is on its way as well. Keep in mind that you do not need to convert your font files again, just replace your old cufon-yui.js with a new one and you're good to go. As it currently stands, version 1.09 does not work in IE9 beta which was just released. Just in case it doesn't work in the final version either, we've implemented a fix in the latest development version.
pavelkolev.com
Имате свободно време и се чудите как да го запълните? Не сте доволни от работата си и работните условия? Имате нужда от ново предизвикателство (и то голямо)? Искате да се усъвършенствате и да станете по добри? Искате да станете нинджа? Приемът за петия сезон на Софтуерната академия на Телерик е открит През 2012-2013 […]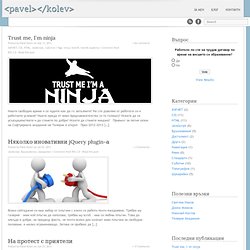 Svetlin Nakov – Videos | Svetlin Nakov's Blog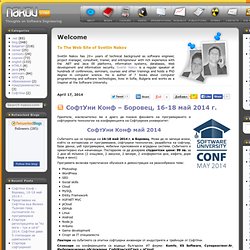 Author: Svetlin Nakov January 29, 2014 Днес официално стартира първият прием на студенти в Софтуерния университет. Отворено е записването за безплатните подготвителни курсове по основи на програмирането, които ще се проведат в периода март-април 2014 г. Те обхващат основите на програмирането (писане на код, работа със среда за разработка, конструкции за управление, цикли и решаване на задачи от практиката) и завършват с практически изпит по програмиране.
Svetlin Nakov - Official Web Site and Blog