Suffixes and prefixes
Prefixes, suffixes and affixes, word formation worksheets. ESL Lesson Plans & Resources for Kids Kiz School provides: Video Tutorials, PPT, Interactive Games & Quizzes, Printable PDF Worksheets & Flashcards, among others.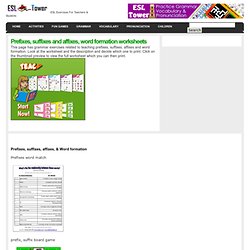 You don't need to be a professional teacher to use our materials.It is an effective, affordable private and public teaching solution for parents and schools. English For Kids Free ESL for resources for kids are one of our best offers. Never again worry about lesson plan for young learners because we have free worksheets, Video Slides, Powerpoint presentations , Interactive Quizzes, Games for Classrooms , Flashcards, Kids Grammar, Reading & Spelling Worksheets and More to take off the burden of kids lesson planning. ESL Classroom Jeopardy Word Building Game - Prefixes,synonyms, Suffixes, Adjectives Opposites, Extreme Adjectives. ESL Interactive Fun Games Here we have the games carefully laid out for you.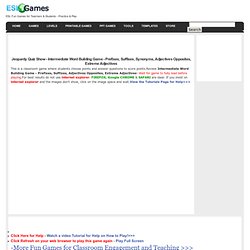 Follow the links to browse the variety of games offered. Suffixes (Jim J. Johnson. a4esl.org Suffixes Click the answer button to see the answer.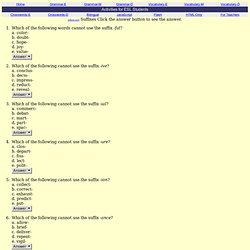 Which of the following words cannot use the suffix -ful? 59_Middle_School_Attitude.pdf (application/pdf Object) Suffixes.
---