Stuffed
Little Yoda Crochet Tutorial. There were some more boys in the family having birthdays and they happen to all be Star Wars fans!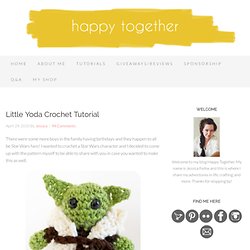 I wanted to crochet a Star Wars character and I decided to come up with the pattern myself to be able to share with you in case you wanted to make this as well. Meet Yoda. He's little, but he can still do great things! My daughter told me she wants one in purple after meeting him. Free Amigurumi Crochet Patterns with love for the Nerdy » » Amigurumi Kirby with Pattern and Bonus Smash Brothers hats! Kirby Amigurumi Pattern My Kirby pattern has been a long time coming, mainly because I got too ambitious with Super Smash Brothers versions to finish and post it.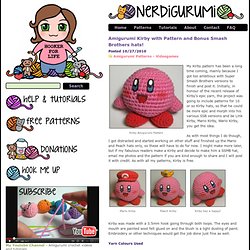 Initially, in honour of the recent release of Kirby's epic yarn, the project was going to include patterns for 10 or so Kirby hats, so that he could be more epic and morph into his various SSB versions and be Link Kirby, Mario Kirby, Wario Kirby, you get the idea. As with most things I do though, I got distracted and started working on other stuff and finished up the Mario and Peach hats only, so these will have to do for now. I might make more later, but if my fabulous readers make a Kirby and decide to make him a SSMB hat, email me photos and the pattern if you are kind enough to share and I will post it with credit.
As with all my patterns, Kirby is free. CRAFT Pattern: Crochet Spring Bunny. By Stephanie Jessica Lau Nothing says spring like a kawaii amigurumi bunny!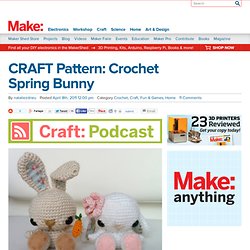 Make them floppy-eared, and complete their look with a carrot or flower. Plush Cube Monster. To keep this simple for those who have less experience sewing - i am going to stick to making a perfectly cubicle plush monster. therefore, the pictures are guidelines to how i created the yeti plush cube monster, but the directions will be more simplistic. first - cut out 6, five inch by five inch cloth squares.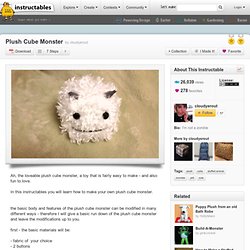 Vampire Bunny Plushie How-to! Now, I machine embroidered the tummy of my bunny.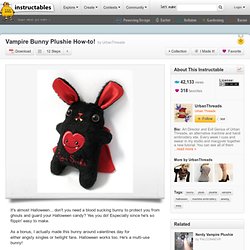 This step is optional and, obviously, only if you have an embroidery machine. You totally can hand embroider your bunny too though. Materials for the machine embroidery part are marked with a * So to make your totally awesome bunny plushie, you'll need: -fake fur or other fabric for the bunny. Daniella Dahlia Flower Pillow and BONUS Envelope by SewYouCanToo. The one and only, ORIGINAL two-toned Daniella Dahlia Felt Flower Pillow tutorial is now available for you to create your very own.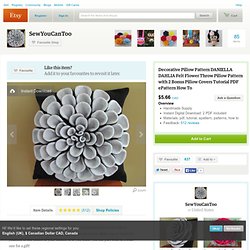 Make one or more for yourself in the colors of your choice, or if you think you can part with it, create one for a gift! The flower itself measures approximately 12" in diameter and is shown on a 14" pillow. Here is what buyers are saying: "Absolutely stunning ! Great pattern, very well written, can't wait to make it. Many thanks""Instructions are very very clear with great photos. Craftster tutorial. 3 - Machine sewing Start sewing from one side of the opening, and follow the line all around the body.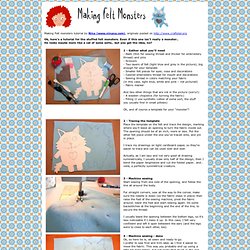 For straight corners, sew all the way to the corner, make sure the needle is down (so the fabric stays in place) then raise the foot of the sewing machine, pivot the fabric around, lower the foot and start sewing again. Do some backstitches at the beginning and the end of the line, to secure the thread. I usually leave the opening between the bottom legs, so it's less noticeable if I mess it up. In this case, I felt very confident and left it open betweent the ears (and the legs were to close to each other, too).
(Tutorial) Tree Circles Pillow. I was inspired by this picture (Etsy), that I saw in a magazine, and I thought that I probably needed to make something like that.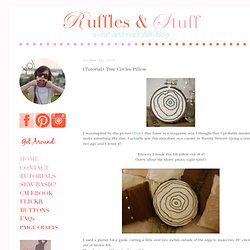 I actually saw this idea done as a coaster in Martha Stewart Living a year or two ago and I loved it! Anyway, I made this felt pillow out of it! (Sorry about the blurry photo, night time!) Little Lamb Pillows. Several years ago I drove through Europe in the Springtime and I will never forget seeing all the adorable lambs frolicking in the fields.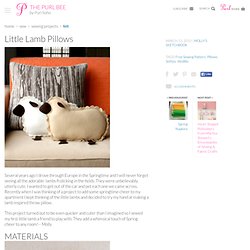 They were unbelievably, utterly cute. I wanted to get out of the car and pet each one we came across.
---