Python
The ByteBaker | Computer Science isn't a science and it's not about computers
Explaining Python virtualenv (in under two minutes) : stevenmaude.co.uk
I've been busy the last couple of weeks. Recently, I started a late summer/early autumn internship at ScraperWiki, who are building a data science platform. I should have a blog post (it's drafted!) describing how I've found working there so far posted soon on their blog. Anyway, I've been pairing with the very helpful and patient David Jones who has been helping me out hugely by sharing some of his knowledge with me. For the last two days, I've been learning a lot, and somehow forgetting even more, about vim.
PyRegex
Eclipse-PyUML | Free Development software downloads at SourceForge
Debugger
This section is targetted at explaining how to use the debugger. If you want more details on how to use the remote debugger, please check the Remote Debugger page. Ok, probably the first thing you'll want to do is: add a breakpoint to some file and then run the file (and wait for it to hit the breakpoint). To do that, let's start with the example below: Image: mod1.py The first thing we'll want to do is add a breakpoint.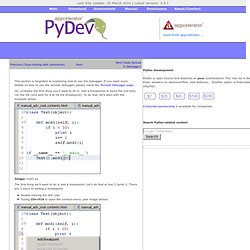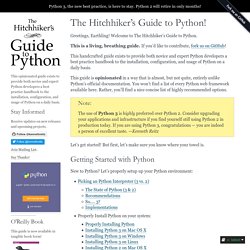 The Hitchhiker's Guide to Python! — The Hitchhiker's Guide to Python
Welcome to The Hitchhiker's Guide to Python.
PyPy
In the past few months I've had the… uh… privilege of helping some people who are new to Python to get to know the language. I found that there are some pitfalls that almost everyone meet when they're new to the language, so I decided to share my advice with you. Each part of this series will focus on a different common mistake, describe what causes it and offer a solution. Using a Mutable Value as a Default Value This one definitely deserves its place at the top of the list. Not only is the reason for this "bug" subtle, it's also very hard to debug.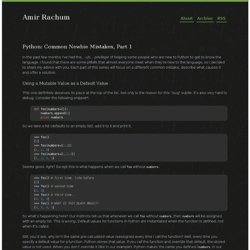 Python: Common Newbie Mistakes, Part 1 - Amir Rachum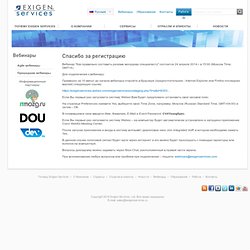 Спасибо за регистрацию | Exigen Services
Вебинар "Как правильно составить резюме молодому специалисту" состоится 30 января 2014 г. в 15:00 (Moscow Time, GMT+4). Для подключения к вебинару: Примерно за 10 минут до начала вебинара откройте в браузере (предпочтительнее - Internet Explorer или Firefox последних версий) следующую ссылку: https://exigenservices.webex.com/exigenservices/onstage/g.php?t=a&d=6353... Если Вы первый раз запускаете систему Webex Вам будет предложено установить свой часовой пояс.
Can you optimize list(genexp)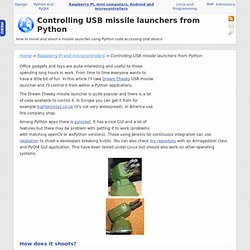 Office gadgets and toys are quite interesting and useful to those spending long hours in work. From time to time everyone wants to have a little bit of fun. In this article I'll take Dream Cheeky USB missile launcher and I'll control it from within a Python applications. The Dream Cheeky missile launcher is quite popular and there is a lot of code available to control it.
Controlling USB missile launchers from Python
Год назад на хабре был анонсирован сервис Koding.com. Он обрадовал немалоприятными плюшками в виде халявного сервера, apache, php, mysql, ruby, python, консоли в веб интерфейсе, удобное подобие IDE в браузере и прочие приятные вещи. Помимо социальной составляющей разработчики обещали все больше и больше нововведений, приложений и развития проекта. Как и было обещано, все то, что поставлялось в beta версии, останется бесплатным на момент релиза (хотя он как бы еще и не релиз).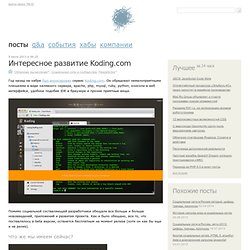 Интересное развитие Koding.com
Портирование на питон 3. Работа над ошибками / Блог компании NetAngels
Примечание от переводчика: Представляю вам, перевод интересной статьи Армина Ронахера, автора веб-фреймворков Flask и Werkzeug, шаблонизатора Jinja2 и вообще известного питониста об актуальных техниках и подводных камнях, применяемых им в его проектах при добавлении поддержки третьего питона. Небольшая заметка по поводу названия данной статьи. Оно является отсылкой к статье Армина 2010 года «Портирование на питон 3.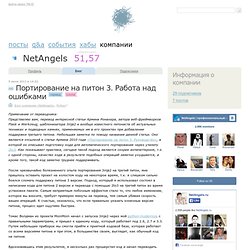 Отчет Minsk Python Meetup
14 июня в столичной галерее Newday прошел митап, посвященный особенностям работы с языком программирования Python.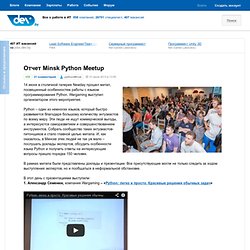 Python
Python
Python programming language