Social Media
Get flash to fully experience Pearltrees
Marketing & Strategy Innovation Social Business: the Current Situation and Future Predictions (infographic) by on 7 August, 2011 - 22:21 Guest Post by: Ruari Grigg
Larry Page and Sergey Brin have long had the dream of a hands-free, mobile Google, where search was a seamless process as you moved around the world. As the years progressed the vision did, too, expanding beyond search to persistent connections with the people in your lives. In other words, Google's view of the world now has the social side fully baked into it. Today, Google is revealing that it is taking concrete steps towards that vision with ProjectGlass, an augmented reality system that will give users the full range of activities performed with a smart phone — without the smart phone. Instead, you wear some sort of geeky prosthetic (one of those pictured is reminiscent of the visor that Geordi La Forge wore on "Star Trek: The Next Generation," but Google has also been experimenting with a version that piggybacks on regular spectacles.) On top of your field of vision, you get icons, alerts, directional arrows, and other visual cues that inform, warn, or beg response.
The 2011 Forbes "World's Billionaires" list is out and guess who makes it to the top as the youngest billionaire? …No, it is not Facebook's Mark Zuckerberg who usually gets the credit for being the youngest billionaire. The social networking giant with over 600 million users has recently been valued at $82.5 billion which is the reason that Mark and his co-founders have leapt into the rankings of the mega wealthy. The Forbes ranking though lists Facebook at a value of $50 billion, based on the Goldman Sachs led investment, significantly less than the current $82.5 billion valuation implied by the latest stock sale in the private markets. So the social media billionaires all have lower rankings than they ought to by most estimations. Facebook's Co-Founders
Potential employers don't need to hack into your Facebook account to get past your security settings. They can just ask you for your password . MSNBC reports that some government agencies and colleges are now requiring applicants to give them their Facebook passwords so that they can see what's behind the privacy wall. Examples include Maryland's Department of Corrections asking applicants to let an interviewer watch as they log into their Facebook account, as well as some colleges that require athletes to accept friend requests from coaches, according to MSNBC. The story comes on the same day the San Francisco Chronicle reports that some scholarship providers are using social networks to help decide which candidates to select.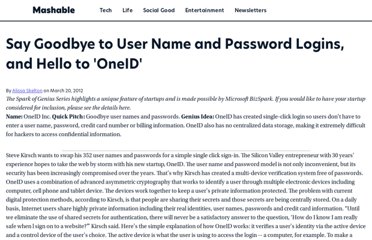 The Spark of Genius Series highlights a unique feature of startups and is made possible by Microsoft BizSpark. If you would like to have your startup considered for inclusion, please see the details here. Name: OneID Inc.