Education
Tandameshia Hastings. Education Infographics / 27 More Ways to be a Better 21st Century #Educator #education. Deep Learning for Students. Ron Berger in Edutopia: In all of my years sitting in classrooms as a student, in public schools that were highly regarded, I never once produced anything that resembled authentic work or had value beyond addressing a class requirement.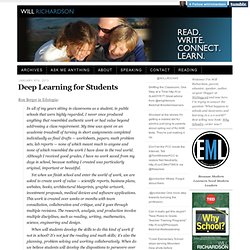 My time was spent on an academic treadmill of turning in short assignments completed individually as final drafts — worksheets, papers, math problem sets, lab reports — none of which meant much to anyone and none of which resembled the work I have done in the real world. Although I received good grades, I have no work saved from my days in school, because nothing I created was particularly original, important or beautiful.Yet when we finish school and enter the world of work, we are asked to create work of value — scientific reports, business plans, websites, books, architectural blueprints, graphic artwork, investment proposals, medical devices and software applications.
12 Reasons to Get Your School District Tweeting This Summer. Everyone is on Twitter these days, so why not your school district?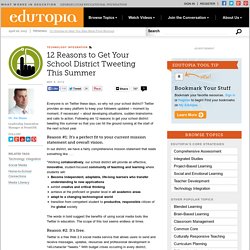 Twitter provides an easy platform to keep your followers updated -- moment by moment, if necessary! -- about developing situations, sudden brainstorms and calls to action. Following are 12 reasons to get your school district tweeting this summer so that you can hit the ground running at the start of the next school year. Reason #1: It's a perfect fit to your current mission statement and overall vision. Nine Dangerous Things You Were Taught In School. College Completion Data Becomes The New Focus Of K-12 Education, With Help From Harvard. From the federal government to school boards, policymakers and administrators are increasingly setting their sights on "college and career readiness" as the goal of K-12 education.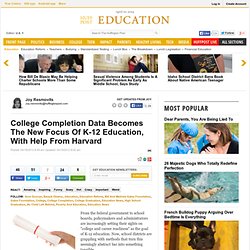 Now, school districts are grappling with methods that turn this seemingly abstract bar into something tangible. On Tuesday, Harvard University's Strategic Data Project will release "Strategic Performance Indicators" that aim to help administrators track their graduates and use that information to drive instruction and advising in present-day classrooms. SDP, a five-year project funded by $23 million from the Bill & Melinda Gates Foundation, worked with five school districts -- Boston, Charlotte-Mecklenberg, Fort Worth and Georgia's Gwinnett and Fulton Counties -- to gather student-level data that fuels these indicators, which the group says are akin to "the price-to-earnings ratio that show the financial health of a firm. " College 2.0: 'Social-Media Blasphemy': An Academic Adds 'Enemy' Feature to Facebook - College 2.0. By Jeffrey R.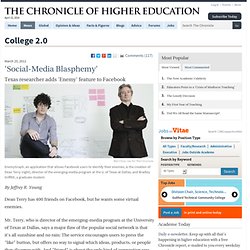 Young Dean Terry has 400 friends on Facebook, but he wants some virtual enemies. Mr. Terry, who is director of the emerging-media program at the University of Texas at Dallas, says a major flaw of the popular social network is that it's all sunshine and no rain: The service encourages users to press the "like" button, but offers no way to signal which ideas, products, or people they disagree with. And "friend" is about the only kind of connection you can declare. Financial Aid Bait and Switch? | The College Solution. When families look at financial aid packages they often assume that a school's financial aid support will remain the same for four years.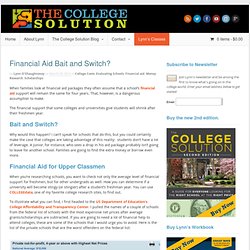 That, however, is a dangerous assumption to make. The financial support that some colleges and universities give students will shrink after their freshmen year. Do Students Know Enough Smart Learning Strategies? Teaching Strategies Lenny Gonzales What's the key to effective learning?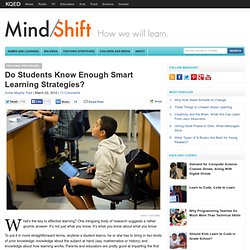 One intriguing body of research suggests a rather gnomic answer: It's not just what you know. It's what you know about what you know. To put it in more straightforward terms, anytime a student learns, he or she has to bring in two kinds of prior knowledge: knowledge about the subject at hand (say, mathematics or history) and knowledge about how learning works. Prep for the "Tell Me About Yourself?" Question. Resumes & Interviews >> Browse Articles >> Interview Questions & Answers Focus List five strengths you have that are pertinent to this job (experiences, traits, skills, etc.).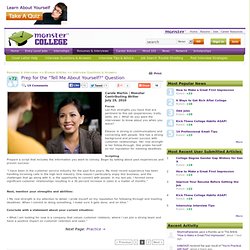 What do you want the interviewer to know about you when you leave? Eleanor is strong in communications and connecting with people. She has a strong background and proven success with customer relationships. Her real strength is her follow-through.
Why stress 'inflames' your risk of getting sick. A new study finds that chronic psychological stress is associated with the body losing its ability to regulate inflammatory response.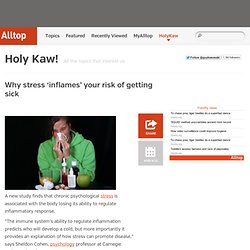 "The immune system's ability to regulate inflammation predicts who will develop a cold, but more importantly it provides an explanation of how stress can promote disease," says Sheldon Cohen, psychology professor at Carnegie Mellon University. Full story at Futurity. More research news from top universities. Photo credit: Fotolia. An introductory guide to iPads for Teachers. I'm delivering some iPad training to a school tomorrow, so thought it might be useful to collate some of the links I've been putting together for the session.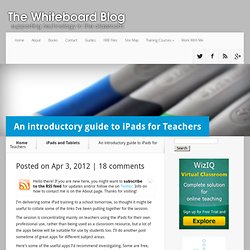 The session is concentrating mainly on teachers using the iPads for their own professional use, rather than being used as a classroom resource, but a lot of the apps below will be suitable for use by students too. I'll do another post sometime of great apps for different subject areas. Here's some of the useful apps I'd recommend investigating. Some are free, others the price of a pint or so. Links are to the UK version of iTunes so other readers may need to do a search in the App Store to find the version for their region.
Freemium Higher Education? - Brainstorm. The present for-profit higher-education industry is largely an artifact of federal financial-aid policy.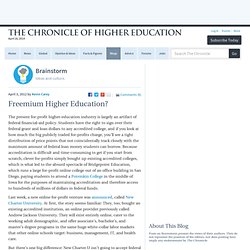 Students have the right to sign over their federal grant and loan dollars to any accredited college, and if you look at how much the big publicly traded for-profits charge, you'll see a tight distribution of price points that not coincidentally track closely with the maximum amount of federal loan money students can borrow. Because accreditation is difficult and time-consuming to get if you start from scratch, clever for-profits simply bought up existing accredited colleges, which is what led to the absurd spectacle of Bridgepoint Education, which runs a large for-profit online college out of an office building in San Diego, paying students to attend a Potemkin College in the middle of Iowa for the purposes of maintaining accreditation and therefore access to hundreds of millions of dollars in federal funds.
Alabama District Joins League of Innovative Schools - Marketplace K-12. ** UPDATED with comments from Piedmont City School District Superintendent Matt Akin. Are small school districts better sources of innovation? An 1,100-student school system in Piedmont, Ala., is joining the new League of Innovative Schools and pursuing two new research initiatives, using its size as an advantage, not a detriment. Details can be found in a story by the Anniston Star on Wednesday. Extra-Curricular Activities. In my FYC class, we've been talking about the divisions we impose in education: the divisions we impose on subjects and disciplines, as well as the difference between curricular and extra-curricular activities. We are sent the message about what counts, what really counts, and what we could/should do away with.
These messages often directly conflict with the students' perceptions and attitudes. Five items you'd find in a 2012 college time capsule. By Cristina Toscano Ah, the flash drive. This generation's floppy disk. Image from Stockbyte. Being in college is weird. Weird when you imagine how different, and also how similar college was even just ten years ago. The 16 Most Selective Colleges In The Country. The Huffington Post teamed up with the Princeton Review, one of the nation's leading education-services companies, to present this special feature on the nation's most selective colleges -- and how to get in to them. The goal of our "America's Most Selective Colleges" project is to give college-bound students and their parents straight-on information about these challenging schools' acceptance rates and truly savvy tips for applicants. To that end, we asked the Princeton Review to shares its list of the 16 colleges in its flagship book, The Best 376 Colleges (published August 2011) that earned a 99 -– the highest possible score -- on the Company's unique "Admissions Selectivity Rating.
" Presented in alphabetical order, this list is based on the Princeton Review's analysis of data it exclusively gathers from its institutional and student surveys. Looks Aren't Everything, but They Make College Acceptance Letters More Enticing. Over the past few weeks I have been meticulously checking my mail, both physical and digital, and so far I am extremely happy with the results.
I have been accepted into all of my SUNYs (Stony, Geneseo, Binghamton and University at Buffalo) and still wait for the privates (Vassar and Wesleyan). As for CUNYs, I have been accepted into Hunter, Baruch, City College and Brooklyn. Teacher Coaching and High Expectations Key to Charter Performance - Inside School Research. Cal State Plans to Freeze Enrollment.
How Should We Test Students' College Educations? Four Strategies to Spark Curiosity via Student Questioning. Governor Malloy is right, teachers' union wrong, on education reform. The Best Prospective Commencement Speakers In 2012. Ex-New Orleans cops get prison time in Danziger Bridge shootings. Whitepaper: Social Media Measurement for Colleges and Universities. The ProfHacker Week in Review. School Reform, New Orleans-Style - District Dossier. The future of education. I Have A Dream Speech (TEXT)
---