Graphs
tan's interests
Here is a collection of 20 real estate and economic graphs from February ... Click on graphs for larger image in new window. New Home Sales in January The first graph shows monthly new home sales (NSA - Not Seasonally Adjusted).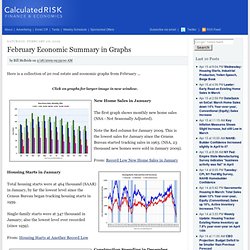 February Economic Summary in Graphs
The GRID-Arendal Maps & Graphics Library is an on-going project to collect and catalogue all graphic products that have been prepared for publications and web-sites from the last 15 years in a wide range of themes related to environment and sustainable development. There are currently 3022 graphics available in the database. Global flyways of the six subspecies of Red Knot The Red Knot is a migratory shorebird that travels up to 20,000 km twice a year from its breeding grounds on the high Arctic tundra to its southern non-breeding sites. Along with having one of the longest total migrations of any bird, some populations also fly as much as 8,000–9,000 km between stopover sites in a single flight.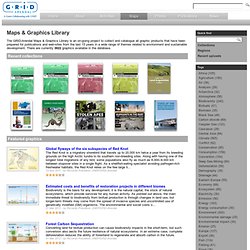 Water withdrawal and consumption: the big gap - Maps and Graphics at UNEP/GRID-Arendal
World carbon emissions since 1902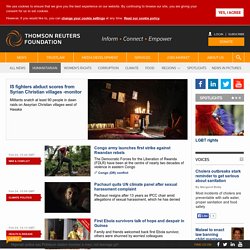 On asylum and refugees, it's time to open a new conversation... By Russell Hargrave Think small to light up rural Africa By Henrietta Miers Last week, Malawi's president declared: "Let there be light in every home."
China power output in record Nov decline
Wordle is a toy for generating "word clouds" from text that you provide. The clouds give greater prominence to words that appear more frequently in the source text. You can tweak your clouds with different fonts, layouts, and color schemes.