Blogging/Forums
Nour Odeh
www.pakpositive.com Adding Your Blog to Pakistani Bloggers
Read This First: To Add New Blogs & Rules of Membership - Pakistani Bloggers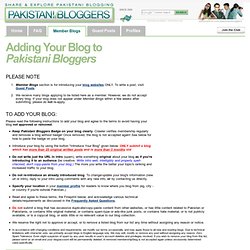 I want to be a sipahi
A Pakistan Army soldier out on patrol To enjoy power is human.
Peu des histoires: Stories that surround my world
Maheen Usmani - The Express Tribune Blog
Dear Young Pakistani! | Pakistan Ka Khuda Hafiz
I understand how these times are testing of your patriotism, but let me tell you how these times are actually a golden opportunity for you to prove your worth, your love for the country, and desire for a better future. You must have been hearing a lot about how Pakistani society has degenerated into moral chaos, how we as a nation are worthless 'cockroaches', and how we as a nation are deserving of calamities such as the catastrophic flood.
Shamaz's Simulation Blog
Protected Blog › Login
Flying With Fish - The Blog for Those Who Fly & Those Who Want to Fly Smarter
Having grown up watching planes fly over my house, all day and night, and having spent the last 27 years (of my 37 years on this Earth) generally found with a camera in my hand, it is only natural that I can at times be found shooting photos of airplanes.