Legislation/NCLB/School Improvement
The complete list of problems with high-stakes standardized tests - The Answer Sheet. Posted at 04:00 AM ET, 11/01/2011 Nov 01, 2011 08:00 AM EDT TheWashingtonPost My guest today is Marion Brady, veteran teacher, administrator, curriculum designer and author.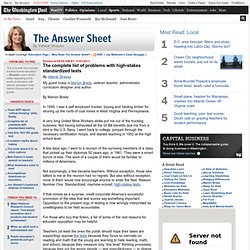 By Marion Brady. Downgraded by Evaluation Reforms. Teaching Ahead: A Roundtable. Educators, Parents Hold Mixed Views on Testing. Spotlight on School Improvement. States and districts grapple with turning around schools and making big changes in a tight time frame.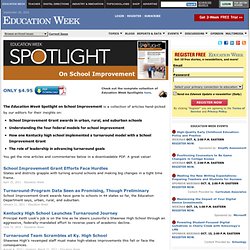 April 25, 2011 - Education Week School Improvement Grant awards have gone to schools in 44 states so far, the Education Department says, urban, rural, and suburban. January 11, 2011 - Education Week. Chris Hedges: Why the United States Is Destroying Its Education System - Chris Hedges' Columns. Why the United States Is Destroying Its Education System Posted on Apr 11, 2011 By Chris Hedges A nation that destroys its systems of education, degrades its public information, guts its public libraries and turns its airwaves into vehicles for cheap, mindless amusement becomes deaf, dumb and blind.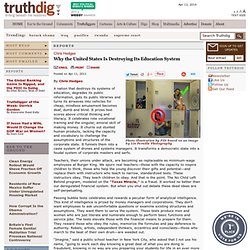 It prizes test scores above critical thinking and literacy. It celebrates rote vocational training and the singular, amoral skill of making money. Andrew J. Rotherham: In Defense of No Child Left Behind. Bashing the No Child Left Behind Act has become so politically popular that it's easy to forget how overwhelmingly bipartisan it was — the legislation passed the House with 384 votes and the Senate with 91.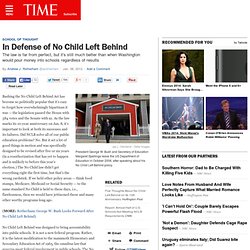 As the law marks its 10-year anniversary on Jan. 8, it's important to look at both its successes and its failures. Did NCLB solve all of our public education problems? No. But it set a lot of good things in motion and was specifically designed to be revised after five or six years (in a reauthorization that has yet to happen and is unlikely to before this year's election.)
The No Child law didn't get everything right the first time, but that's the wrong yardstick. No Child Left Behind's promise falls short after 10 years - Nation. The Mess of No Child Left Behind - Brian Resnick - National. Ten years after its inception, it appears increasingly clear that NCLB will not meet its ambitious 2014 goals Matthew Benoit/Shutterstock No Child Left Behind is in shambles.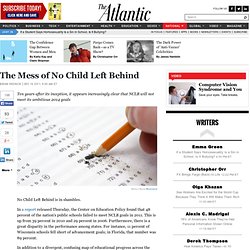 ---