Homeschooling
By registering with Canadian Wildlife Federation (CWF) as an educator http://www.cwf-fcf.org/en/educate/sign-up.html you receive updates and direct emails for opportunities to participate in educational programs. These programs are generally offered to all educators regardless of class size. Our family has participated in contests and has had opportunities to have photos and writings published, as well as meet other leaders in wildlife conservation. We met Olympic Medalist Adam Kreek, as well as world-renowned artist, Robert Bateman. By providing these unique opportunities I hope to inspire my children as well as providing role models. From CWF site:http://www.cwf-fcf.org/en/educate/CWF education programs are built on sound pedagogical foundations: a conceptual framework, curriculum links, piloting in Canadian classrooms, and the scrutiny of scientific experts.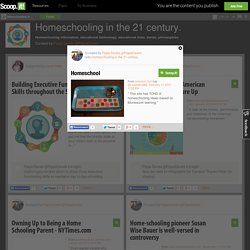 Homeschool | Homeschooling in the 21 century.
Homeschool / This site has TONS of homeschooling ideas based on Montessori learning.