Games
A complete list of the fascinating cast of characters that can join you on your adventures in Baldur's Gate II: Shadows of Amn and Throne of Bhaal. In this guide, you'll read where you can find them, how good they are, what quests are related to them, and how they will react to the other characters, including you. Note that unlike in BG1, all of the characters will occasionally banter with unique dialogue, even if I did not note any special interactions on this page. NOTE: If this is your first time playing a Baldur's Gate game, I highly recommend reading my Beginner's Guide to Baldur's Gate ! The characters: - Customizing Portraits - Imoen - Minsc - Jaheira - Yoshimo - Aerie - Nalia De'Arnise - Korgan Bloodaxe - Anomen Delryn - Jan Jansen - Viconia De'Vir - Keldorn Firecam - Haer'Dalis - Edwin Odessieron - Cernd - Valygar Corlatha - Mazzy Fentan - Sarevok - Ideal Party Recommendations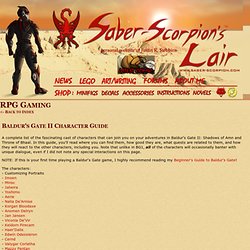 Baldur's Gate II Character Guide - Saber-Scorpion's Lair - Personal Website of Justin R. Stebbins
Posted on21 January 2011. Since the legend began in 1983, Mario Bros has grossed millions of Dollars –which proves its one of the greatest games ever created. Who doesn't love the squat little Italian bloke in his red and blue plumber overalls! There are millions of gamers all over the globe that grew up living vicariously through Mario and Luigi, bringing pain and suffering to stray mushrooms, turtles and dragon overlords wherever they may be.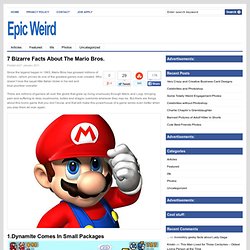 7 Bizarre Facts About The Mario Bros.
Game Revolutions - Xbox 360, Wii, PS3, PS2 Game Cheats & Reviews
Most-Wanted Games of 2012 Well, that's it. 2011 has officially come to a close. While it was definitely a great year for gaming , this is hardly any time need to dwell on the past. Like the old adage says, out with the old and in with the new. In keeping with that spirit, we thought we'd look at the games that are headed our way over the next twelve months.
Top 10 Most-Wanted Games of 2012
Subscribers: 121 million Channels: 4,556 Network Views: 31.3 billion Network Videos: 938,231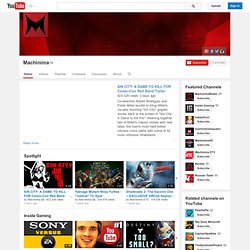 The site makes it possible to search games according to character it is one of the things that make this site very unique. It provides us not only with great reviews but also possibilities to search for similar games, games according to concepts, platform, franchise and much more. A very lovely and vast site that helps you pick the perfect games that suit your taste. by tammster Oct 17
One of my favourite sites to get to know what ratings games have and which are popular at the moment. Nice reviews and a good way to get a "taste" of games that have hit the shelves. by tammster Oct 17
List of Mario video games by year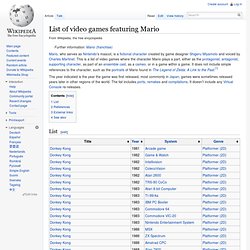 Mario , who serves as Nintendo 's mascot, is a fictional character created by game designer Shigeru Miyamoto and voiced by Charles Martinet . This is a list of video games where the character Mario plays a part, either as the protagonist , antagonist , supporting character , as part of an ensemble cast , as a cameo , or in a game within a game. It does not include simple references to the character, such as the portraits of Mario found in The Legend of Zelda: A Link to the Past . [ 1 ] The year indicated is the year the game was first released, most commonly in Japan ; games were sometimes released years later in other regions of the world. The list includes ports , remakes and compilations .
I have been a very big Nintendo fan since I was little. And of course I wanted to know which games had my biggest Nintendo hero in it, Mario. This list provides me with all the mario bros. games out there. So I can be sure I haven't missed playing any. by tammster Oct 17
I have been using this site for years. Whenever I get stuck in a game or if I need additional information I come here. It's very easy to use and contains almost any game for every system out there. by tammster Oct 17
As a very big HOG fan Big Fish provides me with some of the best HOG games out there. I have played many enjoyable and high quality games here. Some of my favourites include Mystery Case Files games like the 13th Skull and Dire Grove, Drawn, Mystery Legends: The Phantom of the Opera etc. by tammster Oct 17
Best hidden object games at GameMile! - GameMile game reviews