Find by (search)
Book Recommendations (USA) Bookwire. BookPage | Discover your next great book! Reading Room - Descriptor List View. Find A Good Book - Search for Books. Stop, You're Killing Me! NoveList | EBSCOhost.
Manga
Literature-Map - The tourist map of literature. What's Next™ Database. Our What's Next™: Books in Series database helps you search series fiction.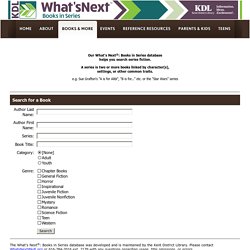 A series is two or more books linked by character(s), settings, or other common traits. e.g. Whichbook | A new way of choosing what to read next.
---