Eye candy, brain food
Social/gallery sites. Creative publications. The Book Cover Archive. Blood Tea And Red String. BLOOD TEA AND RED STRING is a handmade stop-motion fairy tale for adults.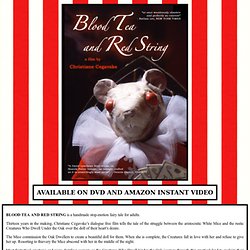 Thirteen years in the making, Christiane Cegavske's dialogue free film tells the tale of the struggle between the aristocratic White Mice and the rustic Creatures Who Dwell Under the Oak over the doll of their heart's desire. The Mice commission the Oak Dwellers to create a beautiful doll for them. When she is complete, the Creatures fall in love with her and refuse to give her up. Jonsi_alex_somers_book-riceboy-sleeps-limited-edition-2006. Journal #1094 | 1001 Journals.
---