.NET
elmah - Error Logging Modules and Handlers for ASP.NET
ELMAH (Error Logging Modules and Handlers) is an application-wide error logging facility that is completely pluggable. It can be dynamically added to a running ASP.NET web application, or even all ASP.NET web applications on a machine, without any need for re-compilation or re-deployment. Once ELMAH has been dropped into a running web application and configured appropriately, you get the following facilities without changing a single line of your code: Logging of nearly all unhandled exceptions. A web page to remotely view the entire log of recoded exceptions.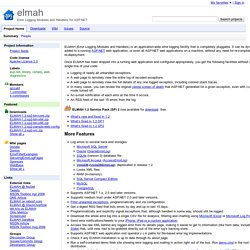 What can you do to prevent denial of service (DoS) attacks on your Wcf services? A DoS attack occurs when a flood of client requests come into a service and prevent legitimate requests from being made or slow down intended processing. At the same time, you need to be careful not to stranglehold legitimate requests and activity. Throttling Throttling is one mechanism that can be used to help mitigate the load from a DoS attack.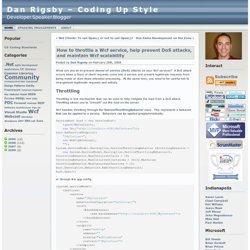 Dan Rigsby » How to throttle a Wcf service, help prevent DoS attacks, and maintain Wcf scalability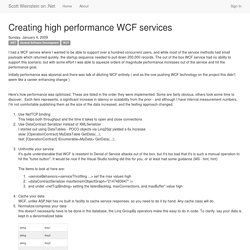 I had a WCF service where I wanted to be able to support over a hundred concurrent users, and while most of the service methods had small payloads which returned quickly, the startup sequence needed to pull down 200,000 records. The out of the box WCF service had no ability to support this scenario, but with some effort I was able to squeeze orders of magnitude performance increases out of the service and hit the performance goal. Initially performance was abysmal and there was talk of ditching WCF entirely ( and as the one pushing WCF technology on the project this didn't seem like a career enhancing change ) Here's how performance was optimized. These are listed in the order they were implemented.
Creating high performance WCF services - Scott Weinstein on .Net
The UK's biggest technical conference for software developers takes place at the beginning of March, with speakers like Dave Wheeler, Kevlin Henney, Dino Esposito, Neal Ford and Scott Allen presenting in-depth sessions and workshops on Visual Studio 2012, WinRT, C# 5, ASP.NET MVC, jQuery, .NET debugging, WCF, HTML5, SQL Server 2012, LINQ, Entity Framework, SignalR, JavaScript, and much more. Click here now for full details of the schedule and speakers.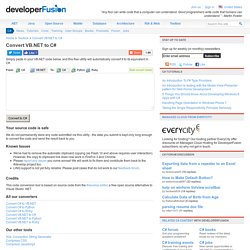 Json.NET
GetType and TypeOf confusion - Joacim's view on stuff
Both VB and C# have an operator called TypeOf (or typeof in C#) but they perform two completely different things. In VB there are also two kind of GetType () calls, the object .GetType() method which is part of the .Net framework and the VB language specific GetType () operator . Are you confused yet? Don't worry, in this article I will try to explain the difference between these operators and the object .GetType() method.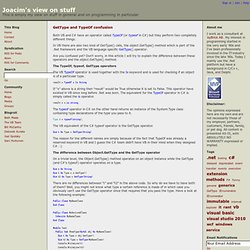 Project Hosting