For Classes
U.S. Travel Survey Finds Americans Still Tentative About Leisure Travel. The U.S.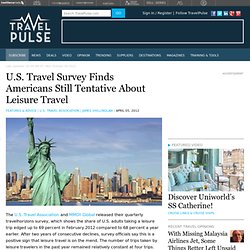 Travel Association and MMGY Global released their quarterly travelhorizons survey, which shows the share of U.S. adults taking a leisure trip edged up to 69 percent in February 2012 compared to 68 percent a year earlier. After two years of consecutive declines, survey officials say this is a positive sign that leisure travel is on the mend. The number of trips taken by leisure travelers in the past year remained relatively constant at four trips. At the same time, a little more than half (56 percent) of U.S. adults plan on taking a leisure trip in the next six months, a figure that is lower than the 59 percent who said they would travel in February 2011, but the same as February 2010. Meanwhile, the number of U.S. adults who took a business trip in the 12 months ending in February, after falling from 39 percent in February 2008 to 24 percent in February 2011, edged down to 22 percent in February 2012. A New "Golden Age of Travel" Will Create Jobs Worldwide and Boost the Global Economy.
Twelve Ideas for Teaching with QR Codes. Updated 01/2014 As mobile learning becomes more and more prevalent, we must find effective ways to leverage mobile tools in the classroom.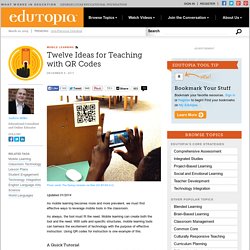 As always, the tool must fit the need. Mobile learning can create both the tool and the need. With safe and specific structures, mobile learning tools can harness the excitement of technology with the purpose of effective instruction. Using QR codes for instruction is one example of this.
Videos for class
---