Podcasting
We stream past WEFUNK shows continuously so you can listen any time. To find the name of a song you heard on the stream, see the playlist below and our playlists for earlier shows . Want to listen on your mobile phone, iPod Touch, PSP, Wii, Blackberry or toaster oven? (okay, maybe not the toaster!)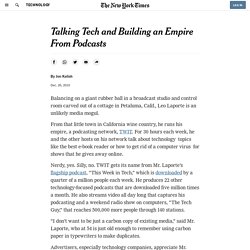 From that little town in California wine country, he runs his empire, a podcasting network, TWIT . For 30 hours each week, he and the other hosts on his network talk about technology — topics like the best e-book reader or how to get rid of a computer virus — for shows that he gives away online. Nerdy, yes. Silly, no. TWIT gets its name from Mr.
Leo Laporte Builds Empire With ?This Week in Tech?
BoinxTV Wiki Intern Needed! Boinx Software is on the lookout for an intern to help us manage a new Wiki page for BoinxTV, the TV truck – without the truck! This is a paid internship requiring about 10 hours per week. Though we are based in Germany and this is primarily a work-from-home type of job, our marketing team in Boston will assist in managing the internship. This means we are looking for a candidate based in the Boston area who would be available to meet in the Boston office periodically.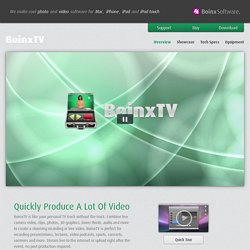 Overview - BoinxTV - Boinx Software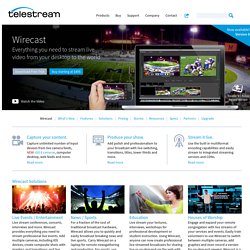 Plug in your cameras. Prepare your shots. Stream live.
Stream Like a Pro Ustream Producer is an easy and powerful way to stream to your Ustream channel. For beginning users, you can get started right away using your built in webcam and add graphics, videos and music to your broadcast. For more experienced users, the Pro and Studio versions offer many advanced features for pro quality productions, right from your desktop. Download for Mac or Windows and get started streaming today.
Producer: Download the free video streaming desktop application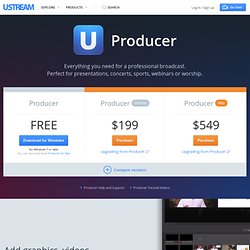 talkingdigital
This is my website. It is also the raw feed for all of the podcasts I work with and produce. by talkingdigital Oct 27
Simple step-by-step computer help for beginners - Castellini on Computers
Home of the Castellini on Computers podcast. It is also the blog for Rick Castellini. by talkingdigital Oct 27
Lumigrate Integrative Medicine Podcast | Official Podcast Feed for Lumigrate.com
Hot news no one's talking about | Watercooler All-stars
World's biggest mouth Today
A MAN who can fit a whole can of drink in his mouth sideways has been recognised as having a world-record sized kisser. Francisco Domingo Joaquim's 16.99cm (6.69in) wide rubbery yap has earned him the bizarre title of the 'World's Widest Mouth' by the Guinness Book of World Records . The 20-year-old, who is also known as the Angolan Jaw of Awe, put his elastic kisser to the test at the the 'Big Mouth' competition in Rome this month.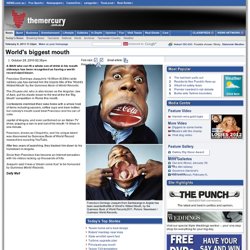 Flying Robots Podcast
Watch DARPA's Retractable Rotor Helicopter Concept Redefine Flight