General resources
Practical Ed Tech Tip of the Week – A Cleaner YouTube. 5 Ideas for Teaching With Comics and 5 Free Online Tools for Creating Them. I've been thinking about comic strip creation tools quite a bit lately so I decided to share a handful of ideas for teaching with comics and the online tools that students can use to create them. 1.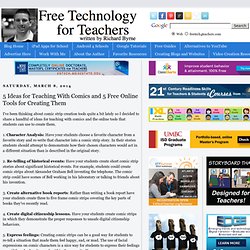 Character Analysis: Have your students choose a favorite character from a favorite story and re-write that character into a comic strip story. In their stories students should attempt to demonstrate how their chosen characters would act in a different situation than is described in the original story. Excellent Tips and Tools to Create Infographics for your Classroom. The Flipped Classroom: Turning the Traditional Classroom on its Head. Magazine Publishers. 100 Great Tech Talks for Educators. Posted on Monday May 31, 2010 by Staff Writers If you're an educator, surely you know that technology has and will continue to have an incredible impact on learning.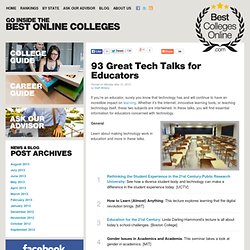 Whether it's the Internet, innovative learning tools, or teaching technology itself, these two subjects are intertwined. In these talks, you will find essential information for educators concerned with technology. Self Made Scholar - Free Self Education Classes Online. Documentary Dish. 10 Open Education Resources You May Not Know About (But Should)
Digital Tools Horla Varlan This week, the OCW Consortium is holding its annual meeting, celebrating 10 years of OpenCourseWare.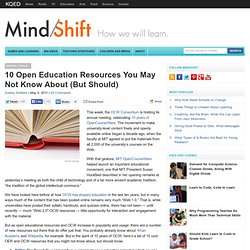 The movement to make university-level content freely and openly available online began a decade ago, when the faculty at MIT agreed to put the materials from all 2,000 of the university's courses on the Web. With that gesture, MIT OpenCourseWare helped launch an important educational movement, one that MIT President Susan Hockfield described in her opening remarks at yesterday's meeting as both the child of technology and of a far more ancient academic tradition: "the tradition of the global intellectual commons."
We have looked here before at how OCW has shaped education in the last ten years, but in many ways much of the content that has been posted online remains very much "Web 1.0." 20 Awesome Web Tools For Teachers and Professors | GetDegrees.com. The arrival of internet has brought about significant changes in the way we work and live.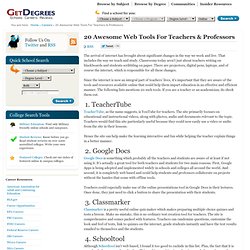 That includes the way we teach and study. Classrooms today aren't just about teachers writing on blackboards and students scribbling on paper. K-12 Teacher Resource & Information Center | TeachHUB.com. Indispensabletools / FrontPage. The following list of ICT tools was crowd sourced from individual educationalists and not companies when the question 'What Indispensable ICT tools do you use in education' was asked and is not meant to be exhaustive in any way.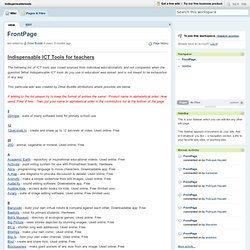 This particular wiki was created by Drew Buddie attributions where possible are below. If adding to the list please try to keep the format of entries the same: Product name in alphabetical order; How used; 'Free' if free. Then put your name in alphabetical order in the contributors list at the bottom of the page. Head of the Class. Teaching with Technology / Index. Questia - The Online Library of Books and Journals. 10 Websites To Make You Think | The Online Learning Blog from Study2U. Supposedly browsing the internet requires more brain power than watching television.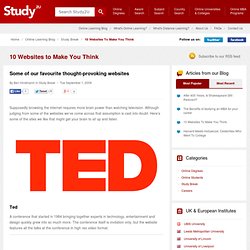 Although judging from some of the websites we've come across that assumption is cast into doubt. Here's some of the sites we like that might get your brain to sit up and listen. Don't Pay for Technology: 25 Freebies for Students. Jun 29, 2009 In today's economic climate, paying for technology isn't prudent, and for some students, it isn't even an option.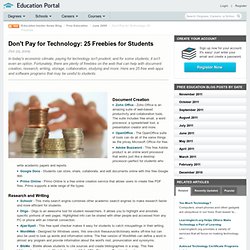 Fortunately, there are plenty of freebies on the web that can help with document creation, research, writing, storage, collaboration, studying and more. What can you learn on youtube? - Tomash.soup. Where to Get the Best Free Education Online. Homeschool Theater » Blog Archive » Home School Curriculum: Seven Options for Parents - Homeschool Planning doesn't have to be a production. :-) If you are new to home schooling and haven't a clue as to what to do about curriculum other than buying a set out of a catalog, there is a wealth of learning possibilities available to you.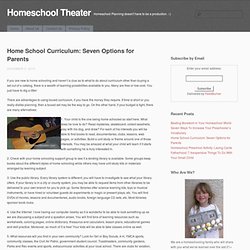 Many are free or low-cost. You just have to dig a little! Top 5 Home/Unschool Websites | Organically Inclined. Aktuelle Zeit: Fr Apr 18, 2014 12:16 am Wer ist online?
Insgesamt ist 1 Besucher online: 0 registrierte, 0 unsichtbare und 1 Gast (basierend auf den aktiven Besuchern der letzten 5 Minuten)Der Besucherrekord liegt bei 73 Besuchern, die am Do Jul 11, 2013 7:02 pm gleichzeitig online waren. Mitglieder: 0 Mitglieder Legende: Administratoren, Globale Moderatoren. Homeschooling. Things You Learned at School That Are Just Plain Wrong.
Fact Monster: Online Almanac, Dictionary, Encyclopedia, and Homework Help. PurposeGames - Learn To Play, Play To Learn. 20 Awesome Web Tools For Teachers & Professors. Homeschool Resources and Printables. Paper Toys - Paper Cut-Outs - FREE at PaperToys.com. WT Virtual Math Lab - GRE Math Help. Beginning Algebra Tutorial 11: Simplifying Algebraic Expressions Beginning Algebra Tutorial 27: Adding and Subtracting Polynomials Beginning Algebra Tutorial 28: Multiplying Polynomials Intermediate Algebra Tutorial 25: Polynomials and Polynomial Functions.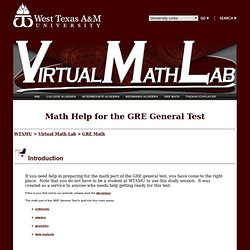 Sites for Teachers. Speedtest - how fast are you? Sorry, but Javascript is required. Please <a href=" Javascript</a></p><p> Please activate Cookies. If you have Cookies activated, try to reload the page (CTRL+R). Error or Bug? Try reloading the page by pressing "CTRL+R", this might fix it! A to Z Teacher Stuff For Teachers FREE online lesson plans, lesson plan ideas and activities, thematic units, printables, themes, teaching tips, articles, and educational resources.
---