Self
ADHD and Coexisting Conditions: Depression (WWK 5C) Can't find what you're looking for? Our health information specialists are here to help. Contact us at 800-233-4050 or online. WWK refers to the What We Know series of information sheets on ADHD.
ADHD and Coexisting Conditions: Depression (WWK 5C)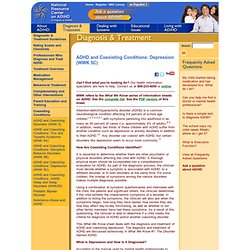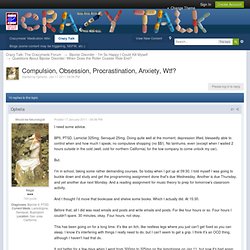 I need some advice.
Compulsion, Obsession, Procrastination, Anxiety, Wtf? - The Crazy Meds Forum: Crazy Meds Talk ver 9.0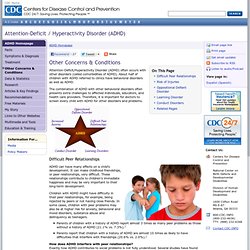 ADHD, Other Concerns & Conditions - NCBDDD
Attention-Deficit/Hyperactivity Disorder (ADHD) often occurs with other disorders (called comorbidities of ADHD). About half of children with ADHD referred to clinics have behavioral disorders as well as ADHD. The combination of ADHD with other behavioral disorders often presents extra challenges to affected individuals, educators, and health care providers.
Organize Your Life in 2013! ← National Organization Month
After spring break, summer feels so close, you can practically taste it! Too bad there are still a lot of important things left to do before the semester finishes. Whether you're stressed about a big paper or exam standing between you and three months of freedom, or you're just having trouble focusing in general, check out some of the suggestions below to combat stress and study frustration the healthy way, no caffeine or all-nighters required! 1. Get outdoorsDon't fight the elements – take advantage of them! When temperatures start to rise and it's absolutely gorgeous out, move your study space outdoors.
Preventing Spring Fever 101: 10 Ways to Reduce Stress & Stay Motivated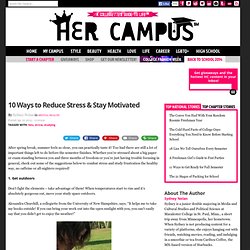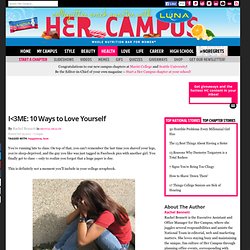 I<3ME: 10 Ways to Love Yourself
You're running late to class. On top of that, you can't remember the last time you shaved your legs, you're sleep-deprived, and the guy you like was just tagged in Facebook pics with another girl. You finally get to class – only to realize you forgot that a huge paper is due. This is definitely not a moment you'll include in your college scrapbook. We all have moments in life when we're not exactly our #1 fans. Even though we usually realize how fantastic and one-of-a-kind we are, sometimes life can bring us down – and keep us down.
How to Get and Keep Respect – 4 Practices
I believe one thing people want in life is respect. We want to feel valued, listened to, and called upon to do ordinary and extraordinary things. It is about self-worth, and it is about using our talents. Respect is such a simple thing in concept.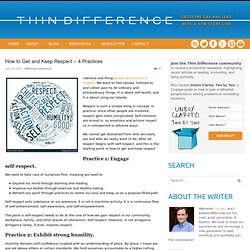 by Mike Barrett If you have ever had problems concentrating, you know how extremely frustrating it is to get anything done. As we age, it seems to be more and more difficult to keep our thoughts collected or even remember where we put our keys. This may be a part of the aging process to some degree, but diet and lifestyle certainly has a lot to do with it as well. Luckily, there are several brain foods that you can include in your daily diet to boost cognitive function, boost concentration, and slow down brain decline. Here are 7 foods to eat for better cognition, concentration, and for overall brain preservation.
7 Natural Brain Foods for Cognition and Concentration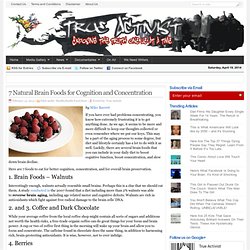 Procrastination/Motivation
Learn to Take "Real Breaks" to Stay Motivated and Creative Through the Day
I landed me some of that RSI from being at the computer to long without proper breaks.. (Although this could be partly due to another activity I do in my spare time involving one hand.. another problem all together). Besides the benefits mentioned in the article taking a break can help prevent some painful arm problems that can take a long time, if ever to heal. I lost full use of my arm for several months from the RSI and it is still not the same today. I also read studies about other health problems caused by plodding around in a chair all day. To help create a break schedule that works for your situation I recommend this free software: [www.workrave.org] .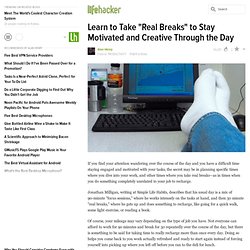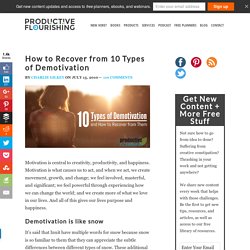 How To Recover From 10 Types of Demotivation
Editor's note: This is a guest post from Cath Duncan from Remembering For Good. Motivation is central to creativity, productivity and happiness. Motivation is what causes us to act, and when we act, we create movement, growth and change, we feel involved, masterful and significant, we feel powerful through experiencing how we can change the world, and we create more of what we love in our lives. And all of this gives our lives purpose and happiness.
How Can I Recharge My Depleted Motivation?
So, this seems like an appropriate article to post this... I suppose. I'm curious to know if any readers have had a similar experience to mine, and what they did to break themselves of it; it's vaguely like the above article, but to more of an extreme.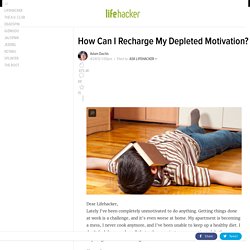 Mind & Brain::Features::November 21, 2012:: ::Email::Print See Inside When it comes to cultivating genius, talent matters, but motivation may matter more By Daisy Yuhas Image: KRISTEN GERACI Getty Images Got motivation?
Three Critical Elements Sustain Motivation
Post written by Leo Babauta. Procrastination is one of those topics that, it seems, I can't write enough about. There isn't a person among us who doesn't procrastinate, and that's a fact of life.
The Little Book of Procrastination Remedies | zen habits
Get Help for Procrastination
Procrastination: Ten Things To Know
There are many ways to avoid success in life, but the most sure-fire just might be procrastination . Procrastinators sabotage themselves. They put obstacles in their own path.
Eat That Frog!: 21 Great Ways to Stop Procrastinating and Get More Done in Less Time (9781576751985): Brian Tracy
11 Ways to Cure Someday Syndrome | zen habits
Editor's note: This is a guest post from Alex Fayle of the Someday Syndrome blog. Someday Syndrome: not doing what you want to because you don't know what it is, because you're procrastinating about it, or because you have too much stuff getting in your way. Everyone suffers from Someday Syndrome at some point in their lives, often catching it repeatedly. For me, most recently, I'd been saying that I really should give running a try without doing anything about it.
Set Yourself on Fire
Have you heard of a guy called Fred Shero? No? Until recently, me neither.
The Now Habit
How To Stop Procrastinating | RECOVER...