Architecture
Grand plans: how the simple planning diagram has shaped our cities | Art and design. As David Cameron continues to progressively dismantle the remnants of the UK planning system, it might be comforting to look overseas, where the history of spatial planning is being celebrated.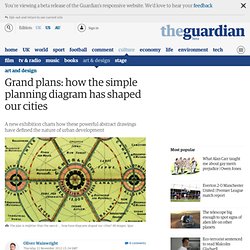 An exhibition opened this month in San Francisco that charts the visual history and influence of the planning diagram, from the radial spokes of the garden city wheel (which inspired the development of English suburbia) to the New York set-back rule (which generated the city's stepped skyscrapers). Grand Reductions: 10 Diagrams That Changed City Planning, organised by the San Francisco Planning and Urban Research association, argues that these simple, abstract illustrations are "iconic distillations of values, policy agendas and ideologies" – persuasive weapons in the planners' arsenal. "Planning indulges in the same world of image making that artists and advertisers do," writes Andrew Shanken, professor of architecture and urbanism at UC Berkeley.
Riva San Vitale by Mario Botta. Precedents in Architecture; Analytic Diagrams, Formative Ideas, and Partis. How to Use Plastilina Clay. Soften the plastilina clay using a procedure known as wedging.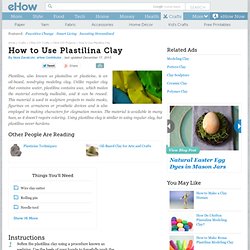 Use the heels of your hands to forcefully push the clay away from you and press the material. Fold the material, and press and push it away from you again. Turn the material to the other side and repeat the same movements to obtain a soft, smooth clay. This process resembles kneading dough. If you have large amounts of clay, cut them with a wire clay cutter to obtain quantities that you can easily wedge. 1405195851. An Alternative to the Cosmic and Mechanic Metaphors for the Human Body? The House Illustration in Ma'aseh Tuviyah (1708) The first canadian webzine dedicated to global design. Nigel Coates Body as a metaphor of architecture...
Fl. Proportion (architecture) Proportion is a central principle of architectural theory.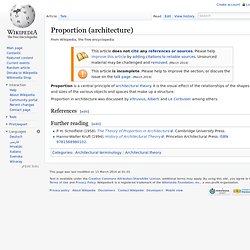 It is the visual effect of the relationships of the shapes and sizes of the various objects and spaces that make up a structure. Proportion in architecture was discussed by Vitruvius, Alberti and Le Corbusier among others. P. H. Discussion Forum Forum Top Level. Design Studio: Top 10 Things You Should Know. So school started a month ago and you are back into the studio environment – Aaahhhhh (breathing deeply) the familiar smell of despair, B.O. and basswood.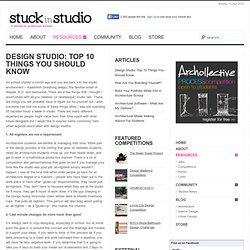 There are a few things that I thought I would share with all you newbies (or newbesque) studio rats. These are things you will probably have to figure out for yourself but I wish someone had told me some of these things when I was still spending 35 bazillion hours a week in studio. There are many different experiences people might value from their time spent with other future designers but I would like to expose some commonly held urban legends associated with design studios.