Support orgs
Window Into Palestine. IRISH SHIP TO GAZA. Cynthia McKinney. Cynthia Ann McKinney (born March 17, 1955) is an American politician and activist.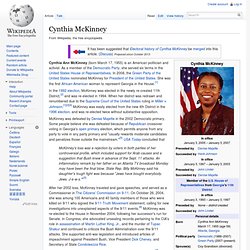 As a member of the Democratic Party, she served six terms in the United States House of Representatives. In 2008, the Green Party of the United States nominated McKinney for President of the United States. She was the first African-American woman to represent Georgia in the House.[1] In the 1992 election, McKinney was elected in the newly re-created 11th District,[2] and was re-elected in 1994. BDSmovement.net | Palestinian BDS National Committee. Co-op boycotts exports from Israel's West Bank settlements. The Co-operative Group stresses that its move is not an Israeli boycott and that it will use other suppliers in the country that do not source from illegal settlements.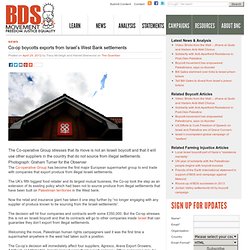 Photograph: Graham Turner for the Observer The Co-operative Group has become the first major European supermarket group to end trade with companies that export produce from illegal Israeli settlements. The UK's fifth biggest food retailer and its largest mutual business, the Co-op took the step as an extension of its existing policy which had been not to source produce from illegal settlements that have been built on Palestinian territories in the West bank. Palestina Amore - Al Jazeera World. On May 31, 2010, an Israeli military raid on an aid flotilla sailing to the blockaded Gaza Strip resulted in the deaths of nine unarmed peace activists, prompting international condemnation over what was perceived as a brutal and unjustified use of force.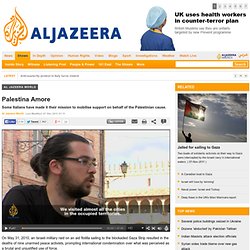 Five of those on board of one of the ships were Italian nationals who were part of the humanitarian mission attempting to break the blockade by delivering goods and construction materials to the occupied Palestinian territory. Israeli sanctions on Gaza since 2001 have led to widespread poverty and rampant unemployment there. International Solidarity Movement | Nonviolence. Justice. Freedom. Beit Hannina: House demolitions without warning.
25 November 2011 | International Solidarity Movement, West Bank At 11 AM this Thursday the 24 of November, Mohammed Ka'abne and his family of Beit Hannina, were shocked by the arrival at their doorstep of an Israeli military unit accompanied by several police officers and two bulldozers.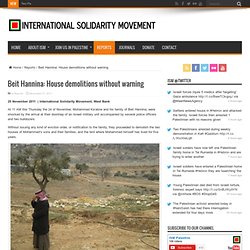 Without issuing any kind of eviction order, or notification to the family, they proceeded to demolish the two houses of Mohammed's sons and their families, and the tent where Mohammed himself has lived for five years. Demolitions in Beit Hannina - Click for more images When the the bulldozers arrived at the scene at 11 AM, the accompanying military assisted by shooting several teargas canisters throughout the small area. Israeli-Palestinian Conflict 101 | Jewish Voice for Peace. Watch this short, historically accurate animated introduction to Israel-Palestine 101: Stay informed by signing up for JVP news and action alerts: Join our online communities by following us on Facebook or Twitter.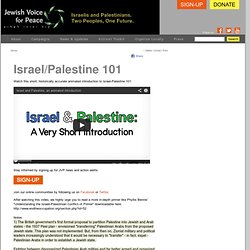 After watching this video, we highly urge you to read a more in-depth primer like Phyllis Bennis' "Understanding the Israeli-Palestinian Conflict--A Primer" downloadable here: Notes: 1) The British government's first formal proposal to partition Palestine into Jewish and Arab states - the 1937 Peel plan - envisioned "transferring" Palestinian Arabs from the proposed Jewish state. If Americans Knew - what every American needs to know about Israel/Palestine. If Americans Knew. If Americans Knew logo If Americans Knew is a nonprofit organization that focuses on the Arab–Israeli conflict and the foreign policy of the United States regarding the Middle East, offering analysis of American media coverage of these issues.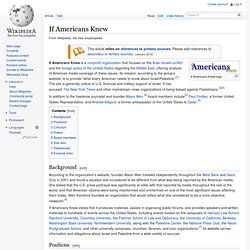 Its mission, according to the group's website, is to provide "what every American needs to know about Israel/Palestine.
---