Articles of interest
The theory of relativity , or simply relativity , generally encompasses two theories of Albert Einstein : special relativity and general relativity . [ 1 ] (The word relativity can also be used in the context of an older theory, that of Galilean invariance .) Concepts introduced by the theories of relativity include: Measurements of various quantities are relative to the velocities of observers. In particular, space and time can dilate .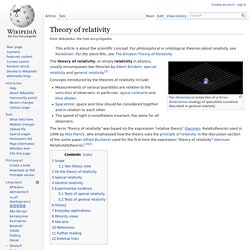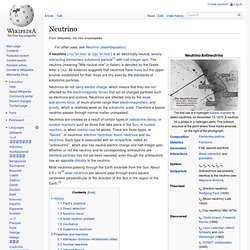 A neutrino ( pron.: / nj uː ˈ t r iː n oʊ / ; Italian pronunciation: [neuˈtriːno] ) is an electrically neutral, weakly interacting elementary subatomic particle [ 1 ] with half-integer spin .
Neutrino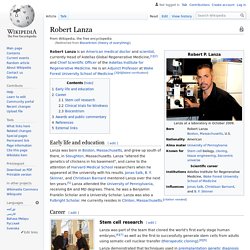 Biocentrism (cosmology)
(from Greek: βίος , , "life"; and κέντρον , , "center") — also known as the — is a concept proposed in 2007 by American Doctor of medicine Robert Lanza , a scientist in the fields of biology and regenerative medicine. [ 1 ] [ 2 ] [ 3 ] The theory espouses that biology is the central driving science in the universe, and sees an understanding of the other sciences as reliant on a deeper understanding of biology. The theory states that life and biology are central to being , reality , and the cosmos — life creates the universe rather than the other way around.
Signs of ageing halted in the lab
2 November 2011 Last updated at 14:01 ET By James Gallagher Health reporter, BBC News