Articles of interest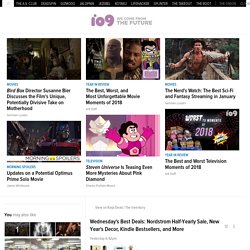 Greetings, loyal readers of me reading other people's mail! I had a weird occurrence the other day — I finally got a letter that I couldn't deliver. I have no idea how this is the first time that this has come up, it being the post-apocalypse and all, but there it was. The letter had a return address on it, so I knew immediately what I had to do — burn it. New postal rule: No backsies.
SExpand Back in August, we told you about a free course on artificial intelligence being offered by Stanford University, and co-taught by two world-renowned AI experts. The class officially started today, so if you managed to register for it on time, then good on you. But if you didn't manage to register for the course in time, fear not.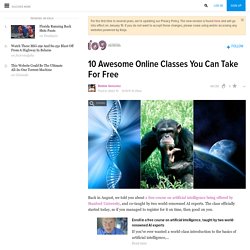 The theory of relativity, or simply relativity in physics, usually encompasses two theories by Albert Einstein: special relativity and general relativity.[1] (The word relativity can also be used in the context of an older theory, that of Galilean invariance.) Concepts introduced by the theories of relativity include: Measurements of various quantities are relative to the velocities of observers. In particular, space and time can dilate.Spacetime: space and time should be considered together and in relation to each other.The speed of light is nonetheless invariant, the same for all observers.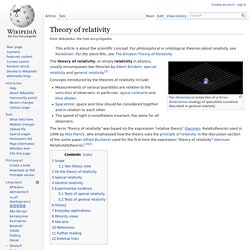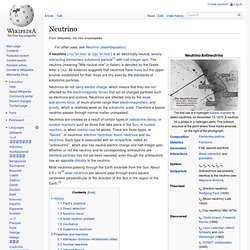 A neutrino (/nuːˈtriːnoʊ/ or /njuːˈtriːnoʊ/) is an electrically neutral, weakly interacting elementary subatomic particle[1] with half-integer spin. The neutrino (meaning "small neutral one" in Italian) is denoted by the Greek letter ν (nu). All evidence suggests that neutrinos have mass but that their mass is tiny even by the standards of subatomic particles. Their mass has never been measured accurately. Neutrinos do not carry electric charge, which means that they are not affected by the electromagnetic forces that act on charged particles such as electrons and protons.
Neutrino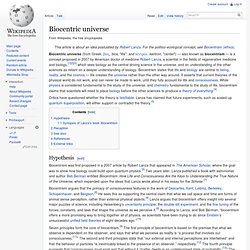 Biocentrism (cosmology)
Biocentric universe (from Greek: βίος, bios, "life"; and κέντρον, kentron, "center") — also known as biocentrism — is a concept proposed in 2007 by American doctor of medicine Robert Lanza, a scientist in the fields of regenerative medicine and biology,[1][2][3] which sees biology as the central driving science in the universe, and an understanding of the other sciences as reliant on a deeper understanding of biology. Biocentrism states that life and biology are central to being, reality, and the cosmos — life creates the universe rather than the other way around. It asserts that current theories of the physical world do not work, and can never be made to work, until they fully account for life and consciousness. While physics is considered fundamental to the study of the universe, and chemistry fundamental to the study of life, biocentrism claims that scientists will need to place biology before the other sciences to produce a theory of everything.[4]
Signs of ageing halted in the lab
2 November 2011Last updated at 14:01 ET By James Gallagher Health reporter, BBC News Will it one day be possible to stop ageing? The onset of wrinkles, muscle wasting and cataracts has been delayed and even eliminated in mice, say researchers in the US. It was done by "flushing out" retired cells that had stopped dividing. They accumulate naturally with age.