Point Cloud / Photogrammetry
Cours Toujours - animation short film on Vimeo
QderoPateo Ouidoo. Video presentation. on Vimeo
Minml. on the Behance Network
Hiroyuki Hamada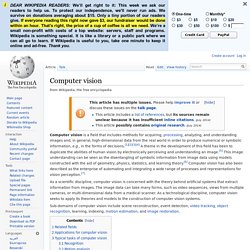 Computer vision
Computer vision is a field that includes methods for acquiring, processing, analyzing, and understanding images and, in general, high-dimensional data from the real world in order to produce numerical or symbolic information, e.g., in the forms of decisions.[1][2][3] A theme in the development of this field has been to duplicate the abilities of human vision by electronically perceiving and understanding an image.[4] This image understanding can be seen as the disentangling of symbolic information from image data using models constructed with the aid of geometry, physics, statistics, and learning theory.[5] Computer vision has also been described as the enterprise of automating and integrating a wide range of processes and representations for vision perception.[6]
Autodesk Labs Project Photofly ~ Create 3D Model Scenes from Photos - Between the Lines
Capture Reality with Project Photofly! The Autodesk Labs was started as a way to show emerging technologies and get feedback on them to shape their future features and direction.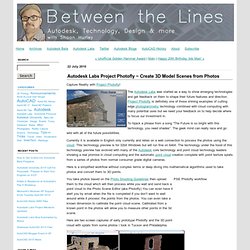 Autodesk Labs: Tutorial 1 on Creating 3D models from Photographs
Autodesk Project Photofly Overview