Web development
Accounts
What's happening on your site right now?
The web is getting faster, and not just the speed of the pages, but also the speed of change. Before, it was fine to build a website and modify it only when new products were launched. All of us avid Analytics users know that's just not good enough. We need to be constantly on the lookout for problems and opportunities.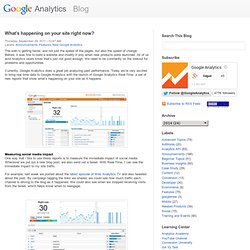 Wulfsoft - The makers of WebExe and HTML Guard
As a web user, you'll no doubt have noticed some of the breathtaking applications available in today's modern web, such as Google Maps and Flickrdesktop applications than the old style web sites you are used to. You've probably also wished that you could create such things, and then thought "nahhh, I'd need to know a lot of complicated code to be able to even start creating sites like these." Well, think again. There is a lot of complicated code involved in cutting-edge "Ajax-style" web applications, but a lot of the hard work is already done for you, and available on the Web.
Web development solutions: Ajax ... - Christian Heilmann, Mark Norman Francis - Google Mga aklat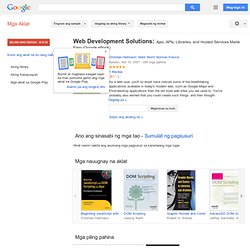 Search Engine Optimization | InlineSEO
SEO Cincinnati, Search Engine Optimization Cincinnati, SEO, Multilingual Search Engine Optimization - Purple Trout, LLC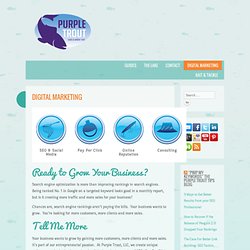 Search engine optimization is more than improving rankings in search engines. Being ranked No. 1 in Google on a targeted keyword looks good in a monthly report, but is it creating more traffic and more sales for your business? Chances are, search engine rankings aren't paying the bills.
thickbook.com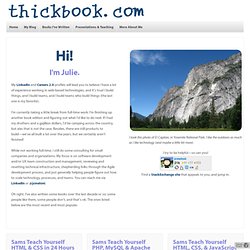 My LinkedIn and Careers 2.0 profiles will lead you to believe I have a lot of experience working in web-based technologies, and it's true! I build things, and I build teams, and I build teams who build things (the last one is my favorite). I'm currently the Senior Technical Product Manager at Kit Check, a start-up focused on providing tools for hospital pharmacy kit automation; the company is a proud Rock Health graduate, is well-funded, and we're hiring! I also still do a little consulting, focusing on software development and/or UX team construction and management, reviewing and resetting technical infrastructure, shepherding folks through the Agile development process, and just generally helping people figure out how to scale technology, processes, and teams.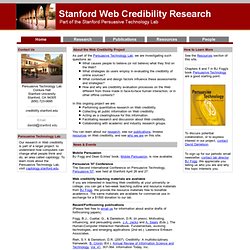 As part of the Persuasive Technology Lab, we are investigating such questions as: What causes people to believe (or not believe) what they find on the Web? What strategies do users employ in evaluating the credibility of online sources?
Website Templates - Templates for Expression Web®, Dreamweaver®, PowerPoint® and More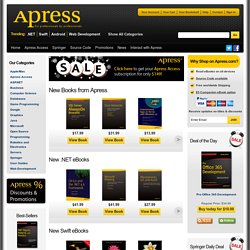 friends of ED | Designer to Designer
friends of ED has been a part of the Apress family for eight years, and while we're not changing anything editorially, we are going to be transferring friendsofed.com over to apress.com. I'd like you to come with us to apress.com , where we can offer you the full selection of web development books and source code that we're creating for you, across both friends of ED and Apress. As you know, the landscape of web development has shifted massively over the last few years—the emergence of HTML5 and CSS3 with JavaScript, and related technologies, has brought web standards into main stream development areas. So from apress.com you'll see all the friends of ED books you expect, plus great web development titles from Apress in one location—so you can get the full technology picture. It's an exciting time to be a web developer, and we have many more exciting friends of ED books in the pipeline, full of the content and values that you expect from us.
Welcome to the homepage of FileZilla, the free FTP solution. Both a client and a server are available. FileZilla is open source software distributed free of charge under the terms of the GNU General Public License Support is available through our forums, the wiki and the bug and feature request trackers. In addition, you will find documentation on how to compile FileZilla and nightly builds for multiple platforms in the development section. Quick download links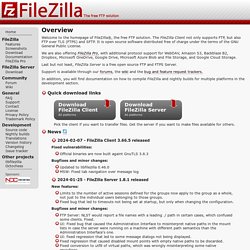 Free FTP client, secure file transfer software