Web development
Writing
Accounts. What's happening on your site right now? The web is getting faster, and not just the speed of the pages, but also the speed of change.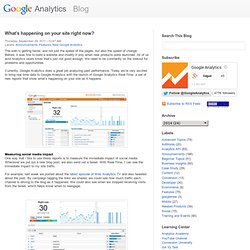 Before, it was fine to build a website and modify it only when new products were launched. All of us avid Analytics users know that's just not good enough. We need to be constantly on the lookout for problems and opportunities. Wulfsoft - The makers of WebExe and HTML Guard. Link benefactors. Security. Web development solutions: Ajax ... - Christian Heilmann, Mark Norman Francis - Google Mga aklat. Search Engine Optimization | InlineSEO. SEO Cincinnati, Search Engine Optimization Cincinnati, SEO, Multilingual Search Engine Optimization - Purple Trout, LLC.
Thickbook.com. Dynamic Drive DHTML(dynamic html) & JavaScript code library. Bellsnwhistles.com - Animated Graphics, Animated Pictures, Backgrounds, and More. TechWeb, the business technology network. Free software downloads and software reviews. Tools. The Web Credibility Project - Stanford University. The Web Credibility Project: Guidelines - Stanford University.
WebDeveloper.com. Website Templates - Templates for Expression Web®, Dreamweaver®, PowerPoint® and More. Friends of ED | Designer to Designer. Creative Commons. FileZilla - The free FTP solution. Free FTP client, secure file transfer software.
---