Doctors of the church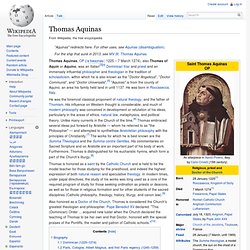 He was the foremost classical proponent of natural theology, and the father of Thomism. His influence on Western thought is considerable, and much of modern philosophy was conceived in development or refutation of his ideas, particularly in the areas of ethics, natural law, metaphysics, and political theory. Unlike many currents in the Church of the time,[6] Thomas embraced several ideas put forward by Aristotle — whom he referred to as "the Philosopher" — and attempted to synthethise Aristotelian philosophy with the principles of Christianity.[7] The works for which he is best known are the Summa Theologica and the Summa contra Gentiles.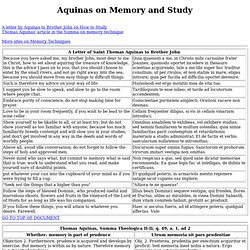 A letter by Aquinas to Brother John on How to Study Thomas Aquinas' article in the Summa on memory technique More sites on Memory Techniques http://www.imindmap.com A site that sells Tony Buzan's products (computer programs and videos). Tony Buzan invented the "mind-map" technique. There are lots of links on that site.
Thomas Aquinas on Mnemonics and Study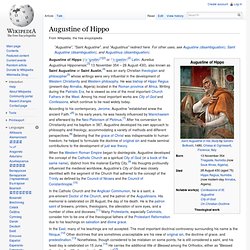 Augustine of Hippo
Augustine of Hippo (/ɔːˈɡʌstɨn/[1][2] or /ˈɔːɡəstɪn/;[2] Latin: Aurelius Augustinus Hipponensis;[3] 13 November 354 – 28 August 430), also known as Saint Augustine or Saint Austin,[4] was an early Christian theologian whose writings were very influential in the development of Western Christianity and Western philosophy. He was bishop of Hippo Regius (present-day Annaba, Algeria) located in the Roman province of Africa. Writing during the Patristic Era, he is viewed as one of the most important Church Fathers. Among his most important works are City of God and Confessions, which continue to be read widely today.
If Augustine were alive: Augustine's ... - Theodore Tack
Teresa of Ávila, also called Saint Teresa of Jesus, baptized as Teresa Sánchez de Cepeda y Ahumada (28 March 1515 – 4 October 1582), was a prominent Spanish mystic, Roman Catholic saint, Carmelite nun, an author of the Counter Reformation and theologian of contemplative life through mental prayer. She was a reformer of the Carmelite Order and is considered to be a founder of the Discalced Carmelites along with John of the Cross. In 1622, forty years after her death, she was canonized by Pope Gregory XV and on 27 September 1970, was named a Doctor of the Church by Pope Paul VI.[5] Her books, which include her autobiography (The Life of Teresa of Jesus) and her seminal work El Castillo Interior (trans.: The Interior Castle) are an integral part of Spanish Renaissance literature as well as Christian mysticism and Christian meditation practices as she entails in her other important work, Camino de Perfección (trans.: The Way of Perfection). Early life[edit]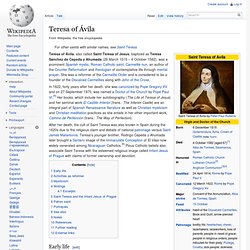 Teresa of Ávila
Vatican City, 27 May 2012 (VIS) - After celebrating Mass this morning in the Vatican Basilica for the Solemnity of Pentecost, the Holy Father appeared at the window of his study to pray the Regina Coeli with pilgrims gathered in St.
ST. JOHN OF AVILA AND ST. HILDEGARD OF BINGEN TO BE PROCLAIMED DOCTORS OF THE UNIVERSAL CHURCH