GESTIÓN SOCIAL
Get flash to fully experience Pearltrees
Issue Reclaim - Remediate Reuse Recycle interprets and compares actions extracted from the projects and classifies them into three Re- processes: Remediate : acting on the territory Reuse : acting on the building Recycle : acting on the material With this start to the Reclaim series , a+t interprets the works analysed and organizes its discourse on the basis of Re- actions, using these actions to create a body of knowledge applicable to any project. Reclaim has the environmental sense to reclaim the territory, the objects, the infrastructures and the materials yet it also is a call to reclaim dignity and citizen rights.
La Abogada General de la UE concluye que es posible considerar el Comercio Justo en las compras públicas El pasado 15 de diciembre de 2011 fueron publicadas las conclusiones de la Abogada General del Tribunal de Justicia de la UE, Juliane Kokott, sobre el asunto C-368/10 por la demanda de la Comisión Europea (CE) contra los Países Bajos por no haber ajustado, según la CE, uno de sus procesos de contratación pública a los principios y normas de los Tratados Constitutivos de la UE y la Directiva 2004/18/CE del Parlamento Europeo y del Consejo, de 31 de marzo de 2004, sobre coordinación de los procedimientos de adjudicación de los contratos públicos de obras, de suministro y de servicios. 01-02-2012 - Compra Pública Ética .-
Kune is a free/libre federated collaborative social network focused on: the collaborative edition in real time of free contents, thinking on the collaborative work of collectives and organizations; its publishing on the web; and the communication in social network among social movements, academic groups and social initiatives; with multiple tools and extensions (blogs, task lists, chat, videos, maps...). Besides, it stresses the Creative Commons licenses of contents and usability for humans. For more information, visit http://kune.ourproject.org or try it out in http://kune.cc Workgroup The main aim is to have a workgroup around this project in order to work and improve together this platform.
Image: Sara Alvarellos. The Data CItizen-Driven City . > Introduction > Topics of interest > Sign-up Introduction Barcamp is an event format where participants sign-up on a board at the start of the day to present their projects, discussions, and practical demonstrations.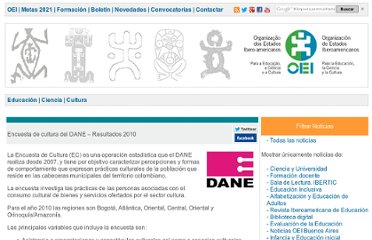 La Encuesta de Cultura (EC) es una operación estadística que el DANE realiza desde 2007, y tiene por objetivo caracterizar percepciones y formas de comportamiento que expresan prácticas culturales de la población que reside en las cabeceras municipales del territorio colombiano. La encuesta investiga las prácticas de las personas asociadas con el consumo cultural de bienes y servicios ofertados por el sector cultura. Para el año 2010 las regiones son Bogotá, Atlántica, Oriental, Central, Oriental y Orinoquía/Amazonía.
La economía social designa a un sector de la economía que estaría en un punto entre el sector privado capitalista y los negocios, y el sector público y el gobierno. Incluiría a las cooperativas , organizaciones no lucrativas , y asociaciones caritativas . [ editar ] El concepto de economía social por países [ editar ] En España
Hace unos meses, con el lanzamiento del Proyecto "Medición del Impacto cualitativo de los Programas de Inclusión Social" , nos proponíamos elaborar una herramienta que ayudara a las ONG a medir el impacto cualitativo, el impacto real más allá de las cifras, de sus proyectos, siguiendo con la misión de apoyo y fortalecimiento del Tercer Sector de Acción Social de la Fundación Luis Vives. ¡Ya tenemos los resultados finales, que podéis encontrar abajo, en el Informe adjunto! ¿Cómo se ha desarrollado el Proyecto? Por un lado, el proyecto se iniciaba con una investigación para conocer las circunstancias a las que se enfrentan cada día las entidades sociales y los beneficiarios de sus proyectos.