Stuff I like
Welcome to Google Docs
Dream Harmonic - Corolla + Miku: Big Dream‬‏
Walking Her Home - PMV‬‏
Sailor Moon Opening (English)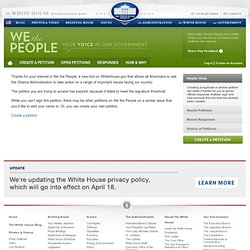 We the People: Your Voice in Our Government
Thanks for your interest in We the People, a new tool on WhiteHouse.gov that allows all Americans to ask the Obama Administration to take action on a range of important issues facing our country. The petition you are trying to access has expired, because it failed to meet the signature threshold. While you can't sign this petition, there may be other petitions on We the People on a similar issue that you'd like to add your name to. Or, you can create your own petition. Create a petition
Double D's Epic Pokemon Gold & Silver Doorbell
Double D's Epic Awesome Collab Doorbel
Speaking of Flowers
Adventure Time - Dancing Baby Finn [HQ]/ MP3
Grassman has left the building!
Guile Theme goes with everything (Making pudding at 4am)
10 minutes of non stop you are a genius
Kingdom Hearts II : Dearly Beloved & Dearly Beloved -Reprise
credits
Super Mario - Chacarron Macarron
He's got the card!
Untitled-23
W.i.t.c.h. Opening
Spirited Away OST - The Name of Life Instrumental
Spirited Away OST - The Name of Life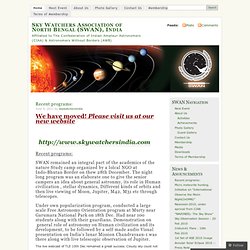 Sky Watchers Association of North Bengal (SWAN), India
Recent programs: SWAN remained an integral part of the academics of the nature Study camp organized by a lolcal NGO at Indo-Bhutan Border on thew 28th December. The night long program was an elaborate one to give the senior campers an idea about general astronmy, its role in Human civilization , stellar dynamics, Different kinds of orbits and then live viewing of Moon, Jupiter, M42, M31 etc through telescopes. Under own popularization program, conducted a large scale Free Astronomy Orientation program at Murty near Garumara National Park on 18th Dec. Had near 100 students along with their guardians. Demonstration on general role of astronomy on Human civilization and its development, to be followed by a self made audio Visual presentation on India's lunar Mission Chandrayaan-1 was there along with live telescopic observation of Jupiter.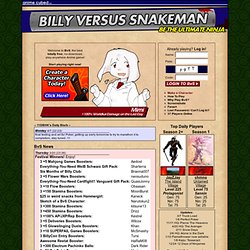 The March Festival is Coming! Celebrate the 11th with BvS' Monthly Billyfest Festival! - Tons of fun in-game events and prizes! - For BillyClub members, The Monthly Real Prize Giveaway!Yes, each BillyClub member will be given eleven tickets to put into raffles for the prize or prizes of their choice.
Billy Vs. SNAKEMAN Browser Game @ Anime Cubed
RuuiGoesOVER11000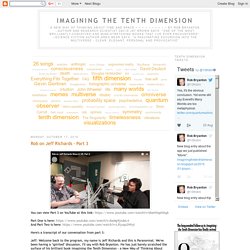 A direct link to the above video can be found at http://youtu.be/bFJvpBeWAhg This year we are celebrating the seventh anniversary of the launch of this project. It's been a great experience, and with positive comments in online articles published by Scientific American and Discovery Channel News over the last year or two about my videos it's been gratifying to be able to connect with people who understand the creative mix of physics and philosophy, science and spirituality that makes this project unique. But there have also been some very vocal critics, and that's what this video is about. Here are ten of the most common reasons that have been posted online by persons critical of this project.