Interesting Websites
#3038363. SOPA Emergency IP list: So if these ass-fucks in DC decide to ruin the internet, here's how to access your favorite sites in the event of a DNS takedown tumblr.com 174.121.194.34 wikipedia.org 208.80.152.201.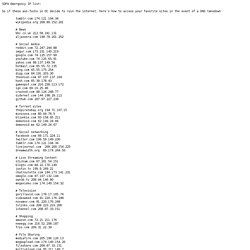 ImageShack® - Online Photo and Video Hosting.
How-To. About Life. Informational. Inspirational. Research. Random Tutorial Generator. OhMySpace.com - Graphics & Codes for your MySpace Profiles! Communication.
---