Baby Stuff
Car Seat Blanket. As I near these last weeks of this pregnancy, I am feeling so great compared to the month prior to my son being born.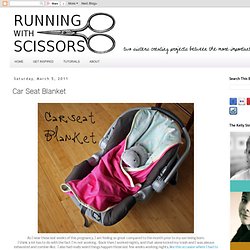 So I've been so grateful I've had some energy to get a few more things done, where before I'd just collapse at home, sleep, go to work, and repeat it seemed. So this project is actually a re-make of a gift I received with my son. My best friend's mom gave me this flannel blanket for the car seat. First of all the design is awesome, because it has holes to allow the straps and buckle through. No more plopping a blanket on baby to just have it fall off and out of the car seat.
Clothes
Bags. Anywhere Highchair. Favorite tutorials. Baby Gifts: Pretty Bird Binky Leash & Carry Bag - Sew4Home. Summer seems like the prefect time to pull up some projects that will make the most of all those pretty pieces in your scrap bag, bin or box.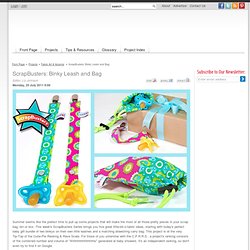 This week's ScrapBusters Series brings you five great little-bit-o-fabric ideas, starting with today's perfect baby gift bundle of two binkys on their own little leashes and a matching drawstring carry bag. This project is at the very Tip-Top of the Cutie-Pie Ranking & Rave Scale. For those of you unfamiliar with the C.P.R.R.S., a project's ranking consists of the combined number and volume of "Ahhhhhhhhhhhhhs" generated at baby showers. It's an independent ranking, so don't even try to find it on Google.
---