African Cuisine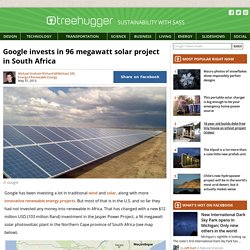 Google invests in 96 megawatt solar project in South Africa
Google has been investing a lot in traditional wind and solar , along with more innovative renewable energy projects . But most of that is in the U.S. and so far they had not invested any money into renewable in Africa. That has changed with a new $12 million USD (103 million Rand) investment in the Jasper Power Project, a 96 megawatt solar photovoltaic plant in the Northern Cape province of South Africa (see map below). © Google
Meat Pie (Ghanaian Pasty)
Another Ghanaian meal that Afi taught me to make is the meat pie. Think Hot Pocket but healthier. Afi told me these are great to eat on the go because they are filling and no utensils are necessary. Meat FillingIngredients:1. meat, about 1/2 pound - any protein will do. We used tuna but I want to try browned breakfast sausage the next time I make this.
Meat Pie: Ghana-style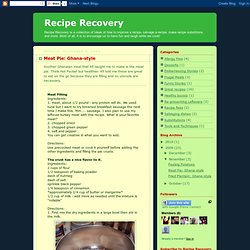 In Ghana, this dish is also called Kontonmire, Kentumere, or Nkontommire, named for the leaf of the cocoyam (taro) plant which is used for the greens. What you need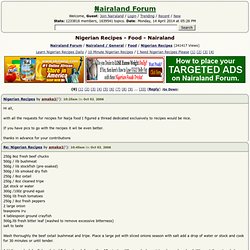 Nigerian Recipes
Ramadan is the ninth month of the Islamic lunar calendar. Every day during this month, Muslims around the world spend the daylight hours in a complete fast.Answer: During the blessed month of Ramadan, Muslims all over the world abstain from food, drink, and other physical needs during the daylight hours. As a time to purify the soul, refocus attention on God, and practice self-sacrifice, Ramadan is much more than just not eating and drinking.Muslims are called upon to use this month to re-evaluate their lives in light of Islamic guidance.
Tammy's Somali Home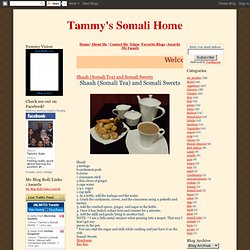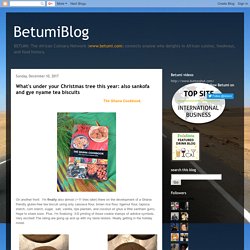 BetumiBlog
I've been in Ghana for almost 2 weeks. The highlight so far was celebrating Flair Catering's 45th Anniversary and the graduation of its 2013 class. Barbara Baeta (and her catering company and school) is legendary in her commitment to setting standards in the hospitality industry in Ghana, as well as championing Ghana's classic cuisines while preparing a wide array of international dishes with equal ease.