Advice
How to Stencil Fabric: 10 steps. Edit Article Edited by Ann Wallace, Krystle, Tom Viren, Jack Herrick and 20 others Stenciling is a great way to customize curtains, table linens and even bedding as well as clothing and accessories.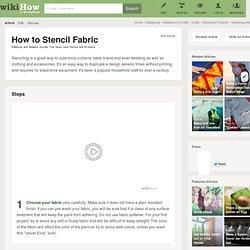 0963-Sewing_Basics_Resource_Guide.pdf (application/pdf Object) Tutorial: Diaper Bag with Elastic Pocket. A few people asked for an elastic pocket tutorial when I posted my last diaper bag.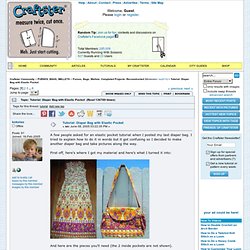 I tried to explain how to do it in words but it got confusing so I decided to make another diaper bag and take pictures along the way. First off, here's where I got my material and here's what I turned it into: And here are the pieces you'll need (the 2 inside pockets are not shown). Here's the side pocket tutorial: Tutorial: Zipper pocket (messenger bag & jordy bag) First...a Jordy bag I made a while back: Second: I started on a messenger bag last week (used the tutorial here - and forgot to upload the pic!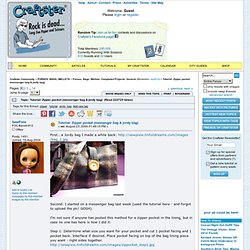 GOSH). I'm not sure if anyone has posted this method for a zipper pocket in the lining, but in case no one has here is how I did it: Step 1: Determine what size you want for your pocket and cut 1 pocket facing and 1 pocket back. Interface if desired. Modern Diaper Bag. A while back I promised my sister I would make her a weekend travel bag.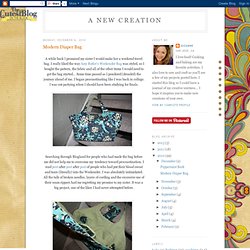 I really liked the way Amy Butler's Weekender Bag was styled, so I bought the pattern, the fabric and all of the other items I would need to get the bag started... Some time passed as I pondered (dreaded) the journey ahead of me. I began procrastinating like I was back in college. Craft blog : Tutorial: Hand Sew Felt Using Blanket Stitch. Tutorial: Hand Sew Felt Using Blanket Stitch This post actually contains two tutorials involving the blankets stitch:How to sew two pieces of felt together using blanket stitchHow to sew an edging using blanket stitchThere are also some helpful extras, like:How to start if you aren't going all the way aroundHow to handle cornersHow to stitch around circlesWhat to do if you run out of floss in the middleIt's a lot to pack into one post, but they all involve the blanket stitch, so I thought they should all be together.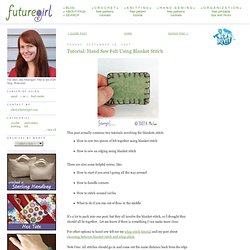 Let me know if there is something I can make more clear. For other options to hand sew felt see my whip stitch tutorial and my post about choosing between blanket stitch and whip stitch. Note One: All stitches should go in and come out the same distance back from the edge of the felt. When making an object that will be stuffed, about an eighth of an inch works well.
---